New York's Political Power Players of 2019
It's her world and you're just visiting. In a far more liberal, AOC-inspired Albany, who are the political power brokers of 2019?
---
---
U.S. Rep. Alexandria Ocasio-Cortez has cast a large shadow over the New York City political world since her election last year.
The freshman congresswoman—who represents parts of the Bronx and Queens—has become a new boogeyman for the right-wing media. An April report from the liberal group Media Matters found that Fox News mentions her at least once a day (in a derogatory fashion, of course). In a 42-day span, the network talked about Ocasio-Cortez 3,181 times.
Her tweets criticizing the billions of dollars of tax subsidies offered to Amazon to come to Long Island City, Queens, made headlines, along with her "Green New Deal" framework to shift the country away from fossil fuels and toward clean, renewable energy.
While the squashing of the Amazon deal should be attributed more to local politicians and activists, Ocasio-Cortez's June 2018 upset primary victory over longtime establishment Democratic congressman Joe Crowley energized the city's (and arguably the entire nation's) liberal voters, who went on to elect a wave of progressives into the New York State Senate in the 2018 midterm elections.
The Democrats were able to take control of the State Senate for the first time since 2009 and the newly elected members have set their sights on strengthening tenants' rights and reforming the rent-stabilization system. The real estate lobby, the Real Estate Board of New York, has been pushing hard against changes to rent-control laws.
So, though Ocasio-Cortez might get Fox News' undivided attention, Commercial Observer will also be keeping an eye on many other New York political power brokers.
Jimmy Van Bramer
After Amazon announced plans to build part of its second headquarters in LIC, two local politicians threw together a press conference the next day slamming the deal: Councilman Jimmy Van Bramer and State Sen. Michael Gianaris (No. 39 on Power 100).
Van Bramer—who was first elected to the Queens district that covers Long Island City, Sunnyside, Astoria and Woodside in 2009—became one of the faces of the anti-Amazon brigade, constantly targeting the city and the state's $2.5 billion in tax breaks offered to Amazon—which paid no federal income tax on its more than $11 billion in 2018 profits and even received a $129 million federal tax rebate—along with a lack of public input in the deal.
Van Bramer held frequent rallies in Queens and on the steps of City Hall blasting the Amazon deal, grilled executives from the tech giant during two contentious City Council meetings and introduced a bill in December 2018 that would bar the city from entering into non-disclosure agreements with companies in future economic development deals.
In February, Amazon announced it would pull out of its plans to build the New York City headquarters, saying in a statement that "a number of state and local politicians have made it clear that they oppose our presence and will not work with us to build the type of relationships that are required to go forward with the project we and many others envisioned in Long Island City." Those politicians: Van Bramer, Gianaris, Council Speaker Corey Johnson and Assemblyman Ron Kim.
While the news was mourned by the city's real estate world—with Lightstone Group's David Lichtenstein telling The Real Deal it was the "worst day for New York City since 9/11"—Van Bramer said he was "proud" of the work advocates did in killing the deal.
"When our community fights together, anything is possible, even when we're up against the biggest corporation in the world," Van Bramer wrote on Twitter. "Defeating an unprecedented act of corporate welfare is a triumph that should change the way we do economic development deals in our city and state forever."
Vicki Been
The mayor's housing and economic development czar, Alicia Glen, stepped down from her post in March. Earlier this month, Mayor Bill de Blasio called Vicki Been back to City Hall to take Glen's place.
Been is no stranger to the city's housing problems. She served as the commissioner of the New York City Department of Housing Preservation and Development for three years until she left in 2017 to return to teaching at New York University.
In her new role, Been is responsible for executing all of de Blasio's housing and economic initiatives across the city and overseeing more than 20 city agencies including the Economic Development Corporation and the problem-plagued New York City Housing Authority.
"Since my tenure HPD commissioner, the city has made great strides building more affordable housing units and benefited from record-low unemployment," Been said in a statement after her appointment. "It's time to be bolder and find new, innovative ways to respond to the city's affordability crisis."
Been was appointed as HPD commissioner in 2014 and was a key figure in crafting the mayor's Housing New York Plan to create and preserve 200,000 affordable houses by 2024, according to de Blasio's office. The plan was later updated in 2017, increasing the goal to 300,000 homes by 2026.
During her tenure, she also had a hand in the formation of the two citywide rezonings passed in the City Council in 2016—Mandatory Inclusionary Housing and Zoning for Quality and Affordability—which aimed to create more development of low-income and middle-class housing.
Corey Johnson
During his first year as Speaker of the New York City Council, Corey Johnson made a lot of headlines.
He caused an uproar among the city's real estate industry when he backed the long-debated "Small Business Jobs Survival Act"—more commonly called commercial rent control. In October 2018, Johnson brought the bill, which has been kicked around the city since the 1980s, up for another hearing.
It prompted REBNY to come out to City Hall in full force, donning identical hats, to urge the city to not move forward with the bill. During the hearing, Johnson said the bill wasn't a "silver bullet" to save mom-and-pop shops and it's unclear if he will put it up for a full vote in the council, as Commercial Observer previously reported.
Johnson also spoke out against Amazon's planned LIC headquarters and hosted a series of heated public sessions where he blasted Amazon executives and the city over the billions in subsidies given to the corporation.
"Why do you need our money?" Johnson asked Amazon executives during the hearing, according to Curbed New York. "We have 63,000 people sleeping in homeless shelters in New York City, we have subways that are falling apart, we have schools that aren't getting the money they deserve…This seems like vulture, monopolistic capitalism at its worst."
Outside of the real estate world, Johnson has started a push to eliminate the single-exam admissions process in the city's specialized high schools and released a 104-page plan to put the mass transit system under the city's control. He said it would give residents better transparency over how its tax dollars are spent, according to Curbed.
And Johnson, who's the first openly gay male speaker of the council, kicked off 2019 announcing that he was exploring a run for the mayor when de Blasio leaves office in 2021.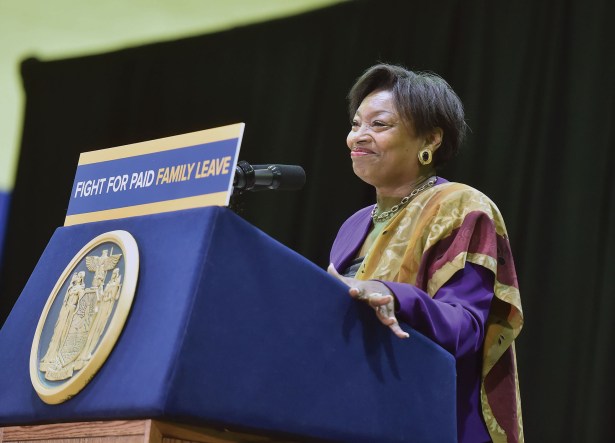 Andrea Stewart-Cousins
Gianaris' appointment to an obscure Albany board that had the power to veto Amazon's deal was reportedly one of the final straws for the tech giant, and it was Senate Majority Leader Andrea Stewart-Cousins who orchestrated it.
In February, Stewart-Cousins nominated vocal Amazon critic Gianaris to the five-member Public Authorities Control Board, which would have needed to approve the tax incentives given to Amazon by the state if the development moved forward, The Wall Street Journal reported.
However, she also can buckle under pressure from Gov. Andrew Cuomo. After Cuomo successfully blocked Gianaris' appointment to the PACB, she instead nominated State Senator Leroy Comrie in February when the Amazon deal was quashed. Last month, she publicly begged Amazon head Jeff Bezos to come back after talking to Cuomo, NY1 reported.
Stewart-Cousins made history in January when she became the first African-American woman to lead the New York State Senate in its 242-year history.
The 68-year-old mother of three first won her State Senate seat—which covers Greenburgh, Scarsdale and parts of Yonkers, White Plains and New Rochelle—in 2006. After the blue wave in the 2018 midterms put Democrats back in control of the State Senate, she was voted in as its leader.
Stewart-Cousins has been heralded by The Nation as "Albany's best hope" and the State Senate has already passed several measures since she took charge, instituting voting reforms, banning gay-to-straight conversion therapy for minors and passing the Gender Expression Non-Discrimination Act. She has also publicly said that reforming rent regulation will be a priority, City & State reported.
Zellnor Myrie
Brooklyn-native Zellnor Myrie was part of the blue wave that swept the State Senate when he defeated State Senator Jesse Hamilton two times—in the primary and the general election—to take control of the 20th Senate District.
Myrie's main target since has been changing the rent-stabilization laws set to expire on June 15, even posting a calendar on his office's door counting down the days until that date, City & State reported.
"It is meant to impress upon people that this is a very urgent issue and I want to keep it at the forefront of people's minds," Myrie told City & State. "Everybody that walks into my office is going to see that this is something that we have to address, and we have to address it sooner rather than later."
Myrie campaigned for his Brooklyn seat—which represents Crown Heights, Brownsville, East Flatbush, Gowanus, Park Slope, Prospect Heights, Prospect-Lefferts Gardens, South Slope and Sunset Park—on a platform called "universal rent control." It refers to a package of bills that would expand rent stabilization throughout the state, make it easier for renters to sue landlords over unsafe living conditions, give tenants stronger protection against evictions and change the policies that allow owners to raise stabilized rents, as CO previously reported.
"The voters responded pretty forcefully to a message about expanding our affordable housing and protections, so I think we should fight for that," Myrie previously told CO. "I think we're at crisis levels and we need a crisis response."
Aside from rent control, Myrie has started a push last month to publicly finance state elections in an effort to get "big money out, and small donors in," he told Kings County Politics.
While the real estate industry is fighting Myrie's proposal, the freshman senator told City & State he was confident in pushing the measures through and likened himself and his colleagues to New York Yankees closer Mariano Rivera.
"When people saw how quickly we were getting legislation passed in January, I would tell people new lawmakers like me are like the Mariano Riveras of the State Senate," Myrie told the publication. "A lot of the work on rent regulations has been done before and we have come in to close the deal."
Alexandria Ocasio-Cortez
,
Amazon
,
Andrea Stewart-Cousins
,
Corey Johnson
,
Green New Deal
,
Jimmy Van Bramer
,
Jo Crowley
,
power 100
,
Power 100 2019
,
Real Estate Board of New York
,
Vicki Been
,
Zellnor Myrie