Presented By: Colliers International
635 Madison Avenue: Providing an Air of Exclusivity
Sometimes perception truly is everything.
---
---
New York City is home to countless boutique companies across the spectrum of industries. One of the biggest challenges smaller businesses face is attracting and retaining quality employees, especially in a city where larger players can buy up market share.
In order to gain a competitive edge, employers must cultivate a unique office environment that inspires workers to solve problems and drives productivity. It's important to create a sense of identity within a building and there is no better way to achieve that than having a full-floor presence. A company's occupancy on an entire floor is an easy way to create perceived value for clients and strengthen legitimacy.
At 635 Madison Avenue, companies can curate an exclusive environment and more.
Owned by Ashkenazy Acquisitions Corporation, this 177,000-square-foot office building is located on the northeast corner of East 59th Street in the heart of Manhattan's Plaza District. The building currently has 38,000 square feet available over four full floors and one partial floor. It is being marketed by the Colliers International team of Ted Koltis, president, Agency & Consulting; Cryder Bancroft, managing director; and Aidan Campbell, associate director.
"The building's boutique, side-core floorplates cater to a variety of industries," said Bancroft, whose experience includes leasing in-house at SL Green. "Due to its proximity to the affluent Upper East Side neighborhood, 635 Madison is one of the most sought-after office locations."
BUILDING FEATURES
635 Madison has many attributes that enhance a firm's image in the eyes of its clients and prospective hires. For example, the 15th floor, which is currently available for lease, features a wraparound terrace with panoramic views up and down Madison Avenue and west towards the iconic Plaza Hotel.
Outdoor space is a rare commodity in New York City. Access to this type of amenity can provide an air of exclusivity for a firm and legitimize it in the eyes of its clients. The expansive terrace also provides for a "green space" factor, which can enhance a company's unique identity.
One of the biggest selling points is the ability for a company to possess and brand their own full floor, a feature that is usually achieved in buildings with larger floor plates. With floors ranging from 11,000 square feet in the base of the building to 5,000 square feet in the tower, companies can take full ownership of a floor. This full-floor presence also creates an undisturbed space, with bathrooms only accessible by the tenant and their clients.
In a city where towering high-rises often block views and sunlight for office tenants, the side-core plates of the building allow for a flood of natural light to pour into the full-floor space from just about every direction and every window. The side-core structure also helps create a sense of cohesiveness in the space, and a sense of wall-to-wall connection among employees and management.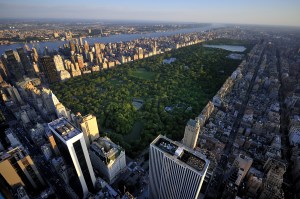 LOCATION
635 Madison is attractively located in close proximity to the wealthy Upper East Side section of Manhattan, making it the perfect spot for a variety of tenants with a target market of a higher-end client base. For instance, this location allows medical office tenants to draw a patient base from the surrounding high-end residential neighborhoods. The building is also near major, renowned hospitals, which can help increase a medical office's referral business.
Even those who run family offices and live on the Upper East Side would find the location ideal for both a quick commute from home and the proximity to world-class dining options like Nobu, Daniel, Avra and Philippe, to name few.
There is also the impressive access to high-end shopping. Located in the heart of New York's retail mecca of Madison and 5th Avenues, the building also provides apparel companies with an ideal location for a small office footprint or showroom space.
And because 635 Madison is on the northern side of the Plaza District, the building provides a unique outdoor amenity that not many other buildings in the district can claim: quick and easy access to Central Park. For companies with an international client base or executives in other parts of the country, 635 Madison Avenue is conveniently situated a few blocks from ultra-high-end hotels such as The Plaza, Loews Regency, The Four Seasons, St. Regis and the Whitby Hotel.
Between its advantageous location and straightforward features, 635 Madison is a diamond in an urban jungle—and can make a small company truly stand out among the rest.
For more information about 635 Madison Avenue or to arrange a tour of the building, please reach out to Aidan Campbell at (212) 716-3825 or Cryder Bancroft at (212) 716-3748.
635 Madison Avenue
,
Aidan Campbell
,
Ashkenazy Acquisition Corporation
,
Avra
,
Colliers International
,
Cryder Bancroft
,
Daniel
,
Loews Regency
,
Manhattan's Plaza District
,
New york city
,
Nobu
,
Philippe
,
Sponsored
,
sponsored-link
,
St. Regis
,
Ted Koltis
,
The Four Seasons
,
The Plaza
,
Upper East Side
,
Whitby Hotel