Like Father, Like Son: CBRE's Robert and Ryan Alexander on Doing Huge Deals Together
Forget family. It's all business with CBRE legend Robert Alexander and his son Ryan
---
---
It took Robert Alexander almost a year to land his first job in real estate.
The Long Island native was 25, working as a sales manager for Revlon when he learned about the commercial real estate business from a friend at Cushman & Wakefield. He knew he wanted in.
He saw an ad in The New York Times to be a junior broker trainee at Williams Real Estate, which later merged with Colliers International (CIGI), and called a phone number to apply. Little did he know, it was all a test cooked up by co-Founder David Levinson to see who was persistent enough to get the gig based on how much they called.
Levinson made his assistant keep a tally on who called for the job and how they treated her on the phone. Alexander, now 63 and a married father of a 31-year-old son and two 25-year-old girls, called almost daily and always got high marks from the assistant. Months later, he finally got through to Levinson who invited him in for an interview that afternoon.
"I hired him on the spot," said Levinson, currently the chairman and CEO of L&L Holding Company. "Over time he far exceeded everybody's expectations. He became a much better broker than I was."
Though his friend who got him interested in the business dropped out, Alexander stayed with it.
He grew to become one of the top commercial brokers in the city, known for diving deep into complex deals. Now, as the chairman of the tristate region for CBRE, he regularly works on deals that others would consider once-in-a-lifetime opportunities. It's due in large part to his people skills and tireless work ethic.
"Bob is very good with people," said longtime friend John Powers, who worked with Alexander for years at CBRE before becoming the executive vice president of Boston Properties (BXP). "They trust in him and he works very hard and he's very committed."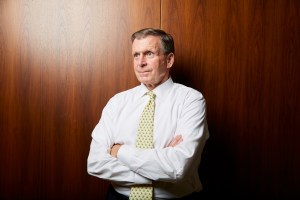 The drive didn't slow down as Alexander got older. The former college basketball player still goes on long bike rides with Powers in the summer and works out daily.
"He has a crazy work ethic with everything," said Levinson. "He's the guy that goes surfing in a hurricane when everyone's running for shelter."
And it's something that Alexander passed onto his son Ryan, 31, who joined his father at CBRE eight years ago and has since worked by his side on huge projects like One Vanderbilt and Hudson Yards. Clients said they regularly get emails or phone calls from the younger Alexander checking in on deals even when he's on vacation.
"You get the sense that Ryan is picking up a lot from working with Bob," said Mikael Nahmias, a senior vice president at Brookfield (BN) Properties who's done deals with both father and son. "And by learning from one of the best, he's really in a great position to become one of the great stars in the business.
"Bob is probably more intense than Ryan, but give him a few years," he added with a laugh.
Despite being one of the largest brokerages in the world, CBRE has become something of a family affair for the Alexanders. Bob Alexander's future son-in-law Taylor Callaghan works on his team and his daughter previously worked at the firm. Callaghan met his soon-to-be-wife while they were both working for CBRE in the United Kingdom.
"It's been a big learning experience," said Callaghan, originally from New Zealand, who moved to the U.S. recently. "It's been great to be here working on such a great, well-established business with Ryan and Bob."
But even with the Alexander family bonds at CBRE, they all agree that it doesn't really come into play during work hours.
"There's not enough time to sit there and be like, I work with my dad or I work with my son," said Ryan Alexander, who lives on the Lower East Side with his girlfriend and dog. "We're working on some major accounts and these [clients] don't care, they just want to see results. That's why they hire us."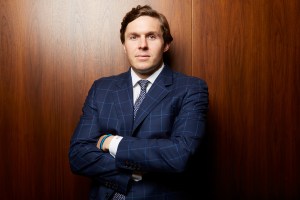 And results the Alexanders can get. Bob Alexander was on the team that brokered one of the largest leases in the city's history, Citigroup's 2.7-million-square-foot deal at adjoining buildings 388 and 390 Greenwich Street in 2013. More recently, he worked on Millennium Management's 300,000-square-foot lease at Boston Properties' 399 Park Avenue last month.
Ryan Alexander, who was named to Commercial Observer's 30 Under 30 list in 2016, worked with his dad on behalf of RXR Realty for law firm Cahill Gordon & Reindel's 201,621-square-foot lease at 32 Old Slip in October 2018 and represented TD Securities in its 119,000-square-foot deal at One Vanderbilt two months later. Both father and son said they have an almost even split between tenants and landlords in their book of business.
"There's a lot of money and reputation on the line," said Ryan Alexander about working on these huge deals. "It's not one of those things where you can afford to not be 'on' all the time and check out when you come to work."
Not checking out is one of the reasons landlords and tenants said the Alexanders are one of the first calls they make.
"They're consistently monitoring the landscape to see where opportunities exist," Nahmias said. "They may know about a building that is going to have a vacancy before that space is listed, particularly with the bigger tenants, and there's real value in that."
Nahmias said the pair are always checking in with landlords and tenants to find out about vacancies before anybody else. Powers added that Bob Alexander is glued to his phone his entire commute back home to Garden City, N.Y.
A lot of the traits that make the Alexanders such a powerhouse duo come from Bob Alexander's years working under Levinson at Williams, and those are attributes which he passes along to younger brokers who work with him, including his son.
"The firm at the time bred sort of this aggressive, competitive, you-have-to-figure-out-a-way-to-survive mentality," said Peter Riguardi, the president of JLL (JLL)'s New York region, who was mentored by Alexander at Williams in the 1980s. "You had to really hustle and bustle."
Riguardi, who remained friends with Alexander after he left Williams in 1988, called him his "most serious competitor," but said there's never any hard feelings outside of work.
"If I'm going for the puck in the corner and my head is down, I know that Bob Alexander is going to take me down," he said. "But there's no bad blood."
Alexander stayed at Williams for several years but jumped ship to the Edward S. Gordon Company in the late 1980s, following Levinson, who left a few months before.
"They changed the whole dynamic of the brokerage business," Alexander said about the ESG leadership team of Powers, Marty Turchin and Edward Gordon. "I got to work under John and Marty and Ed Gordon and I had five, six, seven, maybe even almost eight years of that, which was a turbo boost to my career.
"It was a very different business back then," Alexander said.
Powers said, "We were trying to build a company and build a better mousetrap. We had innovative ideas about the business at the time."
The goal was to turn the Glengarry Glen Ross-like salesperson-driven brokerage business into a more sophisticated, analytical business that has become the norm today.
"It took many years to evolve and to transform that sort of very simplified version of gunslingers into a tactical team," said Levinson. "We were recruiting kids with MBAs, kids with accountant degrees, kids with degrees in finance."
"It's too much service they're giving now," Levinson joked about being on the other side of the model they created. "They're making me crazy."
While some brokers got left behind in the shift, Alexander was pretty immediately on board to the new world. However, there were some sticking points, like having to split commissions with the analytical team on deals for the first time.
But he's gotten used to doing that with ease.
"He's famous for negotiating the commissions," Levinson said. "I say that with great affection."
But Alexander impressed his bosses from nearly day one at ESG after Turchin assigned him to come up with a survey of all the vacant space in a specific neighborhood in Manhattan.
"Marty [Turchin] said, 'This kid's going to be good; this is the best survey that I've ever seen in my life,'" Powers said. "Marty never complimented anyone."
ESG eventually became Insignia/ESG when Gordon, who died in 2000, sold it to Insignia Financial Group in 1996 for $74 million. In 2003, it was bought by the West Coast-based CB Richard Ellis and later changed its name to CBRE.
And while CBRE remains the dominant player in New York City commercial brokerage, a sore point for Alexander is that the people who changed the shape of brokerage—Turchin, Gordon and Powers—aren't reflected in the companies' name.
"They created a machine," he said. "This was not CBRE-oriented. This was Insignia/ESG- oriented and the dominance of New York was orientated out of those guys as founders."
However, Alexander, a University of Niagara graduate, remained at CBRE throughout all the name changes and the constant job offers, including one last month.
"I'm not a big fan of change," he said. "There's been enough change that's gone on within the company itself and the dynamics of the company. Why play with something that's been successful?"
Alexander has been working in the same building since the 1980s, living in the same Long Island, N.Y., home for nearly 30 years, and his coworkers literally had to force a bigger office on him everytime he got promoted.
"He's a little superstitious, so he didn't want to change his office," Powers said. "So we moved the guy next to him and took down the wall. He didn't change his desk or anything. We took down the wall and gave him another window."
With his long-standing time at CBRE, it only made sense his son would follow him to 200 Park Avenue when he decided he wanted to get into the business shortly after he graduated from Notre Dame with a degree in economics.
"No one would probably take me anywhere," Ryan Alexander joked.
"It probably takes at least, you know, 10 years to get anywhere where you're like actually working on substantial stuff," he said. "I think getting exposure to large projects, large accounts early on, versus doing the typical smaller transactions for five to 10 years, it's definitely a huge plus for what I'm looking to do."
Still, others said the younger Alexander isn't simply resting on the laurels of his father, but putting in the time to keep CBRE as one of the top names in real estate.
"It's definitely like the big leagues," he said. "It's not like you can tiptoe around stuff or hide. You'll get crushed."
David Levinson
,
John Powers
,
Mikael Nahmias
,
Peter Riguardi
,
Robert Alexander
,
Ryan Alexander
,
Taylor Callaghan
,
Williams Real Estate
,
Boston Properties
,
Brookfield
,
Colliers International
,
JLL