Downtown Landlords and Business Leaders Worry About the Next Big Storm
---
---
Lower Manhattan's residential and office markets may be thriving, but it could still use better planning and stronger flood protections against future storms in the wake of Superstorm Sandy, panelists said at Commercial Observer's Downtown Forum yesterday.
"We've painted a rosy picture of Downtown…but there's still more work to do," said Ric Clark, the chairman of Brookfield Property Partners, during the event's first panel at 225 Liberty Street. "[Superstorm] Sandy wreaked havoc on Lower Manhattan and we still haven't come up with a resiliency plan." Brookfield, like other major landlords in the Financial District, has elevated building utilities to upper floors and attempted to flood proof the ground floors of its properties. But Clark pointed out that the neighborhood still wasn't prepared for the next major storm, which could flood the streets and knock out the power just as quickly as Sandy did.
He also pushed for New York and New Jersey to build a one-seat ride from Downtown to Newark Airport. The billion-dollar transit proposal is "small in the grand scheme of infrastructure projects," he argued, "if anyone has the ears of the governors of New York and New Jersey."
The rebuilding of the World Trade Center has, of course, played a huge role in the revival of the Financial District as both an office and residential neighborhood.
"Tenants that wouldn't have come Downtown came Downtown because they could get large efficient floor plates [at WTC]," said Bruce Mosler, the chairman of global brokerage at Cushman & Wakefield, who noted that the Sept. 11 terrorist attacks destroyed 12 million square feet of office space.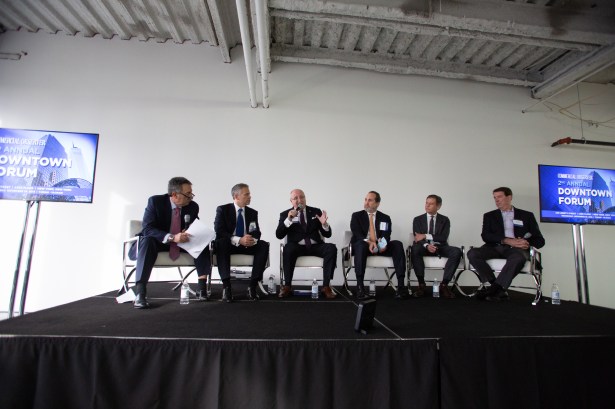 Jonathan Resnick, the president of Resnick & Sons, noted that the construction of Fulton Transit Center and the Oculus (which anchors the World Trade Center PATH station) helped open up access to much of Downtown and the east side of Broadway.
Howard Hughes Corporation CEO David Weinreb and Fred Berk, the co-managing partner of Friedman LLP, also participated in the panel, which was moderated by Jonathan Mechanic, a partner at Fried Frank.
Speakers on the second panel of the day also raised the alarm about flood planning.
"The reality is that this president won't give us more funding for resiliency," said Jessica Lappin, the head of the Downtown Alliance, speaking of President Donald Trump. "The money that is required is so large that you need the federal government to participate, and you need the Army Corps of Engineers."
Marty Burger, the CEO of Silverstein Properties, explained that his firm had rebuilt 7 World Trade Center and its other Lower Manhattan buildings with the next big hurricane in mind.
"We've moved our building systems up at 120 Broadway, 120 Wall Street, 7 World Trade Center," he said. "We've done a lot since then to weather that storm in the future." He added that they had reconstructed 7 WTC quickly because it had a Consolidated Edison substation beneath it that powered much of the neighborhood. The other speakers on the panel, which was moderated by Michael Zetlin, partner at Zetlin & De Chiara, were Dan Gardner, the CEO of Code & Theory, and Douglas Durst, chairman of the Durst Organization.
"In terms of preparing for the future with sea level rise, we got a taste of what could happen with Superstorm Sandy," Durst said. He added that his company was doing just fine at 1 World Trade Center these days, because it is nearly 85 percent leased, five long years after it first opened.
225 Liberty Street
,
Brookfield Property Partners
,
Bruce Mosler
,
Code and Theory
,
Cushman & Wakefield
,
Dan Gardner
,
David Weinreb
,
Douglas Durst
,
Durst Organization
,
Fred Berk
,
Fried Frank
,
Jonathan Mechanic
,
Marty Burger
,
Michael Zetlin
,
Ric Clark
,
Silverstein Properties
,
Zetlin & De Chiara