John Kusturiss of DC's Penzance Takes CO to The Highlands
---
---
Washington, D.C.-based developer Penzance is off to the races with its 1.2-million-square-foot mixed-use development in West Rosslyn, Va., now named The Highlands. In September, the firm closed a $380 million construction loan with Mack Real Estate Credit Strategies for the three-tower luxury project—located just across the Potomac River from Washington, D.C.
Commercial Observer caught up with Penzance's vice president of development, John Kusturiss, while in town for our 2nd Annual Financing Commercial Real Estate Forum. He talked us through the seven-year complex process of developing the residential community, how it fits into Penzance's broader investment strategy and the specific needs it will address within the Rosslyn neighborhood.
Commercial Observer: You just named your West Rosslyn project, The Highlands. What is it named after?
John Kusturiss: Rosslyn is just across the river from Georgetown—a similar elevation. The Highland is at the west end of Rosslyn, so it's kind of on the top of a hill, nestled up there with these spectacular views of the Georgetown skyline, the Potomac Gorge. You can even see the Shenandoah Valley. So, the name draws its inspiration from its geographic location and the views that it's going to inspire.
Tell us about the development's individual towers: Pierce, Evo and Aubrey.
Pierce is our flagship condo property. The condo units average 1,800 square feet and 40 percent of the units will have private elevators. Evo and Aubrey are our two rental apartment towers. Aubrey is our west apartment tower, with 331 units. The average unit size is 980 square feet and it can cater to anyone from a recent graduate right out of college looking to rent a studio to a family of three or four that wants all the walkability of Arlington [Va.]. Evo is 491 units and the average unit size is around 860 square feet. There's also nearly 10,000 square feet of rooftop amenity space. It's going to be a very social building with lots of opportunities for interaction. There will be gathering spaces and people can sit down and have quiet moments alone or interact with the residents. We wanted a name that evoked a little bit more of the socialization envisioned here and so Evo is kind of a play on evolution, a nod to that.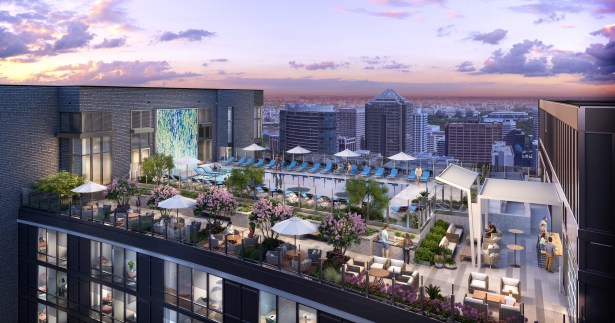 Are you targeting a younger demographic at Evo?
It's interesting. I think age has kind of started to kind of go by the wayside and development is driven more by the psychographic desires of the renters. We're seeing folks in the empty-nester or baby-boom generation who want socialization opportunities, so that building is catering to that social group that wants to meet their neighbors, attend community events and go out and grill up on the patio, have a glass of wine and interact. So, we don't view it as age-specific but more driven by the aspirations of the renters.
How did you decide on the development's ultimate product mix?
Overall the D.C. metro area is very resilient. It's a great place to have rental product. If you look at the rental rate to income rate in the D.C., Maryland and Virginia area, it's 20.5 to 21 percent to income. New York is 44 percent. It's a very affordable city, so we saw more opportunity to bring more rental product along. Even during the downturn, from 2007 to 2009, rents still increased 1 percent and occupancy was at 96 percent. Fundamentally, it's a very resilient market. Rosslyn's roots really originated in the 1960s, where it was an office market and the majority of employees arrived by single-occupancy vehicle trips. Fast forward to today and we have a very robust metro system, we have an extensive bus system and obviously there's the advent of Lyft and Uber, combined with capital bike share and now all these scooters that are flying all over the place. Downtown Rosslyn is very permeable and is looking to transition to a more balanced use type. So, they're looking to bring in residential units. With the adoption of the new sector plan, we see the office market and the lack of supply in apartment and condos. At the final stages we had seven different models, contemplating everything from apartments to office. We settled on the two rentals and the one for-sale condo type as the right mix.
You secured a $380 million construction loan from Mack Real Estate Credit Strategies in September. Did you have a relationship beforehand? Why was Mack the right fit for this project?
We retained Ackman-Ziff, which is obviously a best-in-class brokerage that operates in all the major markets, and they kind of helped us sift through what the right pairing for financing options would be here. Ultimately, they brought Mack to the table to meet with us. We were entertaining offers from a number of different lending sources and eventually decided on Mack as the right fit. They have tremendous experience, not only in the D.C. market but in Rosslyn. They know the market well, they know the comps and all the fundamentals around employment growth, who's coming here and how rents are performing. Their granular-level knowledge of the market and the big-picture view helped them get to the finish line with us, because they understood out product type and mix and our investment thesis.
Was there a lot of competition for the loan?
Yes. We had tremendous interest. I think at the end we had letters of intent from five or six [lenders] that made it to the final stages. We were very fortunate to pick the lender that was the right fit for the project.
Tell me some of the project's history. I understand Penzance has owned the ground lease for some time?
It all started back in 2011 when we acquisitioned an existing office building on Wilson Boulevard. At the time of acquisition it was substantially occupied by General Services Administration tenants and some others, and performing very well. At the same time we knew that—based on its location and possible rezoning— there was a tremendous opportunity to re-entitle the property to take it from a 3.8 floor area ratio (FAR) to a 10 FAR. So, there was opportunity on that parcel but the county was also looking to explore redevelopment on their adjacent property next door where Fire Station No. 10 was housed.
We'd developed a number of office high-rises in the corridor and had a very good working relationship with the county. So we leveraged that relationship to talk about a public-private partnership and that was formalized with a letter of intent in early 2013. Given that it was county land with government use, the foundational zoning that was needed to redevelop it was not in place. So we entered a rezoning process along with Arlington public schools, Arlington Partners for Affordable Housing, the county and the fire department to rezone the entire six-and-a-half acre assemblage, of which we would control approximately three acres.
The zoning plan was successfully adopted in 2015. We then finalized the ground lease with Arlington County, which was unanimously approved in 2016, and diligently began pursuing the entitlement. So our plans were approved in 2017 and here we are today, under construction.
When will the development be completed?
It'll come online in the second quarter of 2021. Because of the size and scale, it'll be a rollout of deliveries. The final project should finish in the fourth quarter and the first units come online early in the first quarter. We actually just started construction and will have a ground breaking event next week to commemorate this milestone event. And so we're in the process now of demolishing the existing structure and preparing for mass excavation. The temporary fire station is already constructed. The fire department has relocated there. I've never seen a community of first responders so eager to move to a temporary facility because it was so much nicer than what they currently had [laughs]. They're a great group; they've been tremendous to partner with. They're very knowledgeable and they helped shape those components of the project. They've just been a really collaborative partner to work with.
Are you solely focused on The Highlands right now, or are you busy eyeing your next acquisition?
A little bit of everything. It's one of the fun things of working at a lighter, more nimble shop; I get to put my fingers in everything from leasing to helping with some of the office pursuits to development to working on the repositioning of some of our existing assets. The Highlands is definitely like my fourth child [laughs]. I am working with our investments and acquisitions groups on new pursuits as well.
How does the project fit into Penzance's broader investment strategy?
Our roots kind of sprung out of a more commercial office platform. We've been in operation for a little over 22 years and focused on the office platform from the late 1990s through the mid-2000s. As we continued to grow our investment platform, we opened our own in-house property management office. We saw the need to rebalance the portfolio, so from 2013 to 2018, we focused on adding multifamily. We have approximately 1,000 units under management right now across four different holdings. So, we see that trend continuing into the future where we feel we want to be more balanced, with a mix of office and residential uses. This project fits right into that balance. We did another project—4000 North Fairfax Drive, which is in the Ballston neighborhood of Arlington—where we have a 330-unit, 22-story high-rise apartment building. We're certainly no strangers to new residential development. That more balanced approach is the way of the future for our shop.
There is a lot of activity in D.C. and New York-based financiers actively lending in the market. What are the key factors driving investment in the area?
There a number of factors, not only for domestic but international investment. We talked about affordability in terms of rent to income and how it's uniquely positioned compare with other markets. D.C., historically, is known as a federal city dependent on the federal government for job growth. If you look at the job growth from last year, 70 to 75 percent of jobs added were in education and health sciences and then the professional business and services sectors. Those are the high-paying jobs that create demand for new apartments, condos and new housing. We actually lost jobs in the federal sector. So, we're diversifying our employer platform here. The market attracts many Fortune 500 companies, [for example] Marriott and Nestle in downtown Rosslyn.
Major universities have a strong presence here. We've got strong education and strong job growth and that's reflected in our population base. If you look at the demographics of where our project is located, 87 percent of the population has a bachelor's degree and 40 percent has a master's degree; the average household income is north of $150,000 and Arlington itself has the highest concentration of millennials and 8.7 percent of millennials makes over $350,000 a year. So, they're highly educated and there's good job growth and strong household incomes; this is a great place to be an employer and be a household provider.