Ronald Dickerman on Madison's Purchase of Forest City's New York Retail Portfolio
Last year Madison International Realty's Ronald Dickerman became one of the biggest retail players in Gotham when he gobbled up a huge chunk of Forest City. Next, the world!
---
---
One June, when Ronald Dickerman was 12 or 13 years old, his father asked him what his plans were for the summer.
"Nothing," Dickerman said.
"Well," the elder Dickerman replied, "you're going to come work on my maintenance crew at the [family's] apartment buildings—and then you're going to keep doing that job until you find something better."
More than four decades later, Dickerman apparently hasn't found anything better. He's still doing real estate.
Granted, the parameters of the job have changed dramatically, and he's not doing it with his father. Dickerman's family's business was a modest mom-and-pop shop in the Boston area. It consisted, Dickerman remembered, of "buying a little building, working hard to fix it up, financing against the equity, taking out the money and then buying another building…collecting rents on the first of the month, chasing delinquencies on the fifth [and] dealing with phone calls in the middle of the night about leaky faucets."
Today, Dickerman, 54, sits atop Madison International Realty, as the private equity firm's president and founder. Since its founding in 2002 Madison has raised some $4.8 billion in capital commitments worldwide, owns interests in properties worth tens of billions, and has emerged as a critically important player in New York with its acquisition of Forest City Realty Trust's 2.1-million-square-foot retail portfolio in New York City and New Jersey.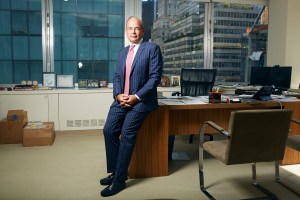 "You may remember that many years ago, Forest City was building Barclays Center in Downtown Brooklyn—it was a $1 billion hole in the ground—and their stock was just coming out of the global financial crisis," Dickerman said from his 55-person office at 410 Park Avenue between East 54th and East 55th Streets. "They also owned Atlantic Center, Atlantic Terminal, they owned Madame Tussauds New York in Times Square, and what was interesting is, they had no partners. They owned 100 percent of the equity themselves. And they said, 'Wait a minute, we need a lot of money to build Barclays Center. We have all these retail assets where we have no partners. Let's go find a partner and let's sell down a piece of the equity.' So, we raised our hand."
Madison's dalliance with Forest City came in two parts.
The first was in 2010, when the company purchased 49 percent of a 12-asset portfolio which had been valued at $1.1 billion.
"Although it was a competitive process Madison wound up being the victor and a lot of it had to do with that they are collaborative partners," said Joshua King of Cushman & Wakefield (CWK) (then of Eastdil Secured) who worked on the deal for Forest City. "Their bread and butter is structuring joint ventures. While price was important, equally important to Forest City was selecting a group they knew they could live with."
Dickerman saw the inherent value in what Forest City was offering. "This is forever real estate," Dickerman said. "Investing across the street from Barclays Center, and on 42nd Street? Pretty hard to screw that up."
So Madison made its presentation and finally locked the deal. "The deal required some fairly complex structuring, particularly around tax- and liquidity-related issues," King said, "and Madison has a ton of experience navigating these kinds of complexities."
Then Madison got an even bigger bite of Forest City last year when Madison announced it was purchasing the remaining 51 percent of the portfolio, which served to make Madison one of the top retail owners in the five boroughs for $1.3 billion.
Madison's is "a very interesting business model," said Michael Cohen, the president of the tri-state region for Colliers (CIGI) International, who has done deals with Madison in its purchase of stakes in 655 Madison Avenue, 304 East 45th Street and 136 Madison Avenue: The firm buys passive interests in large properties that trade at a discount but can become extremely valuable.
"If they actually bought the building the returns would be very low, single digits, but because they're buying specific interests they could buy at an attractive rate," Cohen said. "It's an excellent return for their investors, and they operate in a niche that is occupied by very few people."
The Forest City purchase was something of a departure for Madison; it typically retains a smaller amount of equity in its properties and leaves it to others to own and manage. But having its smaller stake in Forest City proved an ingenious way to get its foot in the door; having already done business with Forest City, Madison was now the favorite to buy the whole portfolio.
"It's actually created a whole new business line for them," King said. Rather than just owning a minority interest, they now controlled the whole thing. To do the bread-and-butter work of leasing and managing the property, Madison turned to C&W, and King. "It's a fascinating case study of how their business model resulted in unexpected positive benefits," King added.
It's not an exaggeration to say that Dickerman—who lives an eight-minute walk from his office, on the Upper East Side with his wife, and is the father of four college-aged children—traveled a straight real estate line since the days when he helped his father out with leaky faucets at their properties. When he was an undergraduate at Tufts University Dickerman bought a couple of apartment buildings in Somerville and Malden, Mass. with a buddy. While he was still a student, "I ended up teaching a class at Tufts [University] on real estate investing," Dickerman said.
After finishing up at Tufts, "I didn't know whether I should try to make my two little buildings into something bigger, or whether I should go to business school."
After selling his apartment buildings he landed at Columbia Business School, and from there took a position at Smith Barney. "On my first day of the job I thought I was gonna finance big tall office buildings in the sky, or do what real estate investment bankers do, which is to try to get companies to merge together."
Instead, he was put in the real estate direct investments department.
Back then, many of the big banks were pushing even small investors to buy shares of malls and offices. "If your father or your mother were investing in the 1980s and they had a broker with Merrill Lynch or Dean Witter, I'll bet you lunch they got a couple of phone calls from the broker who said, 'Why don't you buy a piece of this shopping center portfolio? Or, a piece of an office building?' That became about a $50 billion niche market."
Eventually, Dickerman decided to strike out on his own. "I had an interesting thought which was, the real estate syndication business has become a little bit of a forgotten stepchild that nobody knew much about… So the basis for Madison was set up to buy back these limited partnership interests in real estate syndications by giving a liquidity offer or a mechanism to underlying investors. It allowed us to get exposure to the underlying real estate."
And since starting Madison, he has dipped his toes in fancy office trophies in New York, like the Seagram Building at 375 Park Avenue, and One California Plaza in Downtown Los Angeles, (he is eyeing several "iconic properties" in New York and Washington D.C.) as well as proving the "international" part of Madison International Realty's name by opening offices in London and Frankfurt; the firm recently made a foray into Poland taking a 50 percent stake in the Warsaw Spire, the tallest building in Central Europe, and the 1-million-square-foot  Sony Center in Berlin.
"The real estate business has become a global asset class," Dickerman said. "Look what Blackstone's doing; look what Brookfield's doing; look what Carlyle's doing…real estate is the ultimate local business but to really capture the opportunity you have to become a global enterprise. We're much smaller than the other firms that I mentioned, but we have done a very good job of globalizing our equity capital market relationships. And, I have to tell you, it's made us better investors seeing the world through their eyes."
This is key for Dickerman.
"I went to London for the Brexit vote with my senior management team," he said, adding, "I've been to Riyadh, Saudi Arabia when oil prices were $26 a barrel. I remember being in Tel Aviv when Benjamin Netanyahu was giving a speech on the floor of the U.S Congress [about Iran]… my point is, it's always different on the ground than what you read in the paper."
The decision to buy Forest City's retail might be considered bold given the current retail climate. But it's also looking shrewd when you consider that the occupancy rate in Madison's retail portfolio sits at a sterling 97 percent—and has, according to Dickerman, never dipped below 96 percent, even in the depths of the recession. (The occupancy rate overall in Madison's portfolio is 95 percent.)
"People have been throwing the baby out with the bathwater in the retail business—big time," Dickerman said. "All retail is not created equal. There's 2 million people a year coming through Barclays—even though the Nets aren't playing so well. Right next door is Pacific Park Properties, which is the 6,000-unit multifamily development."
Madison clearly had faith going back to 2016 when the company acquired a stake in Hudson's Bay Company, which owns Saks Fifth Avenue and Lord & Taylor, and Madison is planning a redevelopment of the Atlantic Center and Atlantic Terminal.
The reimagined Brooklyn venue will include "food and beverage. It'll be experimental. There's a wide swath of potential customers…You got a sports experience [already there]. There are others who don't give a whit about sports who are coming back from the Adele concert and they're 55 years old. They want to have a nice tablecloth meal. So that's the conundrum—we're trying to figure that out."