Despite Smaller Deals, Brooklyn's Market Is Strong: CO Bklyn, Queens Panelists
---
---
Don't be worried if you don't see huge leases or large technology companies leasing space around Brooklyn—the market's fine.
So said panelists at Commercial Observer's Fourth Annual Brooklyn, Queens Forum at Industry City in Sunset Park, Brooklyn, yesterday.
Experts on the first panel of the morning said Kings County has a healthy office leasing market that's supported by a plethora of new deals under 100,000 square feet around the borough.
"There is also the perception that—why hasn't Google or Facebook or something like that taken a million square feet and until it does, is there a problem in Brooklyn?" said Whitten Morris, a managing director at Newmark Knight Frank. "There is not a problem at all."
We're moving along at a very healthy pace," he added. "We're seeing a lot of tenants from Manhattan moving to Brooklyn."
That includes management consulting firm ?What If! Innovation. After 10 years in the East Village, the company signed a lease for a 14,500-square-foot office in the 5.3-million-square-foot Industry City, as CO reported earlier this week.
"What drove us here was the need to be in a place that was different, that could drive our business in our new way," said panelist Bart Higgins, a partner at ?What If!
Higgins added that while some of his clients might ditch the firm because of the move, he'll keep or attract new ones by enticing them when they visit the new Sunset Park offices with things like cooking lessons and tours of drone manufacturers.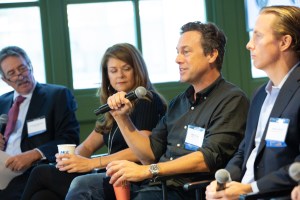 Michael Rudin, a senior vice president at Rudin Management Company, said the Brooklyn market is better suited for smaller tenants like ?What If! Rudin's under-construction Dock 72 project at the Brooklyn Navy Yard has been targeting 35,000- to 60,000-square-foot office users, like co-developer WeWork, and for that reason.
"There's not dozens of 100,000-plus-square-foot deals happening, but that's not really what the Brooklyn market is about," Rudin said. "You don't have to attract those tenants to be a successful project."
The panel, moderated by the chairman of Fried Frank's real estate department, Jonathan Mechanic, also included Industry City co-owner Belvedere Capital managing partner Glen Siegal, L&L MAG CEO MaryAnne Gilmartin and Heritage Equity Partners Founder and CEO Toby Moskovits.
Moskovits is working on a half-million-square-foot office, manufacturing and retail project at 25 Kent with Rubenstein Partners, which she said is something the borough has needed for years.
"The ultimate amenity, if you're an owner, is being able to walk to work," she said. "Brooklyn—Williamsburg in general—was crying out for more office space."
With the impending year-long shutdown of the L train tunnel between Brooklyn and Manhattan, Moskovits thinks office space in Williamsburg will be greatly needed for larger companies to help its workers. She expects many of them to open satellite offices in the neighborhood during the shutdown starting April 2019.
In the second panel of the day, ABS Partners Real Estate partner John Brod, Durst Organization principal Helena Durst, Savanna managing partner Christopher Schlank and Ariel Property Advisor President Shimon Shkury delved into the Queens market.
While they all agreed that Long Island City—with its waterfront access and plentiful transportation—would dominate the real estate market in the future, others felt it was hurt by its lack of retail.
"[More retail] has to happen because the residential market is increasing at such a fast pace," Brod said. "It's been truly underserved. Grocery stores, drug stores—where are they?"
While the discussion, moderated by Zetlin & De Chiara co-founding partner Michael Zetlin, mostly centered around Long Island City, Shkury said neighborhoods like Jamaica and Sunnyside are starting to get a new wave of residential development.
?What If! Innovation
,
ABS Partners Real Estate
,
Ariel Property Advisors
,
Bart Higgins
,
Belvedere Capital
,
Brooklyn Navy Yard
,
Christopher Schlank
,
Dock 72
,
Durst Organization
,
Fried Frank
,
Glen Siegal
,
Helena Durst
,
Heritage Equity Partners
,
Industry City
,
John Brod
,
Jonathan Mechanic
,
L&L MAG
,
MaryAnne Gilmartin
,
Michael Rudin
,
Michael Zetlin
,
Newmark Knight Frank
,
Rudin Management Company
,
Savanna
,
Shimon Shkury
,
Toby Moskovits
,
WeWork
,
Whitten Morris
,
Zetlin & De Chiara