Presented By: Silverstein Properties
FiDi's Equitable Building Gets a Facelift
Iconic building at 120 Broadway kicks off capital improvements campaign, restoring the 103-year-old building to its original splendor
---
---
"You can't measure the immeasurable." Visitors to The Equitable Building at 120 Broadway are welcomed by this phrase sketched along the wall of the building's 16th floor marketing center. The quote not only captures the magnitude of the open H-shaped floorplan, but also emphasizes the grandness and presence of what was once the world's tallest office tower.
In 1915, at the height of international political tension at the beginning of World War I, the Financial District's Equitable Building at 120 Broadway opened its doors to the public. Rising 40 floors tall, the 1.9-million-square-foot building became the definitive, undisputed symbol of thoughtfully designed architecture to accommodate the city and nation's evolving economic landscape and new wave of blue- and white-collar workers. The Beaux Arts-inspired building embraced the signature style of the time—elegant, yet functional architecture, featuring beautiful vaulted ceilings, gold leaf accents, marble floors and hand-carved detailing throughout.
In 1981, 120 Broadway was purchased by Silverstein Properties, a company known for restoring and modernizing older buildings. Twenty-five years later, in 1996, the building was declared a city landmark, helping to ensure the preservation of the building's outstanding architectural details.
Now, Silverstein Properties is embarking on a $50 million capital improvement plan, led by renowned architecture firm—and building tenant—Beyer Blinder Belle. The design concept will elevate the building's existing features and introduce a wide range of new amenities for the building's tenants and their 8,000 employees.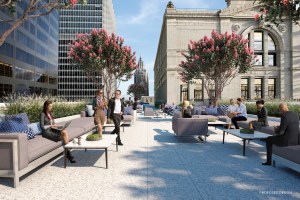 For the first time in 120 Broadway's history, the building will open its rooftop to tenants, creating an all-inclusive amenity space consisting of an 8,000-square-foot indoor tenant lounge and landscaped outdoor terrace on the 40th floor, spanning approximately 20,000 square feet. Offering social programming and food and beverage options, the space will be operated by a third-party vendor. Designed by landscape architect MPFP, the outdoor terrace will boast cozy lounge furniture, lush landscaping throughout and outstanding city views, creating an urban oasis in the heart of Downtown Manhattan, with some of the most spectacular views in New York.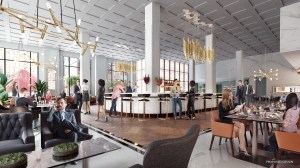 With Lower Manhattan expected to welcome over 10,000 new employees to the area by the end of the year, 120 Broadway's restoration aligns with Silverstein's mission to provide sustainable solutions and accommodations for the modern professional. Rooftop spaces have emerged as one of the most sought-after office amenities among employees across a variety of industries. The building's uniquely outfitted modern rooftop space, juxtaposed with the history and classic appeal of the 103-year-old building, will offer a unique work experience in Manhattan's fastest-growing commercial market.
"120 Broadway is one of New York's most architecturally significant buildings," said Larry Silverstein, Chairman of Silverstein Properties. "Since it was built over 100 years ago, it has remained an example of how commercial real estate and great architecture can come together to create a truly special environment.  As we anticipate and adjust to what modern and growing companies want, we look forward to bringing tenants of 120 Broadway an outstanding outdoor roof space where they can work and relax, as well as a variety of other amenities to elevate their experience in the building."
In addition to its rooftop terrace and amenity space, the building will also incorporate a variety of other capital improvements including bike storage, complete with looker room and individual shower stalls, new elevator cab finishes and fixtures, additional elevator turnstiles to accommodate increased foot traffic, retail renovation and activations, and updates to the building's grand entryway and foyer.
"When curating the design for 120 Broadway's renovation, we wanted to ensure that the history and meticulous materiality of the building was highlighted throughout, while integrating present-day conveniences that accommodate an increasingly younger workforce," said Carlos J. Cardoso, AIA, Partner at Beyer Blinder Belle. "During the initial phases of the restoration, we uncovered outstanding original materials that played a key role in our design concept moving forward, impacting everything from the lobby's entryway to the 40th floor rooftop. Now more than ever, work-life balance is a critical component of any architectural design concept. Wellness is as much of a factor in office design as the physical structure itself—the integration of 120 Broadway's rooftop space, alongside the building's additional amenities, will give tenants and their employees the flexibility to create their own ideal work environment, helping to spur creativity, productivity and long-term satisfaction."
As the world's leading hub for international commerce, Manhattan's industry-defining commercial real estate remains the cornerstone of the city's fast-paced business sector. Accommodating established companies and game-changing startups, New York City is home to some of the world's most iconic office structures, with increasingly more elaborate inventory being developed and leased at a steady rate. And in a market inundated with newly developed glass skyscrapers, 120 Broadway is a storied, living and breathing testament to New York's rich melting pot of history.