ACORE Lends $75M to Refi 17 John Street in FiDi
---
---
ACORE Capital provided $75 million to a joint venture of Shorewood Real Estate Group and New York-based real estate crowdfunding platform Prodigy Network to refinance and finish the lease up of a 15-story mixed-use and hospitality property at 17 John Street in the Financial District, sources told Commercial Observer.
The five-year loan refinanced $66 million in previous ACORE construction debt on the property from August 2016, New York City Department of Finance records show; Vanbarton Group also provided a $39 million mezzanine loan in the deal at the time, as CO previously reported.  
With the refinance, ACORE provided a first mortgage plus a $9 million gap mortgage. The deal closed on June 7. ACORE declined to comment on the financing.
The roughly 130,000-square-foot property—located between Broadway and Nassau Streets—is sublet to The Assemblage brand, a members-only club, co-working space and hotel and lounge that features 79 extended-stay hotel and apartment suites from floors 9 through 14.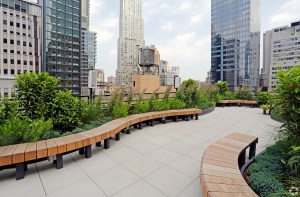 The second through sixth floors showcase a range of amenities, including 275 desks, 225 private offices, six conference rooms and an outdoor terrace on the third floor. It also includes three meditation rooms, tea ceremony and film screening rooms, a yoga studio on the seventh floor, a rooftop deck, a library and a restaurant and private dining area.
The Assemblage—operating under a Shorewood umbrella—also has a NoMad presence at 17 East 25th Street, and a location at 311 Park Avenue is also in the works, according to its website. An official at The Assemblage did not immediately return a request for comment.
The building also houses a Duane Reade, which operates in 3,000 square feet within its ground-level retail portion, according to information from CoStar Group.
Prodigy and Shorewood purchased the 15-story then rental building on August 28, 2014 for $83 million from New York-based real estate development and management company Metro Loft, records show.
The partnership completed the acquisition with more than $25 million of crowdfunded equity, a $56 million senior loan from Deutsche Bank and $20 million from a New York-based institutional investor, as CO previously reported. At the time, the deal was the second crowdfunded Manhattan hotel project in which Prodigy had ventured.
Metro Loft had redeveloped 17 John Street—erected in 1920 and originally called the Tyler Building—in 1998, transforming it from an office property into a 111-unit, mixed-use rental and retail building.
Shorewood President and CEO S. Lawrence Davis was not immediately available for comment. Prodigy could not immediately be reached.