Presented By: RXR Realty
Tradition, Progression, Ambition: RXR Makes Downtown the Right Choice for All Tenants
---
---
Over the past decade, the Financial District of Manhattan has been on the up and up and more than just financial. In the commercial real estate sphere, the traditional tenants of financial and professional services have been joined by new media and technology companies. The migration of TAMI tenants to lower Manhattan has been complemented with a surge of residential traffic, for sale and rental units, as well as a continuously improving retail landscape.
Even tourism has benefited the overall health of downtown Manhattan, predominantly in the Financial District, due to newly activated green space, The World Trade Center, and the 9/11 Memorial. The Downtown Alliance reports, "The 14.8 million tourists who visited Lower Manhattan in 2016 represented a five percent increase from the previous record, set in 2015. This means, roughly, that the equivalent of 4.6 percent of the population of the United States (or one out of every 22 Americans) walked the streets of Lower Manhattan at some point in 2016."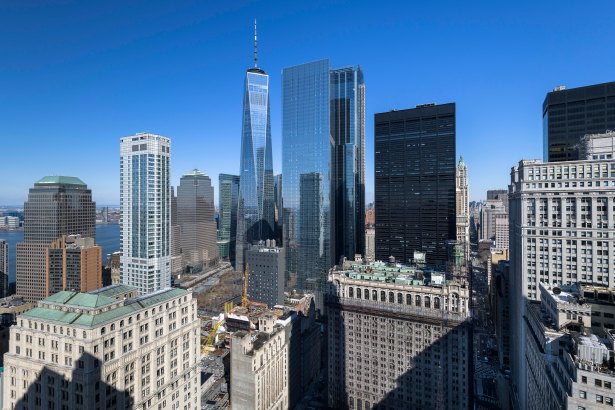 RXR Realty, a leading owner and operator in the New York Metropolitan Area known for building strong authentic communities within its assets, saw the opportunity in the past years to celebrate the growing diversity and evolving energies of the tenant population by becoming a part of it.  Purchasing two assets signature to lower Manhattan, 61 Broadway and 32 Old Slip in 2014, cemented RXR's commitment to the neighborhood that continues to thrive.
Originally known as the Adams Express Building, 61 Broadway was the seventh tallest structure in Manhattan upon its completion in 1914. While the building may have lost those two attributes over time, 61 Broadway still boasts great bones, impressive ceiling heights, and breathtaking views of the New York Harbor, Statue of Liberty, and Freedom Tower. As the Financial District developed, 61 Broadway emerged as the center of it all with access to the 1, 2, 3, 4, 5, R, J, and Z metro lines and proximity to the World Trade Center and Fulton Street. Tenants at 61 Broadway appreciate the authentic and quiet appeal of historic architecture, but also get to enjoy RXR's hands-on approach as a landlord, which included a multimillion dollar capital program to update elevators, HVAC, sprinkler systems, bathrooms, common corridors, and new lobby refinements including art by Frank Stella.
These investments have led to a direct increase in leasing traffic according to Daniel Birney, Vice President of Leasing at RXR Realty. "At 61 Broadway, we have seen great demand from traditional downtown tenants as well as new tenants relocating downtown from midtown and midtown south. 61 Broadway has the unique ability to appeal to all tenants and has done a great job retaining existing tenants, such as Samuel A. Ramirez & Co. who has been a tenant of 61 Broadway for over 30 years, while attracting new media/tech tenants to the building such as Collibra and Legends Hospitality."
Another driver of leasing activity has been RXR's high-end creative prebuilt program. Hal Stein, Executive Vice President and Managing Director at Newmark (NMRK) Knight Frank, explains, "The new prebuilt program has been very appealing to all tenants, especially TAMI tenants, due to our ability to offer efficient spaces ranging from 4,000-23,000 SF throughout the building at different price points."
Stein expanded on the prebuilt program and its attractiveness to larger tenants, "We are seeing an increased demand in larger tenants seeking progressively built, high quality, practical spaces. We can accommodate these tenants at 61 Broadway through a variety of high-end creative prebuilts as large as 23,000 SF. We can also offer the unique opportunity of a 100k SF block at the top of the building with 25,000 RSF floors offering incredible light and views." Tenants appreciate the building's surprisingly well-valued space at less than $65 per square foot.
Just east of Water Street, representing the significant boom in construction between the 70s and 90s, stands RXR Realty's 32 Old Slip. Boasting arguably the best views in the eastern half of lower Manhattan due to entirely column free octagonal floor-plates, 32 Old Slip has attracted steady and enthusiastic leasing traffic. Currently, the building is seeing a mix of well capitalized finance and progressive creative firms, tenants that embody the overall fabric of lower Manhattan.
Commenting on 32 Old Slip is the Chairman of the New York Tri-State Region of CBRE (CBRE), Robert Alexander, "A premiere Class A asset with column free floors and slab heights of up to 16 feet, 32 Old Slip offers inspiring installations with remarkable views of Manhattan, Brooklyn, and the Rivers and Bridges." Alexander continued, "enticed by the asset's high-quality infrastructure, financial technology company Pico Quantitative Trading just completed a 20,000 square foot lease to relocate to 32 Old Slip on the 16th floor."
Another contributor to outstanding leasing activity is 32 Old Slip's new prebuilt program, one that features a very refreshed materials pallet, satisfying the overlap in all user groups. "32 Old Slip continues to provide multiple space options throughout the building," explained Alexander, "ranging from 3,000 square foot pre-built spaces on divided tower floors, to multi floor large block availabilities up to 250,000 square feet." Going above and beyond simple box-checking in order to satisfy its current and potential tenants, RXR also takes advantage of great light and is rolling out an exclusive art program.
Synonymous with convenience, 32 Old Slip has made getting to work and completing your work as easy as possible. Located at the convergence of major transportation arteries including the subway, FDR Drive, and the ferry, the building's three points of entry and onsite car and bicycle parking make any tenant's commute painless. "The Building's proximity to the revitalized South Street Seaport, which continues to offer outstanding dining and entertainment amenities to the area benefits 32 Old Slips tenants even after the work day is over" concludes Alexander.
RXR continues its robust relationship with Convene at 32 Old Slip to satisfy various amenities needs of the tenants including spaces for large events and catering. Michael Burke, VP of Real Estate and Development at Convene commented on the partnership, "Today's top talent requires meeting and office environments that motivate and inspire them. Convene is thrilled to partner with RXR to provide a best-in-class tenant experience driven by hospitality services and unmatched amenities to the tenants of 32 Old Slip."
RXR Realty's latest marketing campaigns speak to and celebrate the diversity of tenants lower Manhattan is attracting — modern, industrial, chic, and at times whimsy to the location's traditional occupant – generating a surge of leasing activity. The aggregate value and health of the building is evident in 32 Old Slip's own tenants' testimonials.
David Glassman, Executive Managing Director at Colliers (CIGI) International, recently represented brokerage firm Tradition in a 69,995 square foot expansion across three floors of the asset. "32 Old Slip is a premier Downtown building that offers efficient floor-plates, infrastructure, amenities, and views that few other buildings can offer.  Tradition saw the value in these features, as well as with RXR as the landlord, and chose to extend and expand their footprint at the building with a long-term lease." Joseph Cabrera, Vice Chairman at Colliers International also represented Tradition in the deal.
There has been significant public momentum and interest to both realize and herald the success of this sub-district's office leasing. There is also a strong desire to make the neighborhood a successful retail destination. This is evident in the continued leasing efforts of Brookfield Place and The World Trade Center.
Let us be reminded however, that concurrently flourishing with the retail opportunities around the World Trade Center is a viable submarket east of Broadway. The area is being filled with retail vignettes including 10 Corso Como, Beekman Hotel, and South Street Seaport, diversifying tenants, and an overall authentic revival that is not contingent on its proximity to the World Trade Center. It is RXR Realty's two assets in lower Manhattan, 61 Broadway and 32 Old Slip, that authentically and confidently speak to this evolution.
View a 360 Rendering of 61 Broadway here.
20 Corso Como
,
32 Old Slip
,
61 Broadway
,
Adams Express Building
,
Beekman Hotel
,
Collibra and Legends Hospitality
,
Convene
,
Daniel Birney
,
David Glassman
,
Frank Stella
,
Freedom Tower
,
Hal Stein
,
Joseph Cabrera
,
Michael Burke
,
New York Harbor
,
Pico Quantitative Trading
,
Robert Alexander
,
Samuel A. Ramirez & Co.
,
South Street Seaport
,
Sponsored
,
sponsored-link
,
Statue of Liberty
,
TAMI
,
The Downtown Alliance
,
The World Trade Center
,
CBRE
,
Colliers
,
Newmark
,
RXR Realty