Mitchell Hochberg Explains Lightstone's Hotels and Condo Strategy
Sitting back at the Moxy and having a drink with the hotelier
---
---
January and February are slow months in the hotel business.
But you have to hand it to the Moxy, which opened just south of Times Square at 485 Seventh Avenue in the fall—it knows how to spice things up.
Next week, in honor of Valentine's Day, the hotel is offering a special that includes a drink at the bar, a room for the night and a "curated assortment of sex toys by What's In Your Box?"
No wonder Moxy has been doing so well!
"We had an extremely strong December," said Mitchell Hochberg, the president of Lightstone, which is on a spree of opening Moxys, as well as other hospitality and multifamily projects. "We beat our budget by a meaningful amount. January is typically the slowest month—and we beat our budget there, too."
Hochberg, the 65-year-old married father of two who trained as a lawyer before turning to real estate and started Spectrum Communities before doing stints with Ian Schrager as the COO of his company, invited Commercial Observer to sit down with him in one of the enclosed alcoves off one of the hotel's five food and beverage venues and have a beer late last year, only two months after the Moxy opened. (We followed up with him last week.) And the 30-year veteran of the hotel business had much to toast.
"Development now has been very, very busy for us—we're doing just under $3 billion in development in multifamily and hospitality," Hochberg said. "The majority of it is in New York. We're doing a project in L.A. and a project in Miami right now as well."
Please, Mitchell, tell us more!
Commercial Observer: What are you doing in L.A.?
Mitchell Hochberg: We're doing a very large project in Downtown L.A., which is three hotels, 1,100 keys, directly across from Staples Center and the convention center—it's going to be 23,000 square feet of signage, 50-feet tall. So it's really going to be Times Square-like. [The properties will consist of] three different hotel in two towers with a lot of food and beverage, restaurants, retail. Part of [why we wanted to be there was] because of the explosion in Downtown L.A. Another is there's an expansion of the convention center, so right now the downtown market is very underserved from a hotel perspective—plus downtown is obviously growing from a business perspective. [Ground is breaking this year.]
Are these going to be Moxys as well?
Out of the three is a Moxy, another is an AC [both of which are Marriott International brands], and another is a brand we haven't named yet. [Editor's note: A Hilton Garden Inn was subsequently named as a third, but this in all probability will be a placeholder.] They will go up concurrently. We're getting pretty tuned into what's doing out there, and we probably will do more—we opened an office in L.A., and we're looking for other projects.
Why do you like L.A. so much?
We tend to focus on major gateway cities. So we gravitate toward New York, L.A., Miami, San Francisco. We just bought a large multifamily project in San Francisco that we're working on, and we're developing a Moxy in South Beach as well. In New York we have four Moxys that are under development—three are under construction. This one opened in September 2017. We have a second one that's opening this summer in NoMad [at 105 West 28th Street between Avenue of the Americas and Seventh Avenue]. We have a third that's under construction in the village at 112 East 11th Street, between Third and Fourth [Avenues], directly across from Webster Hall. There's a fourth that we're finalizing on the Lower East Side.
Can the Manhattan hotel market support that? Because I hear there's been a bit of saturation in Brooklyn and Queens.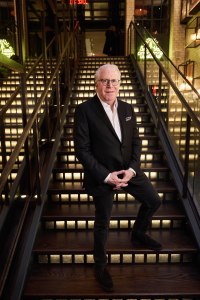 There's a lot of product coming on the market in New York. The market has historically been in the high 80s, low 90s occupancy, which is substantially higher than any other place in the country—so long term, if you can build in New York and have a strong basis, you're going to be fine.
Right now…there's a bit of a headwind because of a slowdown in travel, partly as a result of the travel ban and also as a result of the strong dollar. But we and all of the experts in the industry—Smith Travel Research, DKF—all project that in '18, '19, '20 the market's going to start coming back. So we're long term very bullish—short term, we're fine in terms of where we think the market's going. Part of it is the whole premise of Moxy—which is small, cozy hotel rooms—so we're in at a basis per key which is less, because the size of the rooms is less, but we're delivering a product and experience that is equal to more conventional, larger hotel room.
Ian Schrager's doing the same thing at his hotel Public (also a Marriott brand)—is anybody else taking that model?
Yes, there have been brands like Yotel, CitizenM, Pod hotel, Arlo that have done it. We think we've done it a little differently, and we like to think it's a little better in terms of how we approach the design aspects of it, working with Yabu Pushelberg and David Rockwell—and also with how we work the public spaces and the food and beverage. Like, you're sitting in the lobby here—this is meant as a real communal space. It works in the day as a co-working environment. You're sitting in our version of a meeting room. We don't have conventional meeting rooms—our guests are people in the creative arts that need space to sit and talk and have a meeting—not make power point presentations in front of 20 suits.
Hotels aren't the only things Lightstone is working on, right?
On the multifamily side, we've been very fortunate in finding locations that are about to come out—so if you take a look at what we did at 365 Bond Street in Gowanus, [Brooklyn], we were the first ones to do something there. We have almost 40,000 feet of indoor and outdoor amenities in a project that's not that big. And we focus them on spaces that work for people—not these big cavernous spaces that you see at some projects. So spaces act as living rooms, spaces that act as meeting and co-working spaces. We have in Gowanus and at another [residential] project, ARC [in Long Island City, Queens] a basketball court, we have golf simulators, we have yoga studios. We actually have a greenhouse so that you can plant vegetables and fruit.
In terms of the condominiums, we're doing two projects: One on the East Side at 40 East End Avenue and East 81st Street, which is a really boutique project that we're doing with Deborah Berke who's the dean at the Yale School of Architecture [consisting of 29 units ranging from $3 million to $30 million apiece]. It's in the mid-$2,000s per foot—because one of the things that we are concerned about is that we think there's a glut of product in that $3,500 range. That's ground-up. And we're doing another project that's 65 stories at 130 William Street and Fulton Street that's going to be done with a very high design and also very affordable prices for that area. So that the majority of the units in that building will be under $3 million, which in today's environment is very neutral.
Where is the condo market right now? It feels like everything is priced so high.
Yeah, it's tough. What I think has happened is that when we came out of the financial crisis there were a couple of projects that were doing extremely well that were priced at $3,500 a foot. Everybody thought that would be the new market—and that's just not the case. The market isn't that deep at that price…It's going to stop. It's like musical chairs.
How have these projects been financed?
For us, it has been easy, for a number of reasons. First off, we're fortunate enough to have our own equity, and everything that we do today we don't have any equity partners. It's all Lightstone's money. So that eliminates one layer of financing.
This Moxy has been open since September. Tell us about it.
We have 612 hotel rooms. There are five restaurants and bars. The average size of the hotel rooms is 175 square feet. So they're very efficient in terms of how we did it.
Everybody always felt this brand would resonate with the younger traveler, but we felt it would also resonate with the business traveler as well as foreign travelers. Close to half our business is foreign travelers that are used to this [kind of] room quality. They like being in this location. They love having all the food and beverage venues, and for the business traveler, it's great because again it's a great location, it's a very affordable price. It's very easy to do everything.
You mentioned earlier that you were prudent about the tourism market now but bullish in the long term. What do you think's going to change?
Well, the only constraint has been the absorption of the product. But the demand is there, and I think the demand will also increase. Clearly, what happens with hotels, as the economy gets better and better, people tend to travel more, and we've been in a very bullish economy for the past year, so that's been a big help. We also think the foreign travelers will start coming back. Taken together it provides a very rosy picture.
What's your opinion on how the city has been handling Airbnb?
I think they've been handling it well. And I'll tell you something interesting: We didn't build this in order to go at Airbnb, but the result of what we did really is almost the antidote for the hospitality industry. Because if you take a look at our rates which begin at $149 a night if you have an opportunity to get a room here for $149 a night in the center of Manhattan, make your reservation on the Marriott website and get your rewards points, come through the front door where there's security, have your bed made every night and have five bars and restaurants at your fingertips—or get an Airbnb out in Queens where you have to take two subways, walk down a dark street, open a door and not know what you're going to get, it's a no-brainer. But I think what the city has done is very fair in terms of how they handled it—particularly, the big issue, and I agree with the mayor on this—is taking away from the housing stock. We've got a major housing crisis…and anything that you're doing to take away from that stock is probably not a great idea.
Where does the name "Moxy" come from?
It's a Marriott brand—Marriott came up with the name. It has some influence by the word "moxie" and having moxie. And it's a little bit of the attitude of the brand. We don't take ourselves that seriously. We want it to be a comfortable brand, where you can literally put your feet up on the furniture, have a beer, not feel like you have to be a model and six feet tall, all dressed in black.
It definitely looks cool, too. There's a cool vibe.
It's cool without trying to be cool.
Which is the key to being cool, right?
It is. I think there are certain hotels that try too hard. They get a certain crowd. But the vast majority of travelers don't find it appealing. One of the goals we have with the public space is to attract people from the local community. We think the mixture of local people and tourists is what makes our hotel interesting.
How did you get into the hotel development business?
I've always had a passion for hotels. In the 1980s I was working for a real estate investment firm [VMS Realty] that got into the hospitality business, and the first hotel they built was the Boca Raton Hotel and Country Club [in Boca Raton, Fla.] and that hotel was a spectacular property that we ended up redeveloping—and I developed a real passion for hospitality. Over the years I've been involved with multiple hotel developments. I love the fact that it's something you can create, but it's something that has a life to it. When you're done creating it you can walk through it and see people enjoying it, using it. It's a lot different than other types of development.
What's your favorite hotel that's not a Lightstone hotel?
My favorite hotel in the world is probably a hotel on Riviera Maya called Maroma, which is owned by Belmond [where he is on the board]. It's on one of the most magnificent beaches in Mexico, and it's what people euphemistically call "barefoot chic." For me, a big part of the hotel is service and hospitality, and particularly the people in Mexico treat you like you're a guest in their home. And they love what they do. So the service is unbelievable. They have a Mayan spa, which is outdoors, which is incredible. They have one of the most beautiful long-unspoiled beaches. Great food. And it's incredibly casual. For me, that's what I love.
What was the worst hotel you ever stayed at?
I'd have to think about that—it doesn't come as natural as the best.
105 West 28th Street
,
365 Bond Street
,
40 East End Avenue
,
485 Seventh Avenue
,
citizenM
,
Deborah Berke Partners
,
Ian Schrager
,
Ian Schrager Company
,
Marriott International
,
Marriott Moxy Hotel
,
Mitchell Hochberg
,
Moxy Hotel
,
Moxy Times Square Hotel
,
Pod Hotel
,
Yotel
,
Lightstone Group