Why More Real Estate Companies Are Getting Into the Tech Game
---
---
Over the weekend of Oct. 13 through Oct. 15, the Real Estate Board of New York hosted its inaugural hackathon, which brought teams from 40 different organizations together to compete for who could develop the best app to address real estate problems.
Prescriptive Data, a one-year-old software company, came away with two wins at the event's sustainable maintenance and operations, and location intelligence categories.
It should be noted Prescriptive Data had a serious leg up. It was spun off from a division of institutional landlord and developer Rudin Management Company to sell its software Nantum, which gathers building data, such as occupancy, electricity usage and other factors, to help maintain optimal indoor temperatures and efficient energy use.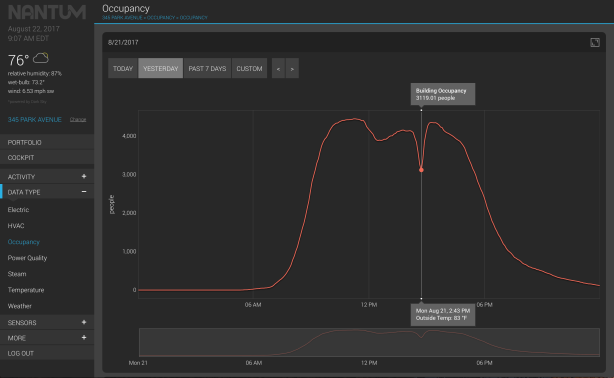 This is one of the open secrets of real estate and tech: Despite all the hand-wringing about how real estate is populated by dinosaurs who only understand brick and mortar, there are plenty of landlords worried about just how far behind the industry is and have been actively trying to fix the problem. Landlords are investing venture capital directly into new companies, creating venture capital arms or funding venture capital firms that invest in real estate tech, and making their own in-house technology.
The initial version of Nantum, Prescriptive Data's first product, was created in 2013, and Rudin tested it with its buildings. 
"We wanted to improve our business, and once we developed Nantum and we saw how powerful the system was in our properties, we thought, 'Wait a minute, we may be onto something here,' " Michael Rudin, a vice president at the company, told Commercial Observer.
Rudin started Prescriptive Data last summer and began selling Nantum on the market to landlords. At that time, it was using the product in 17 Rudin buildings encompassing 10 million square feet, according to a release. The company now has more than 12 million square feet of properties on its platform, according to a spokeswoman. (Rudin declined to say if Prescriptive Data was profitable yet.)
And through Rudin Ventures, Rudin has invested in a series of technology companies, including Hightower (since merged with VTS) in 2015, Radiator Labs in 2016, Honest Buildings and Latch in 2016 and Enertiv in 2017.  
But Rudin is hardly the only real estate company to invest in related technology; Blackstone, which has its own tech division with Blackstone Innovations, has invested capital in various startups, including property management platform VTS in January 2015 with $3.3 million.
Today, Blackstone executives, along with Rudin, Equity Office and other large real estate players that use VTS' technology, make up the company's customer advisory board. They meet as a group once a quarter to talk about things they like about the product and ways to improve it—on a voluntary basis.   
"They are seeing the value that they are getting for the product, and if they can get a stake in it, it is a pretty great thing for them," VTS co-Founder and Chief Executive Officer Nick Romito said. "It's better to be in the car than watch the car pass you."
Brookfield Property Partners, Rudin and Milstein family's Circle Ventures have invested in Honest Buildings, a project management platform that helps ensure developments are completed on time and on budget. And mall operator Simon Property Group, via Simon Ventures, has invested in Appear Here, a marketplace for short-term retail space (with terms from one day to as long as three years).
Appear Here recently raised funding from Fifth Wall, a venture capital firm that supports emerging real estate-related technology companies. Fifth Wall injected the undisclosed amount into the company to support its expansion in the United States, according to a release on the partnership. This is significant because Fifth Wall has investments from major real estate landlords such as Equity Residential, Hines, Macerich and real estate investment trust Prologis, and Appear Here needs landlords for its model to work.
"At our end, we are really trying to disrupt an old industry," said Elizabeth Layne, Appear Here's chief marketing officer and U.S. general manager. "But in order for that to be successful, we need landlords to put their space online. We need them to use our dashboard. And that's a big change for an industry that is just used to using brokers and talking to a person instead of using the internet."
Fifth Wall, meanwhile, has raised $232.3 million to date and has already invested in many successful tech companies that are seeking to enhance real estate-related services, including OpenDoor, which lets people instantly buy and sell homes, and States Title, which is seeking to revamp the title and underwriting process. Fifth Wall's success via those startups has raised eyebrows among real estate executives looking to make their foray into the world of tech.
"We launched a corporate venture group in March 2016. The idea started when our CEO had conversations with Fifth Wall," said Will O'Donell, a managing director at Prologis, during the inaugural MIPIM ProTech event in Times Square on Oct. 11. "The reality of why we started it is everyone at the company has a day job…but if you actually create a group that is 100 percent accountable for identifying where disruptive trends are occurring—where technology is coming out—and forcing the company to deal with it, it's a very creative and helpful friction."
The MIPIM event brought out more than 800 professionals—most of whom were new startup founders and marketers—but there was a sizable group of real estate executives from institutional developers and landlords, including Blackstone, AvalonBay, Vornado Realty Trust, Silverstein Properties, Equity Office and Japan's Mitsui Fudosan. Ric Clark, a senior managing partner and chairman of Brookfield Property Partners, and Owen Thomas, the CEO of Boston Properties, were panelists at one of the forums.
The showing revealed just how hungry landlords are for tech. Many used the time to network with young entrepreneurs and discuss new technologies.
"We ran a very large [request for proposals] back in the spring looking for a technology vendor that we could essentially partner with to handle everything from lease management, lease pipeline, tenant tracking all the way through to the asset management and the accounting," said Jonathan Pearce, a senior vice president at Ivanhoé Cambridge, during the panel discussion. "And we had very smart people around the table, and believe it or not, there isn't just one solution that does all of that."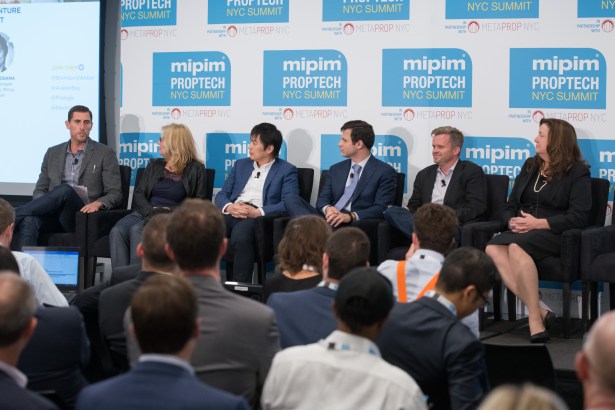 When the moderator Ryan Simonetti, a co-founder of online meeting-space provider Convene, suggested a company at the event might have a product that Ivanhoé was looking for, Pearce replied, "I'd love to talk to them."
"What is happening is as companies have been successful in developing technology, large real estate companies are embracing them, and they see an ability to prosper both on the innovation side and the management side," said Robert Courteau, CEO of Altus Group, an advisory services and software provider for real estate companies. "By investing in these [startups], it has immediate benefits on their own companies and perhaps make some money in the market. They are being opportunistic."
Landlords are also ramping up the use of tech in their properties. Cove Property Group and partner Bentall Kennedy are wrapping up construction at 101 Greenwich Street, where they have partnered with Convene.
Convene, which Brookfield has invested in numerous times, will debut a mobile app for 101 Greenwich that will allow employee access through security turnstiles. The app will also allow tenants to give mobile building access to visitors, book Convene conference rooms and order the delivery of food to their space from Convene's kitchen. In addition to this, Cove is adding facial recognition technology to the building to be used by employees to access their place of employment.
"We look for technology to increase the tenant experience in the building and things that are going to make us run the building more efficiently," said Amit Patel, the chief operating officer of Cove. "If you are rushing into the building into the morning and you have something to do like a meeting, you want to be able to get into the building as quickly as possible. And it will alleviate pressure off the security staff."
Last year, developer Savanna employed Cortex Intel, which provides building engineers with an app that helps them operate complex HVAC systems more efficiently, at 110 William Street. This helped the developer reduce annual operating costs by $250,000, according to a Savanna release. Now the developer is looking for further tech opportunities.
"As we have done with Cortex and other technology platforms, we will continue to selectively implement technologies that fit within our portfolio and also help drive operational efficiencies and savings, ultimately creating value for our investors," Nicholas Bienstock, a co-founder and co-managing partner of Savanna, said in a statement to CO. "I think we are now starting to see technologies that generate real payback on the initial investment required to implement them, in addition to providing certain operational efficiencies or data analytics."
And then there's the startup Outernets, which transforms vacant storefronts (or any window, for that matter) into interactive digital displays or advertisements. Omer Golan, who co-founded the company two years ago with his wife Tal, said that they have secured a few major landlord investors who are "very much involved," but he would not reveal the names.
United American Land is working with Outernets, as is office-space provider and soon-to-be landlord WeWork (once considered a startup itself) at its headquarters in Chelsea. The company installs a special material on the glass and a projector system inside that creates the graphics onto the window. Outernets shares the ad revenue with landlords. And the technology also has sensors that pick up demographic data about the people passing by, which they also share with landlords.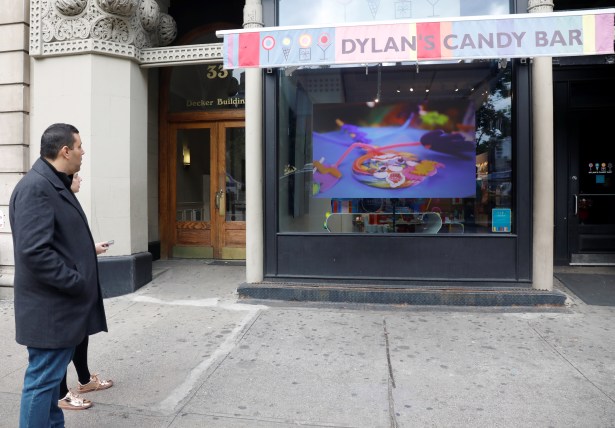 These technologies are just the beginning as landlords increasingly see their value, Courteau said.
"You'll see more capital going into [startups] as larger asset owners invest in technologies," Courteau said. "There is still a lot more capital coming in."
The next generation of real estate players may be a hybrid of landlord-tech developers.
Columbia University's Graduate School of Architecture, Planning and Preservation began offering courses in real estate technology in June, called Hacking for Real Estate 1 and 2, to teach the next generation of developers about the importance of property technology applications.
There students learn how to use a variety of real estate applications and how to think critically about incorporating technology in their projects. The one-year master of science degree in real estate will be useful as technology begins to play a much bigger role in development, according to Patrice Derrington, the director of the program.
"We are teaching our students how to be digitally literate," Derrington said. "That means capable of all apps, understanding the place for applications, being critical in terms of the usage of applications and having a more incisive look at daily real estate activities and considering potential digital solutions. They even do a little bit of coding to know just what it is like."
To date, real estate companies have been targeting real estate-related ventures, hardly straying from things that would support their core business. But then there is amazing story of SilverTech Ventures, which works in collaboration with Silverstein Properties (as it was in part founded by Silverstein President Tal Kerret). SilverTech Ventures has been investing in both real estate and non-real estate startups for more than two years.
Kerret and other founders meet with about around 50 to 60 companies each month and choose one startup in which to invest every two months. To date, they have invested in 17 startups, including mobile wallet Cinch, identity protection startup Semperis and property management service Rentigo. Kerret said before the selection they like to spend a few months getting to know the executives.
"The graph is always up and the revenue will always come in the future," Kerret said. "From the hundreds and hundreds of companies that we have seen it's always [the same]. It's like going on a date before you begin seeing someone."
But for Kerret, investing in young companies provides them with something other than just the next business opportunity or way to enhance their own portfolios.
"I want to have fun with what I do in life, and I want to be around people I enjoy," Kerret said. "I spend a lot of time with the CEOs, and I would rather spend time with people that I can have more fun with."
110 William Street
,
2017 Owners Magazine
,
Amit Patel
,
Appear Here
,
AvalonBay
,
Blackstone Group
,
Boston Properties
,
Brookfield Property Partners
,
Circle Ventures
,
Columbia University
,
Convene
,
Cortex Intel
,
Cover Property Group
,
Elizabeth Layne
,
Equity Office
,
Equity Residential
,
Fifth Wall
,
Hightower
,
Hines
,
Honest Buildings
,
Latch
,
Macerich
,
Michael Rudin
,
Mitsui Fudosan
,
Nantum
,
Nick Romito
,
OpenDoor
,
Outernets
,
Owen Thomas
,
Owners Magazine
,
Patrice Derrington
,
Prescriptive Data
,
Prologis
,
Radiator Labs
,
Real Estate Board of New York
,
Ric Clark
,
Robert Courteau
,
Rudin Management Company
,
Rudin Ventures
,
Ryan Simonetti
,
Savanna
,
Silverstein Properties
,
SilverTech Ventures
,
Simon Property Group
,
Simon Ventures
,
Tal Kerret
,
United American Land
,
Vornado Realty Trust
,
VTS
,
WeWork
,
Will O'Donell