Is 'DoBro' Finally Happening?
High-rise apartments and office buildings abound, but livability has remained elusive in Downtown Brooklyn—until now.
---
---
For more than a decade, Downtown Brooklyn was always about to turn a corner in terms of livability—or so developers said.
In 2007, Albee Development—a consortium of Acadia Realty Trust, Curbcut Urban Partners and Washington Square Partners—purchased the site of the former Albee Square Mall, expecting to hit the ground running on a new and exciting shopping, entertainment and residential destination. 
Then, of course, everything fell off a cliff.
"We bought the property in '07—a defunct, failed, multilevel retail project that had tried to find success on Fulton Street for several decades with the expectation that we were going to be going great guns through '08 and '09," said Acadia Chief Operating Officer Christopher Conlon. "Our project, along with many others, stalled from 2008 to 2011."
While predictions for a more residential, leisure-oriented Downtown Brooklyn have been giddy for at least a decade, it is only now, on the heels of the recent opening of Albee Development's project—the long-awaited City Point—and its amenities, such as the Alamo Drafthouse movie theater and the DeKalb Market food hall, that the business district's lifestyle potential is coming to fruition.
"First come the people. Then comes the necessity retail—dry cleaners, liquor stores, candy stores. Then after that, when the critical mass is here, that's when the last wave comes in and you get the leisure and nighttime activities," said Brooklyn broker Timothy King, the managing partner at CPEX Real Estate Services.
That's where DoBro appears to be in 2017 with a slew of dining and drinking options either open or in the works.
"The neighborhood went from the sort of place where, if you passed out on the sidewalk at night, they wouldn't find you until the next day, to where it's much more of a neighborhood," King said.
The area's expansion has been underway since then-New York City Mayor Michael Bloomberg and the City Council passed the Downtown Brooklyn Plan in 2004, a rezoning which, according to the city's website, allowed for "the creation of 4.5 million square feet of new commercial office space, 800,000 square feet of retail, 1,000 units of housing, new open space and retail amenities, as well as streetscape improvements."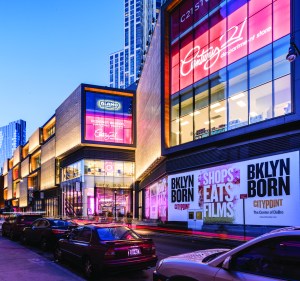 As it happened, many of the plans that came together over the next several years were put on hold due to the 2008 financial crisis.
"The rezoning was a pre-financial-crisis event," Conlon said. "Had there not been a global financial crisis right after the rezoning, [this development] probably would have happened a lot sooner. The development world shut down with the crisis, and people couldn't get financed. Tenants weren't moving, and everything sort of seized up."
But the crisis was simply the first obstacle. Once it abated and development money began freeing up, you still had a very buttoned-up, office-centered neighborhood with little residential presence or nightlife. This evolved slowly, as many developers waited for others to make the first move.
Residential was the first to push ahead. Slowly high-rise apartment buildings like The Brooklyner at 111 Lawrence Street, 388 Bridge Street and Avalon Willoughby West at 100 Willoughby Street kept rising year after year in Downtown Brooklyn and surpassing one another as the tallest building in Brooklyn, bringing thousands of residents to the area.
But catering to these residents stagnated. Conlon recalls how retailers would send representatives into the area to scout potential locations.
"They would get orders from their corporate office—'Go find us a store in Brooklyn,'" he said. "So they would send their retail real estate experts out to Brooklyn, and they would take the subway out and walk around…[and a] lot of retailers looked and were like, 'I don't get it,' and they just left. They went to Williamsburg."
Of course, they could hardly be blamed for failing to see the potential for a vibrant social and shopping life in an area that had virtually none.
"Downtown Brooklyn has always been a very bustling place during the commercial hours—there are 100,000 office workers there every day—but after dark, when those businesses close down, it got very quiet," said Tucker Reed, a principal at Brooklyn-based Totem Real Estate and the president of the Downtown Brooklyn Partnership until last year.
"I remember three or four years ago when Ganso, a little Japanese ramen place on [Bond Street], opened up, and we were like, 'That's a game changer'—the first neighborhood scale restaurant isn't an iconic destination like Juniors or something. When Macy's closed at 7 o'clock, the neighborhood was pretty deserted."
"No business wants to take the risk until the neighborhood has changed," said Jake Elghanayan, a senior vice president at TF Cornerstone, which recently unveiled the 25-story, 714-unit residential rental building 33 Bond at the corner of Bond Street and Atlantic Avenue and will open a 52,000-square-foot outpost of Chelsea Piers in the building in the spring of 2018. It became a catch-22.
"It's difficult to get retailers to be the first one in, so everything takes a little longer because there's always a nervousness about going into a new neighborhood for a retailer. So the deals we've had, we've had to try to de-risk the opportunity for the retailer, showing how the demographics and the population will change in the next few years."
There were occasional signs of life and hope from independent operators over the years. Brooklyn Fare, the supermarket that evolved to include a four-star eatery, opened in 2009 at 200 Schermerhorn Street at Hoyt Street; the Catskills-inspired bar Livingston Manor opened at 42 Hoyt Street, by Livingston Street, in 2014. 
But the most likely catalyst for heavy activity was the progress of City Point, which opened last year at 445 Albee Square West, bringing with it an outpost of the food-and-drink-offering movie chain Alamo Drafthouse, as well as the 60,000-square-foot, 40-vendor DeKalb Market.
"People believed in the market before City Point opened, knowing it was on the horizon," said Dan Marks, a partner at Brooklyn-based commercial brokerage TerraCRG. "Just knowing that a project of that scale is on the way gave people a lot of confidence to build there."
But City Point's first salvo has been very impressive: Conlon said that the Drafthouse, which will add a beer garden to its already existing House of Wax restaurant this fall, is already No. 1 in sales among the chain's 43 theaters nationwide.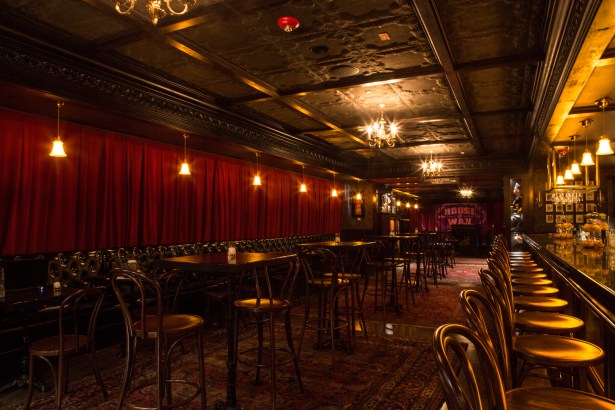 In addition to Alamo, DeKalb Market, Trader Joe's and Century 21, as well as other retail outlets setting up shop at City Point, the area will be getting Brooklyn's second Apple (AAPL) Store at the 32-story 300 Ashland Place, a Two Trees property on Ashland Place near Lafayette Avenue, which also houses 379 luxury rental units, and will host the new Whole Foods 365 outlet, a BAM movie theater and a branch of the Brooklyn Public Library.
Other offerings include the 6,000-square-foot brewpub Circa Brewing Company, at 141 Lawrence Street between Willoughby and Fulton Streets, which offers beer brewed on the premises to drink along with its wood-fired pizza.
The Kimoto Rooftop Garden Lounge is now open at 216 Duffield Street between Willoughby and Fulton Streets, above the Aloft and Sheraton Hotels, with "breathtaking views of the Statue of Liberty, Barclays Center and Hudson River," according to their website, along with its Asian-inspired menu.
The Ashland offers the second New York outpost of the Gotham Market food hall with highlights like the "beer, bourbon and barbecue" joint Mason Jar, the brick-oven pizzeria Apizza Regionale and the premium chicken outlet Flip Bird. 
Inside 33 Bond, TF Cornerstone will host the second Brooklyn outlet of Devoción, which describes itself as "the only exclusively farm-to-table coffee roaster in the world."
"They have their first location in Williamsburg," Elghanayan said. "It's a beautiful store that's won lots of awards and has great Colombian coffee. We thought it was a great offering, and they'll probably be open before the spring."
While the proliferation of leisure could be seen as long overdue, some believe it a natural progression that's happening right on time.
There will almost certainly be no shortage of foot traffic in the neighborhood—the residential and mixed-use developments aren't letting up. Projects like the aforementioned 58-story, 826-unit AVA DoBro (also known as Avalon Willoughby West) at 100 Willoughby Street, from AvalonBay Communities; Steiner NYC's 600-unit The Hub, at 333 Schermerhorn Street; and The Ashland at 250 Ashland Place, from the Gotham Organization, a 53-story tower with 586 rentals, have begun giving the area the density it needs to support a vibrant social and community life.
Given the area's proximity to so many already thriving Brooklyn neighborhoods, Regina Myer, the current president of the Downtown Brooklyn Partnership, added that the new retail offerings add to an already rich assortment of cultural offerings not far away.
"The culture has always been here," Myer said, referring to such entities as BAM, BRIC and the Theater for a New Audience. "They're the ones that have been making Downtown Brooklyn a great place to come and see entertainment for years. So it's amazing now that there are great places to eat finally, how that's really catching up."
Given some of the new projects on the way, the area is hardly done experiencing new places to eat, drink and be merry. The mixed-use Caesura at 280 Ashland Place, being developed by the Jonathan Rose Companies at the corner of Lafayette Avenue, in addition to offering 123 rental apartments will host the Center for Fiction, the Mark Morris Dance Group and a 2,800-square-foot craft brand restaurant from the founders of 'Wichcraft. The project is due to be completed this year.
Longtime city residents have marked the neighborhood's growth in traditional New York ways.
"To me, a great indicator [of the neighborhood's change] is the ability to catch a cab by Fulton Mall," Reed said. "All of a sudden, there are cabs stopping by the corner of Willoughby Street. Before—and before Uber—you had to walk back to Fort Greene or Brooklyn Heights to find a cab… The cabs follow demand."
What's most exciting to those with whom Commercial Observer spoke is that the current explosion feels like the tip of the iceberg. Now that Downtown Brooklyn is massing growth and showing both a desire for, and the success of, more leisure and lifestyle-oriented outlets, the floodgates are open now for exponential growth in the years to come.
"If you took a panoramic picture of the neighborhood five years ago and laid it next to the same picture from today, people might think you were speaking about a different city. The same will hold true five years from now," King said. "Retailers are like a herd of animals—very few retailers like to be the first guy in. But once the marketplace is established and proven, it's an awful lot easier to get the next folks to follow."
'wichcraft
,
111 lawrence street
,
216 Duffield Street
,
300 Ashland Place
,
33 Bond
,
33 Bond Street
,
333 Schermerhorn
,
333 Schermerhorn Street
,
388 Bridge
,
388 Bridge Street
,
445 Albee Square West
,
Acadia Realty Trust
,
Alamo Drafthouse
,
Albee Development LLC
,
Albee Square Mall
,
AvalonBay Communities
,
BAM
,
BRIC
,
Brooklyn Fare
,
Brooklyn Public Library
,
Century 21
,
Chelsea Piers
,
Christopher Conlon
,
City Point
,
CPEX Real Estate
,
Curbcut Urban Partners
,
Dan Marks
,
DeKalb Market Hall
,
Devoción
,
Downtown Brooklyn
,
Downtown Brooklyn Partnership
,
Gotham Market at The Ashland
,
Gotham Organization
,
House of Wax
,
Jake Elghanayan
,
Jonathan Rose Companies
,
Mayor Michael Bloomberg
,
Michael Bloomberg
,
New York City Council
,
Regina Myer
,
Steiner NYC
,
TerraCRG
,
the brooklyner
,
The Center for Fiction
,
The Hub
,
Theater for a New Audience
,
Timothy King
,
Totem Real Estate
,
Trader Joe's
,
Tucker Reed
,
Two Trees Management Company
,
Washington Square Partners
,
Whole Foods
,
Apple
,
TF Cornerstone