A Big Chunk of Downtown Brooklyn—on Albee Square West—Is Finally Having Its Moment
---
---
Where there's a Willoughby, there's a way.
Come September, Willoughby Operating Company anticipates that the financing will go through for the development of a public space with parking garage underneath in Downtown Brooklyn called, aptly enough, Willoughby Square, that has been on the drawing board for more than a decade.
The project is one piece of the Downtown Brooklyn Redevelopment Plan, adopted in 2004, to bring new life to the area. But 2017 seems like the year when Willoughby Square—and a lot of other things around it—finally springs to life.
A couple of weeks after the closing of the financing, excavation will commence for the $90 million-plus project on Albee Square West, said project developer Perry Finkelman, the principal of Willoughby Operating Company, an affiliate of the American Development Group. Thirty months later, the one-acre park and nearly 700-space automated parking garage will be completed.
"This garage has been customized for the neighborhood," said Samuel Stelzer, the head of investments and acquisitions at Willoughby Operating Company and American Development Group. He added that it's intended to service the various projects that exist or are under development in the area.
For the modest, one-block area called Albee Square West—a once sleepy street between Fulton and Willoughby Streets that served as the back of Albee Square Mall and an access point to parking lots—there is a ton of development underway or on the drawing board.
Other than the park, those include the 1.8-million-square-foot mixed-use development City Point at 445 Albee Square West; JEMB Realty Corp. and Forest City Ratner Companies' 500,000-square-foot office tower at 420 Albee Square, which they call One Willoughby Square; and All Year Management's 160,000-square-foot residential building at 436 Albee Square.
Where Albee Square West turns into Gold Street—the block spanning Willoughby Street to Myrtle Avenue—there is a mixed-use project that Savanna intends to build at 141 Willoughby Street, the former home of the Institute of Design and Construction. And on the other side of Gold Street is 4 MetroTech Center, owned by JP Morgan Chase, which is going through a retail repositioning along with the bank's 3 MetroTech Center.
"A year or two from now those two blocks will be almost unrecognizable," said Brooklyn broker Timothy King, the managing partner of CPEX Real Estate Services, whose firm along with Avison Young is marketing over 100,000 square feet of retail space at the 1991-erected 3 and 4 MetroTech Center. All of the projects will create an "exciting retail corridor where none exists today."
Regina Myer, the president of the Downtown Brooklyn Partnership, concurred, noting that they are streets that "were really long ignored."
But retail is hardly the only thing on developers' minds. JEMB and Forest City have plans for a 36-story office tower at One Willoughby Square. The designs are being finalized, the developers indicated, but the building will include outdoor terraces.
"We are starting the first modern office tower in Downtown Brooklyn since MetroTech [Center, an 11-building, 3.7-million-square-foot complex which Forest City developed] and since Brooklyn has become the hotbed for the digital economy," said MaryAnne Gilmartin, the president and chief executive officer of Forest City.
Unlike at MetroTech Center, the floor plates are smaller, in the 20,000- to 30,000-square-foot range, rather than the 50,000- to 60,000-square-foot range—to "appeal to a different kind of tenant" like those in technology, Gilmartin said.
Morris Bailey, the founder and chairman of JEMB Realty, said that there hasn't been a commercial building erected in 20 years and that his project is part of the "exciting redevelopment of Downtown Brooklyn."
Because the project will benefit from real estate tax breaks via the Industrial and Commercial Abatement Program as well as the Relocation and Employment Assistance Program, tenants too will reap the rewards.
Demolition has been completed, Bailey said, and "We expect to get into the ground at the beginning of next year." The project will be completed within two-a-half years later. Asking rents will range from $65 to $75 per square foot, Bailey said.
The FXFowle-designed building will overlook Willoughby Square, and the park and the parking lot together are a "great amenity for us," said Bailey, who has owns the site and brought in Forest City as a development partner.
Bailey scrapped plans for a residential building—half condominium and half rental—when "we realized the need for a modern office building." Besides, he added, "You have a lot of residential development there."
The 2004 rezoning of the area's central business district was intended to pave the way for residential and commercial development.
"Clearly the residential portion really did happen," said Myer, who's nonprofit development organization is handling maintenance and programming for Willoughby Square. "So it's important that there is more office growth in Downtown Brooklyn."
The emergence of Albee Square West started with the replacement of Albee Square Mall with City Point, which opened in October 2016. Albee Square Mall, which spanned the east side of Albee Square West between Fulton and Willoughby, had been cut of from the street by an all-brick wall with no entranceway.
"It was a 900-foot-long brick wall" with no setback, said Paul Travis, the founder and managing partner of Washington Square Partners, the developer of City Point along with Acadia Realty Trust. "Historically this was a street no one ever walked on," but today, "people are using it as a street."
The developers corrected that by putting an entrance and storefronts along Albee Square West.
Included in City Point, Extell Development Company will erect a residential building, with retail at the base (the retail will be owned by Acadia), at 138 Willoughby Street, at the corner of Flatbush Avenue.
Anthony Hogrebe, a spokesman for the New York City Economic Development Corporation, which encourages economic growth in the city, said City Point is a "catalytic anchor development" and has helped spark a lot of these other investments and developments get off the ground.
The city has proved an integral part of the evolution of Albee Square West and Gold Street as it has provided City Point with its ground lease; and it's selling a small site and air rights for Savanna's office and residential building at 141 Willoughby Street. Across from City Point, EDC is involved with 420 Albee because it sold air rights and a small parcel to JEMB. And, the city owns the site of Willoughby Square, where it is leasing the garage premises to Willoughby Operating Company and is footing the $6 million park development tab.
At Willoughby Square, Finkelman said demolition is underway and excavation will start on the park and parking garage in the next couple of weeks. The Downtown Brooklyn Partnership will handle maintenance and programming for the park, which should be completed in spring 2020.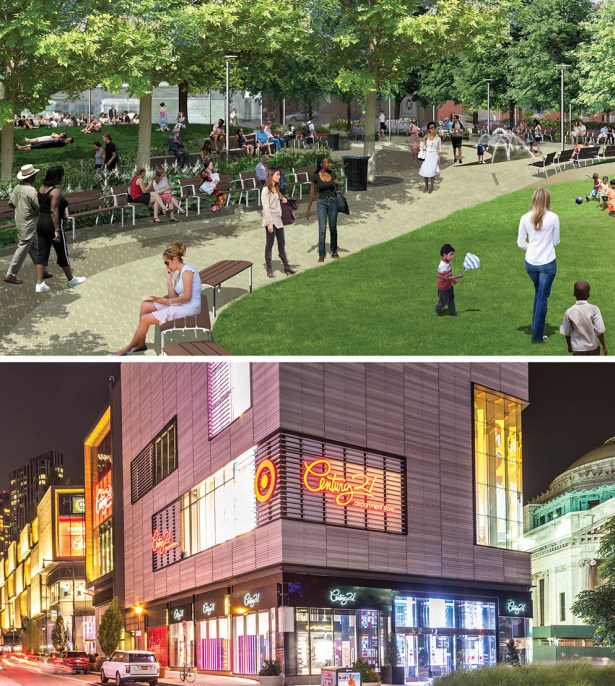 "It's probably the most interesting area in the city today," Finkelman said. "It's rare that you get to see a community being built from scratch."
The park will have a "fantastic design" with "space for passive use like lawns, a playground, a dog run, a nice-sized area for tables and chairs," and cool programming, Myer said.
"Downtown Brooklyn has a realy distinct lack of open space," Myer said. "Having additional open space is really a great complement to the large amount of development going on directly adjacent to it. It really is a centerpiece for gathering."
In addition, Myer said, the parking is critical for the adjacent projects.
Also on Albee Square is All Year Management's 310-foot, 28-story project at 436 Albee Square, designed by ODA. It will comprise 118,977 square feet of residential space and 23,740 square feet of commercial space, according to the New York City Department of Buildings, with 150 rental units and three floors of retail at the base. According to a spokeswoman for ODA, the retail space will span 25,000 square feet and the apartments will be primarily two-bedrooms.
"Albee Square is a vibrant addition to Brooklyn, which adds a unique and welcome character to the new downtown area," Eran Chen, the founder and executive director of ODA, said in statement provided to Commercial Observer. "Since most of the new towers surrounding it are residential rather than commercial—which is unusual for a downtown hub—rather than simply replicate the formula for an office building, we incorporated features to break the scale and make them more intimate. The sculpted façade allows for unique and protected outdoor spaces for each of the units which serve as an extension of the indoors with sweeping views of Brooklyn and the Bay." (All Year Management didn't respond to requests for comment.)
On Gold Street, the City Planning Commission in September 2016 greenlighted an upzoning for Savanna to build a 44-story mixed-use building with 203 apartments and 124,000 square feet of commercial space, city documents indicate. The developer filed for demolition permits in May 2016, but they have not been approved. Savanna declined to comment through a spokeswoman.
On the same block, CPEX and Avison Young are looking to bring in a new crop of retail tenants at 4 MetroTech (and 3 MetroTech on Myrtle Avenue), as Commercial Observer has previously reported.
King declined to talk about the assignment but noted about Albee Square West and Gold Street that with most of Downtown Brooklyn already snapped up, "these two bocks were almost like the last two pieces of the puzzle."
With additional reporting provided by Rebecca Baird-Remba.
138 Willoughby Street
,
3 MetroTech Center
,
4 MetroTech Center
,
420 Albee Square
,
436 Albee Square
,
445 Albee Square West
,
Acadia Realty Trust
,
Albee Square Mall
,
All Year Management
,
american development group
,
Anthony Hogrebe
,
Avison Young
,
City Planning Commission
,
City Point
,
CPEX Real Estate Services
,
Downtown Brooklyn Partnership
,
Eran Chen
,
Extell Development Company
,
Forest City Ratner Companies
,
FXFOWLE
,
Institute of Design and Construction
,
JEMB Realty
,
JP Morgan Chase
,
Morris Bailey
,
New York City Economic Development Corporation
,
ODA Architecture
,
ODA New York
,
One Willoughby Square
,
Paul Travis
,
perry finkelman
,
Regina Myer
,
Samuel Stelzer
,
Savanna
,
Timothy King
,
Washington Square Partners
,
Willoughby Operating Company