Checking in With Halletts Point in Astoria, Queens
---
---
The Durst Organization's attempt to build a new neighborhood on the Astoria waterfront is finally taking shape. The first building in the Halletts Point megaproject topped out two weeks ago at the corner of 26th Avenue and First Street, just steps from the East River.
The 22-story tower, dubbed 10 Halletts Point, will bring 408 new apartments to a remote slice of Queens dominated by New York City Housing Authority's 22-building Astoria Houses complex, which was constructed in 1951. By the time it's done, the 2.4-million-square-foot Halletts Point project will comprise seven buildings, 2,000 apartments (including 483 affordable ones), plus 69,000 square feet of retail and a public waterfront esplanade. Five partially affordable high-rises will dominate the waterfront, and two smaller, entirely below-market-rate buildings will rise further inland.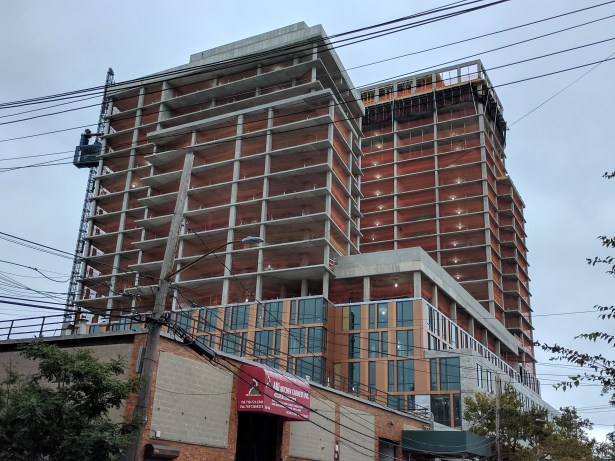 While the full buildout of Durst's $1.5 billion development won't be complete until 2023, the first building—which will have 81 affordable units—will be finished in the summer of 2018. Designed by Dattner Architects, the building at 26-01 First Street will be split into two towers and clad in a mix of glass and copper-hued metal paneling. A 24,000-square-foot Brooklyn Harvest Market will anchor the ground floor, bringing the Dursts a tax break and a valuable amenity to the neighborhood. (So far, Dattner Architects designed the master plan for the projects as well as Buildings 1 and 7; Davis Brody Bond is designing Buildings 2 and 3; the remaining three buildings have not been assigned an architect yet.)
"We're excited about creating this new urban presence in Queens and drawing people back to the waterfront, which has been under-utilized for a while," said architect Steve Frankel, a project manager at Dattner who's overseeing Halletts Point. "A lot of the buildings have been oriented so they create new corridors to the river. They let light and air in so people walking through the neighborhood can connect to the waterfront."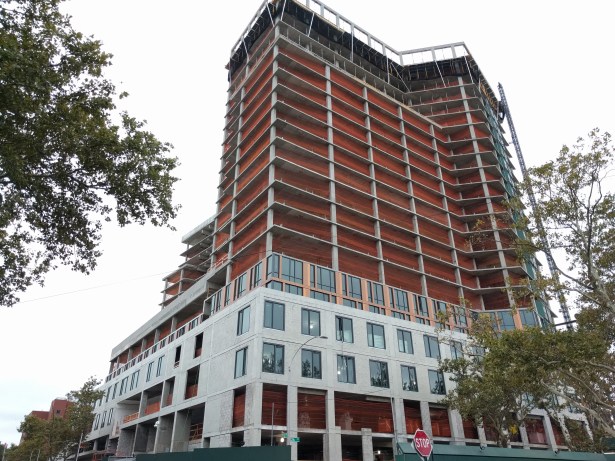 The developers have scrapped plans for a cogeneration plant that would have powered the entire complex on its own, but the project will still incorporate environmentally friendly features. Ten Halletts Point (known as Building 1 on the site's master plan) will have its own blackwater treatment plant, which will recycle and treat 50,000 to 80,000 gallons of wastewater a day and pump it back into other parts of the building. After the water has been treated with microbes, aerated and disinfected with chlorine, it can be used to water plants and flush toilets. The building will also be cooled by a chilled water system, which is a form of air conditioning typically used in office buildings. The system sends cool water throughout the building, and as the water passes over coils, the system sucks in hot air and chills the water before recirculating it through the building.
"We'll have a central chiller plant [in Building 3]. Each apartment will have fan chiller units rather than a conventional through-the-wall air conditioning system," explained Jonathan "Jody" Durst, the president of the Durst Organization. "And that will save about 50 percent of the utility power that would normally be required for a conventional air conditioning system."
Tenants will also have access to a host of creature comforts in Building 1. The property will be outfitted with a large, landscaped terrace on the fourth floor, a smaller deck on the eighth floor, as well as several other outdoor terraces, yoga room, fitness center, children's playroom and a rec room. The five waterfront buildings will share amenities, and they'll be connected by swaths of newly created green space.
It is a mammoth construction job; so far, among the contractors, consultants and engineers that have been hired for work on Halletts Point, according to the project's website, are East Coast Drilling (ECD), Gleeds, Incinia Contracting Inc., Lagan (the environmental engineering firm), Longman Lindsey, McLaren Engineering Group, Milrose, Natural Systems Utilities, New Line Structures, Perciballi Industries, Philip Habib and Associates, Severud Associates, VDA (Van Deusen and Associates, for the elevators) and Vidaris.