Toys "R" Us Opening Holiday Pop-Up at the Crossroads of the World [Updated]
---
---
Toys "R" Us is heading back to Times Square.
After a nearly two-year hiatus, Toys "R" Us plans to reopen a 35,000-square-foot temporary holiday store at 1466 Broadway (also known as the Knickerbocker Building) this month, the toy giant announced in a news release this morning.
The store at the corner of West 42nd Street and Broadway will span three levels (lower level and first and second floors), with an entrance on Broadway. The terms of the lease were not immediately clear. The store is opening on Aug. 26. A spokesman for the company said the lease would continue "through at least the 2017 holiday season."
The store is making a come back in time for the holiday season "in response to customer demand," according to the release.  
"The Times Square holiday shop reunites our brand with an iconic New York destination which we are thrilled about," David Brandon, the chairman and chief executive officer of Toys "R" Us, said in a statement.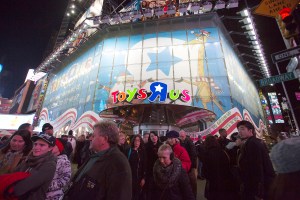 On the lower level, the store will feature hot wheels, action figures, bikes and scooters, and the first level will house New York City memorabilia, movie toys and electronic and entertainment devices. There will be Lego and Nerf shops and arts and crafts items on the second floor, along with a dedicated play area. And the second level will have life-sized toy displays including an animatronic dinosaur (although it will be smaller than the one at the previous store). 
At the location customers will be able to access the  "Buy Online, Pick Up In-Store" service. 
Brittany Bragg of Crown Retail Services and Peter Ripka of Ripco Real Estate brokered the deal for the landlords, Invesco and Crown Retail Services. Bragg and Ripka, who procured Toys "R" Us, declined to comment on the transaction.
Invesco paid $196 million in 2012 for a majority stake in the retail condominium at the building, as The Real Deal reported at the time. 
Toys "R" Us closed the  doors of its former 110,000-square-foot Time Square square at 1514 Broadway in December last year. It had a 60-foot indoor Ferris wheel and a 4,000-square-foot Barbie dollhouse, as CO previously reported. About half of that space has been leased by Gap and Old Navy, as CO also reported.
It was not immediately clear if Toys "R" Us is near a deal for a new permanent location.
"As we continue to evaluate our portfolio, we are constantly looking for real estate that we think is commercially feasible for us to go after," a spokesman for the company said.
Update: This story was edited to reflect when the store will open.