Toys 'R' Us Leaving Flagship Times Square Location
---
---
Toys "R" Us decided not to renew its lease for the giant toy retailer's 110,000-square-foot flagship store in the Times Square area, Commercial Observer has learned. And it may be moving to a retail space in the neighborhood.
"They did not exercise the option to renew," said C. Bradley Mendelson of Cushman & Wakefield, who is marketing Toys "R" Us' space at 1514 Broadway between West 44th and West 45th Streets on behalf of landlord Charles Moss of Bow Tie Partners. "Here's the long and the short of it. They have 21,000 square feet [on the ground floor]. There really is not a tenant that can rent that. The market has just escalated so."
The asking rent on the ground floor in the 150,000-square-foot building is $2,500 per square foot, $150 per foot on the lower level and $350 a foot on the second floor, the broker said. Toys "R" Us is paying about half that since commencing to rent at the location in 2000, Mr. Mendelson said.
"We could never get that from any one tenant," Mr. Mendelson added, noting that the space can be divided into parcels ranging in size from 30,000 to 50,000 square feet. He told CO in May 2013 that he didn't believe Toys "R" Us would renew so at that time the owner tapped him to start quietly marketing the space with multiple tenants in mind. He put the marketing into high gear last year.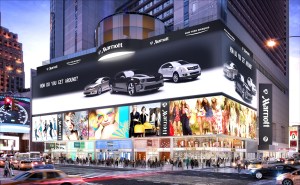 Toys "R" Us will vacate its space at 1514 Broadway—which has a life-sized T-Rex dinosaur, a 60-foot indoor Ferris wheel and a 4,000-square-foot Barbie dollhouse—next February, the same time the leases for the other retailers in the building—restaurant Bond 45, Foot Locker, Swatch and Starbucks—expire. Only Toys "R" Us had the option to renew.
"We'd like to keep as many of our tenants as we possibly can," Mr. Mendelson said.
Another broker said Toys "R" Us may be moving to Vornado Realty Trust's large retail space at the base of the Marriott Marquis at 1535 Broadway between West 45th and West 46th Streets, taking around 3,000 square feet on the ground floor and the entire lower level. The building houses the largest single LED screen in North American, which is now live.
"Toys "R" Us has been a proud resident of Times Square since our international flagship store opened there more than 10 years ago," a spokeswoman for the store said. "The lease for our store in Times Square expires in 2016 and, as previously noted, we have been reviewing our lease renewal options. We have not signed a lease agreement for a new location and any rumors regarding this ongoing process are just that."
Vornado declined to comment.