State Finalizes $1.6B Deal With Related, Vornado and Skanska for Moynihan Train Hall
---
---
Related Companies, Vornado Realty Trust and Skanska have sealed a $1.6 billion deal with the Empire State Development Corporation to convert the James A. Farley Post Office into a train hall and commercial complex, Gov. Andrew Cuomo announced today.
Construction is set to begin soon on the mall-transportation hub, which will be connected to the 40-year-old Pennsylvania Station across Eighth Avenue via the newly completed West End Concourse.
The project is being funded with $550 million from the state, $630 million from the developers, $150 million from Port Authority of New York & New Jersey, $105 million from Amtrak, $100 million from Metropolitan Transportation Authority and $65 million from federal grants.
The complex, to be known as Moynihan Train Hall, will host a 255,000-square-foot train hall for Long Island Railroad and Amtrak passengers and 730,000 square feet of office and 120,000 square feet retail space. Related and Vornado will operate and lease the commercial portion, the governor told reporters on a conference call this afternoon. The term of the deal is for 99 years. McKim, Mead and White designed the Farley building (as well as the long-defunct original Penn Station), and Skidmore, Owings & Merrill are handling construction of the new train hall inside the post office.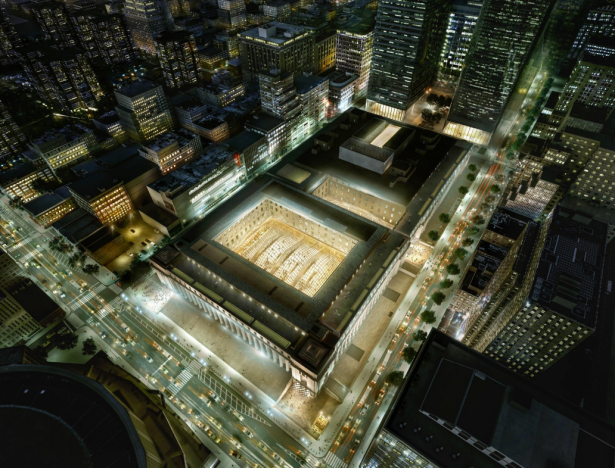 The revamped post office building will include a 92-foot-high skylight and access to nine platforms and 17 tracks, according to the governor's office.
The transit hall is scheduled to be complete by 2020.
The state also plans to redesign the LIRR's existing concourse along West 33rd Street in Penn Station and the subway stations, which serve the 1, 2, 3 and A, C and E lines. The upgrades will include better lighting, signage to help commuters navigate the building and digital screens.
The announcement comes just as commuters are bracing for several weeks of disruptions in Long Island Railroad service to Penn Station, because Amtrak needs to repair aging tracks beneath the behemoth rail complex.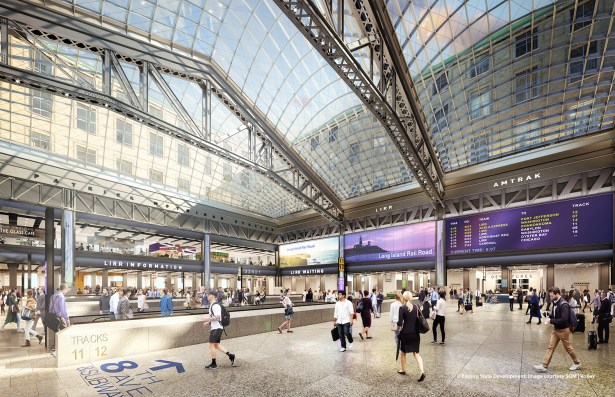 Amtrak
,
Andrew Cuomo
,
Empire State Development Corporation
,
James A. Farley Post Office
,
Long Island Railroad
,
Metropolitan Transportation Authority
,
Moynihan Train Hall
,
Penn Station
,
Pennsylvania Station
,
Port Authority of New York and New Jersey
,
Related Companies
,
Skanska
,
Skidmore Owings and Merrill
,
Vornado Realty Trust