West Side Story: The Tale of Hudson Yards
---
---
This West Side story—likely different than the one you're thinking of—is a neighborhood set to transform the way New Yorkers live, work, shop, eat and play. Hudson Yards, developed by Related Companies and Oxford Properties Group, is Manhattan's newest West Side neighborhood, bringing to the underutilized side of the city an unprecedented combination of luxury retail, restaurant experiences, energy-efficient residences and technologically advanced commercial office space. This new development, which happens to be the largest private real estate development in the nation's history, is included in a recently rezoned area bounded by West 42nd and 43rd Streets, Seventh and Eighth Avenues, West 28th and 30th Streets and Hudson River Park and built atop active rail yards. The Hudson Yards development runs between 30th and 34th Streets, between 10th and 12th Avenues.
Construction began on the project in 2012. When it is complete in 2025, there will be more than 18 million square feet of commercial and residential space, more than 100 shops and restaurants, and 14 acres of public open space, to name just a few of the highlights.
Already, the development has attracted the likes of Neiman Marcus, the Shops & Restaurants at Hudson Yards' anchor tenant, visionary architects and designers, renowned chefs Thomas Keller, José Andrés and Costas Spiliadis, who will develop signature restaurants, and luxury brands like Coach, L'Oréal, Tory Burch, Aritzia, Stuart Weitzman and more. Among other amenities of the neighborhood announced so far are a 750-seat public school; 4,000 residences; a 200-room Equinox hotel; a Public Square and Gardens with a new public landmark by Thomas Heatherwick, called Vessel.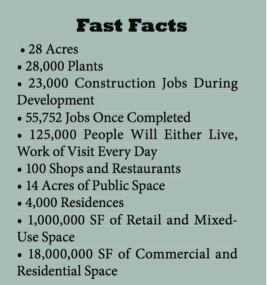 The History of Hudson Yards
Hudson Yards' roots date back to 1987, when the rail yards on the West Side were built by the Metropolitan Transportation Authority (MTA). They were built with the intention of using the space above them for future development. There was even consideration for developing the space as an Olympic site. More than 20 years later, the bid went to Related Companies.
Related is a fully integrated, highly diversified, privately owned real estate firm with experience in all aspects of development, acquisitions, management, finance, marketing and sales. Related is headquartered in New York City, but its team of approximately 3,000 professionals work in offices and at major developments in Boston, Chicago, Los Angeles, San Francisco, South Florida, Washington, D.C., Abu Dhabi, London and Shanghai.
This isn't Related's first mixed-use development by any stretch of the imagination. Its portfolio of mixed-use properties, which offer a blend of private, public and commercial spaces that integrate shopping, dining, entertainment and culture, have become major destinations in and of themselves; the Time Warner Center is a product of Related as well as MiMa, a 1.2-million-square-foot, 63-story mixed-use glass tower in the middle of Manhattan, for which it earned its name. The property features luxury residences and an array of health, recreation and entertainment amenities.
Related saw this project as an opportunity to make a permanent contribution to New York City's changing environment and possibly have a domino effect on development in the surrounding areas. So far, it's doing just that.
"Hudson Yards is a once-in-a-lifetime opportunity," said Jay Cross, the president of Related Hudson Yards. "Not only are we creating a new neighborhood at Hudson Yards, right in the middle of Manhattan, but we are linking together all of the neighborhoods on the West Side of Manhattan. For decades, Hell's Kitchen and Chelsea, two of Manhattan's fastest growing neighborhoods, have been separated by the rail yard. When Hudson Yards is complete, it will create a seamless connection between those two neighborhoods and, for the first time, link together a new network of city parks. When Hudson Yards opens in 2018, New Yorkers will not only have a new 5-acre public square and garden, but Hudson Yards will serve as the nexus for all parks on Manhattan's West Side. The High Line, Hudson River Park and the city's new Hudson Park & Boulevard will be seamlessly connected, creating the largest network of public spaces to be developed in Manhattan since Central Park."
Early Designs and Motivations
Cooper Robertson, a New York-based architecture and urban design firm, led the initial planning for Hudson Yards and is excited by Related's realization of the early vision for the district. The firm was originally hired by the city of New York in 2004 to develop a master plan for what is now the Special Hudson Yards District, the rezoned area larger than Related's Hudson Yards developments—essentially from the rail yards to West 42nd Street and from Ninth Avenue to 11th Avenue.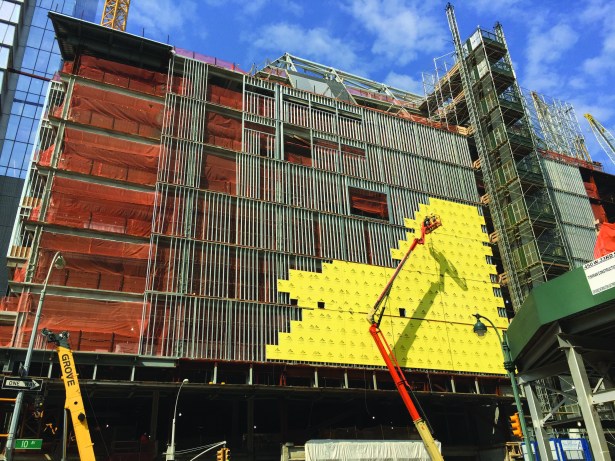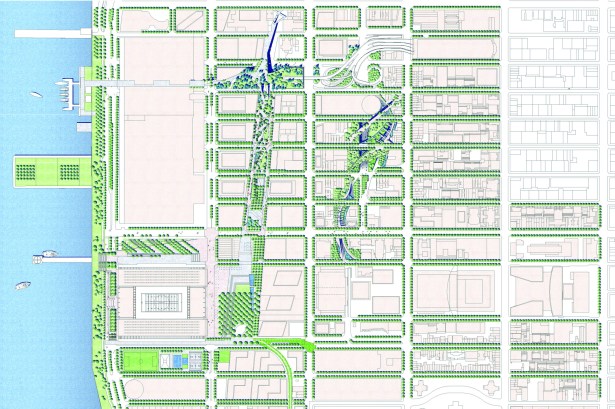 "One of the motivating drivers for the City was to think about where the next generation of office buildings would occur," said Donald Clinton, AIA, MRAIC, LEED AP, partner at Cooper Robertson. "There is an enormous amount of energy in lower Manhattan; however, the scale of long-term growth needs for New York really require a new place completely. The city understood the need to create a new neighborhood—one that was mixed-use and included commercial and residential space." The city made similar comments in its 2005 rezoning report, describing the area as one which could be transformed into one of New York City's most desirable neighborhoods.
Cooper Robertson's master plan proposed a framework for long-term improvements and growth. Clinton shared that key environmental and sustainability aspects of the plan focused on solar access through the north-south alignment of the key new neighborhood open space; management of northwest winter winds microclimate through the positing of future new office towers along 11th Avenue; and on transit access through the extension of the No. 7 subway line. These advancements noted by Clinton and Cooper Robertson's plan have been or are now being developed, attesting to the prescience of the original plan.
Origins of the Hudson Yards Name
One thing not new about the project is its name.
Over the years and before Related's winning bid, parts of the area now being called Hudson Yards retained a variety of nicknames, including "Far West Midtown" and "Death Avenue." The Hudson Yards name was picked up in 2001. This was a name given to a potential development project for NYC 2012, New York City's bid to serve as a site for the 2012 Summer Olympics, which would have been located at the site. Notably receiving its name because of the rail yards and its proximity to the Hudson River, it stuck.
The Positive Economic Impact
What does it take to convert outdated rail yards into a modern neighborhood that will generate nearly $500 million annually in New York City taxes and more than 55,700 jobs to the new neighborhood? Decades of planning, an unprecedented amount of investment funds and a train.
As one of the most complex construction projects in New York's history, the economic impact from construction has been substantial. According to Related, Hudson Yards has been a major contributor to the recovery of New York City's construction industry in recent years following the recession and estimates that construction work at Hudson Yards accounted for approximately 16 percent of the total increase in construction industry employment in New York City between 2011 and 2014.
"Manhattan's newest neighborhood will serve as a major economic engine for New York City and the surrounding region for the foreseeable future," Cross said. "When complete, Hudson Yards will contribute nearly $19 billion annually to New York City's GDP, accounting for 2.5 percent of the citywide GDP. It will also ensure that city's companies remain globally competitive, providing world class, class A office space that will attract and retain our next generation of leaders and innovation."
Hudson Yards will offer commercial office space, giving companies based in New York City an opportunity to move or expand in a new location within the city and companies based in other locations the opportunity to move to a prime location in New York. When completed, Hudson Yards will have more office space than the downtown area of many American cities including San Diego; Stamford, Conn.; Austin, Texas; and Tampa, Fla.
No. 7 Subway: An Economic Catalyst
The neighborhood is also now more accessible thanks to the extension of the No. 7 subway line to Hudson Yards, which was critical to support the anticipated 125,000 visitors to Hudson Yards daily. Revenue directly to the Metropolitan Transportation Authority (MTA) will total over $1.7 billion during the 14-year construction period. After construction is complete, the MTA will receive nearly $90 million in yearly payments.
International engineering and design firm, WSP | Parsons Brinckerhoff, soon to rebrand as WSP USA, has been a key contributor to the planning of Hudson Yards and the rail transit extension for over a decade.
"In the late 1990s, in response to the city's wish to develop the Far West Side as 'the next frontier' of Manhattan, WSP | Parsons Brinckerhoff recommended an extension of the No. 7 subway line from Times Square to a new station at 34th Street and 11th Avenue," said Gregory Kelly, the president and CEO of WSP | Parsons Brinckerhoff in the U.S. and Latin America. "WSP | Parsons Brinckerhoff led conceptual, preliminary and final design for the extension of the No. 7 Line."
Kelly mentioned that the firm assisted the MTA in development of an overall construction program and contract packaging arrangements providing construction support services. WSP | Parsons Brinckerhoff also provided systems integration services for the mechanical-electrical-plumbing (MEP) systems.
"The firm also prepared a 6,600-page environmental impact statement that considered not only the extension of the subway line but also the expansion and modernization of the Jacob K. Javits Convention Center and the rezoning of much of the west Midtown area of Manhattan for commercial, residential and recreational development expected to total $20 billion," continued Kelly. The firm is also currently providing structural engineering and MEP engineering services to several properties at Hudson Yards.
Fully funded by the city of New York via a development fund that included contributions by properties owners and developers in the area, the No. 7 subway line extension was the catalyst for investment into Hudson Yards. It opened in 2015 and has already seen much usage. Per MTA, the station was designed to handle 25,000 people in a peak hour and is anticipated to become the busiest single line station in the New York City Transit Subway system once Hudson Yards is fully developed.
Features at the New Hudson Yards Subway Station
"The underground station extends approximately 1,200 feet along 11th Avenue from West 32nd Street to West 37th Street," according to MTA. "The station features high-end finishes such as stainless steel tile wall panels, painted steel ceiling panels, granite floor tile and energy efficient lighting. It is air-tempered, maintaining a year-round temperature on the lower mezzanine and platform levels between 72 and 78 degrees Fahrenheit."
There are three public floors in the station: the upper mezzanine, which is 27.6 feet below street level; the lower mezzanine at 109 feet below street level; and the platform level which is 125 feet below street level. Like most MTA stations, it contains an ADA elevator located in the park outside of the main entrance. The subway station also features two mosaic art installations.
Pro tip: Check out the subway area now so you can say you knew it when.
Engineering a 21st Century Neighborhood
Building a full-fledged neighborhood on top of active rail yards spanning 28 acres is no easy feat. Two platforms had to be constructed, one over each the Eastern and Western rail yards, to even begin. These platforms sit atop train tracks and rail tunnels used by the Long Island Railroad (LIRR), Amtrak and New Jersey Transit (NJT). Throughout construction, the LIRR, Amtrak and NJT will remain operational.
The platform and buildings are supported by 300 caissons, which will be drilled into the bedrock between existing tracks. The Eastern rail yard's platform was completed in 2016. Careful planning was necessary to begin building a safe and reliable infrastructure in Hudson Yards.
Planning for an Innovative Infrastructure
Related and Oxford hired New York City engineering firm Jaros, Baum and Bolles (JB&B) to help them plan the infrastructure of the neighborhood, beginning in 2007.
"In the middle of their first building rising," said Mark Torre, the partner at JB&B, "Superstorm Sandy hit and validated the need to build a 'microgrid,' which would allow Hudson Yards to disconnect from Con Ed and run independently of the Con Ed grid—in the event of an emergency. This is the first time Con Edison has allowed a commercial property to break from their grid without manual intervention."
Another major focus for the developers was to build a redundant system for all information networks. "We asked ourselves, How do we make this flexible so in 20 years we can adapt and make upgrades?" Torre said. By investing in Hudson Yards' network, Related and Oxford are ensuring there are multiple points of access at all buildings, thereby creating one of the most sophisticated systems in the city.
During a local or even East Coast-wide disruption—such as another severe storm or blackout—Hudson Yards will have the onsite power-generation capacity to keep basic building services, residences and restaurant refrigerators running. This first-of-its-kind microgrid, including two cogeneration plants, will generate electricity and hot and chilled water for the neighborhood with more than twice the efficiency of conventional sources. These advances will also benefit the environment, saving 24,000 megatons of greenhouse gases from being emitted annually—roughly the equivalent to the emissions released from 5,100 cars.
Tools to Manage Energy Efficiency
The site's thermal loop system also assists in managing energy efficiency. Residential buildings normally reach peak usage in the morning and the evening, while commercial buildings peak during the day. The loop allows for an easy flow of energy to locations where it is most needed.
The exteriors of the buildings in Hudson Yards were designed with similar forethought. Like the thermal loop, the glass on parts of each tower were designed to help manage building heat. Produced and delivered by European glass company, AGC Interpane, the glass facades and windows contain a solar-control glazing. This high-tech product reduces the amount of heat entering a building and decreases the buildup of heat during warmer months. The coating allows sunlight to pass through a glass window or facade while reflecting a large amount of the sun's heat. The glass also supports thermal insulation. It is part of Hudson Yards' goal to maintain its high-end modern architectural look on the exterior of its towers, while being strategic about the way it manages building temperatures.
Giving Hudson Yards a Tailored Look
"Facades are the suit of a building," said Gregor Ranner, the managing director of Interpane's Glasgesellschaft Project Division in Germany. "Like a tailor-made suit upgrades a personal look, our first-class quality product is going to upgrade the look of the Hudson Yards towers."
Interpane produced the glass for facades, windows and exteriors for many of the towers in Hudson Yards. Ranner continued, comparing Hudson Yards to large developments Interpane is working on worldwide. The company is well known for its ability to provide glass services to large-scale projects with shorter timeframes. At Hudson Yards, the construction and glass installation schedules for all towers overlapped.
The new development at Hudson Yards will both look and be the part. It will contain the most modern advances in infrastructure as outlined and set the tone for future city development.
"At Hudson Yards, we are building an entire new neighborhood from scratch, and this allowed us the unique opportunity to think about what it meant to build a neighborhood for the future," Cross said. "For New York, Hudson Yards will be far more than a collection of tall buildings. As the nation's first quantitate community, it will be a model for the 21st century urban experience creating an unprecedented integration of buildings, streets, parks, utilities and public spaces. Together they will form a connected, responsive, clean, reliable and efficient neighborhood."
Building a Framework to Support Sustainability
While some see "green building" as a current construction trend, Related and others see it as a method to support building and structure longevity. In its design, Related/Oxford, Brookfield Properties and others working to develop the Hudson Yards district have used a variety of tactics to create a more responsive, clean and sustainable development.
"Hudson Yards includes many state-of-the-art sustainability strategies. The buildings are all being designed to the highest LEED standards, and the entire neighborhood will be served by onsite power-generation," Cross said.
Buildings rated Leadership in Energy and Environmental Design (LEE) certified by the U.S. Green Building Council have been designed to be more energy, water and resource efficient and healthier. They use less energy and water, are most cost-effective and help in reducing greenhouse emissions.
Hudson Yards Laser-Focused on Energy Efficiency
Vidaris, a consulting firm specializing in building envelope, sustainability, energy efficiency and code advisory, is heavily involved in the LEED and energy efficiency efforts at Hudson Yards. Vidaris is providing a variety of energy modeling services for both Related and Brookfield Properties including green consulting for LEED, energy modeling for LEED, Energy Code compliance modeling and energy modeling for New York State Energy Research and Development Authority incentives.
Energy modeling was used to determine how various architectural and HVAC features will affect energy use and cost. These models were instrumental in designing sustainable buildings. Related/Oxford and Brookfield Properties will seek LEED certification for all the major buildings at Hudson Yards.
"We expect that almost all of Related Companies' buildings will receive LEED Gold certification," said Adrian Tuluca, a senior principal at Vidaris. "The office tower at 10 Hudson Yards is even on track for LEED Platinum certification." In addition, Related is pursuing LEED for Neighborhood Development for the entire Hudson Yards campus, with Vidaris as the LEED consultant.
Vidaris also performed a comprehensive energy-use study on the 13 MW cogeneration plant that provides electricity, hot water and chilled water to the Hudson Yards campus developed by Related. At the other end of the spectrum, Vidaris performed CFD analyses to estimate heat flow and moisture condensation risk for lobbies and atriums at The Shed, the residential tower 15 Hudson Yards and the 30 Hudson Yards office tower, as well as for other spaces. On the green side of consulting, Vidaris helped develop green guidelines for tenants and is helping some of them, like Time Warner, to achieve their own LEED certification for Commercial Interiors.
Other Ways Hudson Yards in Staying Sustainable
Aside from LEED and energy-use standards, Hudson Yards will support sustainability in other ways.
"Many cities like New York are moving toward organic waste separation systems to reduce landfill costs, methane emissions and greenhouse gas emissions," Cross said. "Hudson Yards will make organic waste collection convenient and space efficient by utilizing grinders and dehydrators to convert food-service organic waste to 20 percent of its initial weight and volume. Additionally, nearly 10 million gallons of storm water will be collected per year from building roofs and public plazas, then filtered and reused in mechanical and irrigation systems to conserve potable water for drinking and reducing stress on New York's sewer system."
"Hudson Yards is breathing life back into an area of Manhattan that was neglected for a long time," Tuluca said. "It is transformative in a way that Battery Park City was, and similarly to Battery Park City development, Hudson Yards is being developed with advanced environmental forethought."
Related and Oxford are taking real steps to create infrastructures and spaces that support sustainability.
The Shops & Restaurants at Hudson Yards
Situated between 10 and 30 Hudson Yards, The Shops & Restaurants at Hudson Yards will set a new standard for mixed-use developments projects.
Opening in fall of 2018, the retail center itself encompass 1 million square feet and more than a mile of shopping and dining with more than 100 shops and restaurants.
The Architect Behind the Design
The architect of the retail and dining space, Elkus Manfredi Architects, was managed by Howard Elkus, an internationally acclaimed architect and urban designer who passed away just last month. Elkus was the visionary behind many of the country's large-scale, urban mixed-use centers, such as Copley Place in Boston; 730 North Michigan Avenue Peninsula Hotel block in Chicago; Pacific Place in Seattle; The Paramount in San Francisco; CityPlace in West Palm Beach; and the Miami World Center in Miami. He has achieved similar projects internationally in sites such as Abu Dhabi, Istanbul, Toronto and Montreal.
The Shops
The retail section of the facility will house New York City's first Neiman Marcus—on the top three penthouse floors—and a variety of diverse fashion brands, including H&M, Zara, AG Jeans by Adriano Goldschmied, Aritzia, Athleta, Banana Republic, Coach, Stuart Weitzman and Tory Burch; and beauty brands, like The Body Shop, Kiehl's, Jo Malone, MAC, NYX, Origins, Sephora and Urban Decay.
The Restaurants
The restaurant portion of the development will be curated by world-renowned chef Thomas Keller and restaurateur and developer Kenneth Himmel. Chef Keller and Himmel will curate 16 distinct experiences spanning three floors and including eateries by celebrated chefs Costas Spiliadis and José Andrés. The dining spaces will feature indoor and outdoor dining experiences, amazing views of the Hudson River, bars and lounges, and globally inspired dishes and designs. Related and chef Thomas are working to turn what was once thought to be a simple meal into an unforgettable event. In addition to these dining spaces, the facility will include many casual options to grab a bite on the go.
The Shops & Restaurants at Hudson Yards will be connected to the commercial office towers at 10 and 30 Hudson Yards, the High Line and the underground connection to the No. 7 subway line allowing ease of access through rain, sleet and snow.
Designed With Purpose
According to Related, The Shops & Restaurants at Hudson Yards will also pay homage to the industrial past of the lower West Side in its design. The firm shared that steel and dark wood are featured prominently to reference the rail yards that once dominated the area and the High Line, and natural stone floors and exposed support structures contribute to the rough-hewn, urban elegance of this new neighborhood development. Between its trendy appeal, ease of access and large variety of shopping and retail, this space will likely evolve into one of New York City's busiest locations and must-visit destinations.
"Hudson Yards and its beautifully designed architecture is changing a part of Manhattan's West Side appearance," said Matt Caruso, the president of CR Safety. "The shops, public areas, commercial and residential space, and the incredible views are all spectacular."
CR Safety provided licensed site safety management services for the retail space during the construction and close out phases.
The Public Square and Gardens
Aside from New York City, you won't find too many cities where multiple parks are built on top of rail yards, but right in the center of Related's Hudson Yards development, that's what you will find.
Jokingly already being referred to as "the smartest park in town," this new 4-acre high-tech ecological development supports plant growth, irrigation and soil maintenance, while welcoming bees to pollinate, birds to roam and New York City residents and visitors to enjoy.
Ecologically Engineered Soil
While most plants growing in natural environments have depths of soil to grow in and plenty of room to spread their roots, this isn't the case for plants growing in Hudson Yards. Being grown above a rail yard places limitations on space. Related's designers, architects and ecological engineers from architectural design firm Nelson Byrd Woltz had to get creative in their designs. The total soil depth is 18 inches for plants and only four feet for trees. Because of this, the soil was designed to provide effective drainage, maintain nutrients for the plants and allow roots to run wider than they could deeper.
Solutions to Keep the Plants Cool in Extreme Heat
Another issue which had to be planned for was extreme heat. Heat from the train below can reach up to 150 degrees Fahrenheit. To solve the problem, a network of tubing was installed in the concrete slab to circulate special cooling liquids. This will help to maintain optimal temperatures to keep the roots of the trees and plants healthy. Additionally, a 60,000 gallon storm-water storage tank was installed to be used for the irrigation of plants and trees. The tank will help to save on energy usage and space in New York City's sewer system.
The Dynamic Additions to the Public Square
The landscape architectural firm is known for designing projects that define urban and rural environments throughout the world—it treated this project no different. The space contains an urban landmark by Heatherwick Studio and a new space for artists across disciplines called The Shed. Vessel, by designer Thomas Heatherwick, was created with the goal of drawing people into the center of Hudson Yards. This dynamic landmark is meant to be climbed and explored.
"Our plan from the very beginning was to create a great neighborhood, and we knew that had to include both a diverse mix of uses as well as variety of architecture," Cross said. "We decided early on to hire different architects for the buildings so they reflect the diversity of New York. We worked to ensure that it would be a place that people loved to work but also a great place to live. With 14 acres of open space, connections to the High Line, Hudson River Park and Hudson Park and Boulevard and a tremendous variety of restaurants and shopping, Hudson Yards offers distinct experiences for residents and workers alike."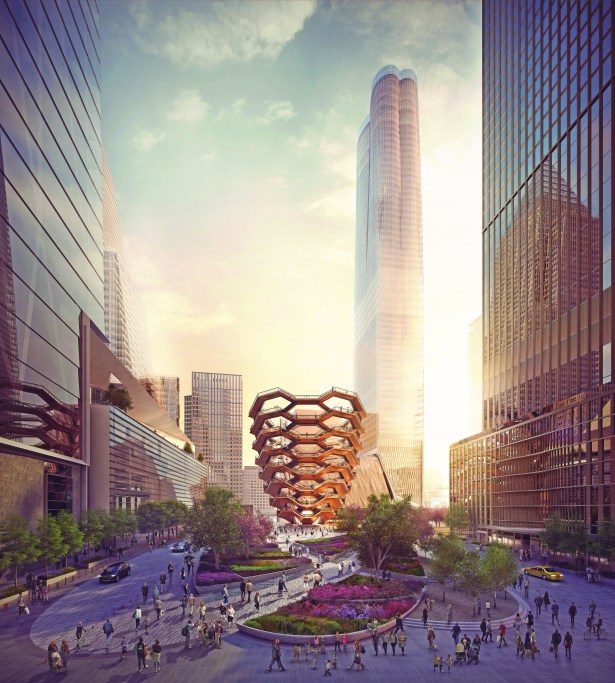 Aside from simply designing buildings, Related focused on the creation of a network of parks connecting to the High Line, another public park built on a linear section of a disused railroad, and with the City's new Hudson Park & Boulevard, which will eventually reach all the way to Times Square.
The hope is for the open spaces to be areas for community building, inspire the pursuit of physical activity and give Hudson Yards new definition.
Iconic Brands Upgrading to Modern Workspaces in Hudson Yards
Some of the world's most iconic and well-known global businesses, Fortune 500 companies and newer startups are already eyeing office space in Hudson Yards—many of which are considering moving from Midtown East and West because of what the new buildings in Hudson Yards will offer.
Modern Workspace Communications
The new office buildings in Hudson Yards are more conducive to the newest technological advances. "At Hudson Yards, communications will be supported by a fiber loop that optimizes data speed and service. The neighborhood will harness big data to innovate, optimize, enhance and personalize the employee, resident and visitor experience," Cross said. The communications fiber loop at Hudson Yards will augment data speed and service continuity for mobile, rooftop and two-way radio communications and allow continuous access via wired and wireless broadband performance from any device in the area.
"The development of Hudson Yards, and its innovative design, has been one of the most important responses to the demand for new office spaces that will keep New York City globally competitive for decades to come," continued Cross.
New Efficient Workspace
The office spaces themselves are also being constructed to be more efficient than the New York City's older buildings. Companies like L'Oreal USA, Coach, TimeWarner, CNN, BCG and BlackRock have already placed their stakes into the new development.
"Big corporations are attracted to the efficiency of what Hudson yards represents" said David G. McWilliams, partner and CEO of JRM Construction, which worked on office fit-outs at 10 Hudson Yards for clients Coach and VaynerMedia. "When spaces are built with efficiency and the future in mind, like high ceilings and ductwork below the floor, you have a lot of options."
JRM Construction, a construction management and general contracting firm specializing in commercial interiors, and Lilker Associates Consulting Engineers, a mechanical engineering firm, were two of the companies involved in the construction and engineering of the new office spaces. In addition to fit-outs for Coach and VaynerMedia's offices, JRM provided preconstruction services for the observation decks on the towers at 10 and 30 Hudson Yards as well as Neiman Marcus—an anchor tenant at the Hudson Yards mall.
Luxury Brand, Coach, Setting the Trend
Coach, a modern luxury brand, was the first tenant to occupy space at 10 Hudson Yards. As a new headquarters for the company, the offices will house roughly 1,400 employees. The approximately 694,000 square foot interior fit-out done by JRM consisted of nine floors within the 52-story glass-and-concrete tower. JRM was also selected to build out a ground-floor lobby for Coach. The new lobby features a museum-like display of 2,000 iconic handbags from Coach's product library. The display is visible from a segment of the High Line that runs parallel to 10 Hudson Yards, named "Coach Passage." It's only fitting that you see Coach products from Coach Passage. The shelves are custom made using bronze and glass. The space also features a kitchen and dining space, a terrace overlooking the Hudson river, two full walls of video screens, two "living" green walls and hardwood floors.
L'Oreal USA's New Headquarters
Shortly after Coach was L'Oreal USA. "Hudson Yards and Terminal Stores have a dynamic and creative energy that aligns with the culture we are building at L'Oréal USA," said Frédéric Rozé, the president and CEO of L'Oréal USA. "L'Oréal is a 107-year-old company with the heart of a startup. These two locations represent the new entrepreneurial spirit of Manhattan, and the spaces we've created are a modern new home for L'Oréal USA that will inspire the future of our company."
L'Oreal USA occupies 10 floors and more than 400,000 square feet for its headquarters at 10 Hudson Yards. The beauty company had the space designed to feature an open floor plan with floor-to-ceiling windows to allow for natural light. The company also has a state-of-the-art lighting and solar shade system that adjusts to occupancy in the office space and the amount of outdoor light.
"There are a lot of architectural differences between 10 Hudson Yards and L'Oreal's old building," said David Tanenbaum, the senior Vice President of Lilker, a firm which provided mechanical, electrical and plumbing design services for the L'Oreal USA offices. "As far as engineering, they now have modern, efficient HVAC and lighting systems, and much better temperature control in a work environment that is conducive to their multiple brands."
Hudson Yard's Newest Tech Tenant
Luxury and beauty brands are not the only companies flocking to Hudson Yards. Technology and media company, Intersection, also moved in taking over the 26th and 27th floors at 10 Hudson Yards for its offices. Intersection is the tech company behind LinkNYC, a new communications network in New York City that will replace more than 7,500 pay phones across the city with new structures that provide free public Wi-Fi, phone-calling capabilities, phone-charging services and a tablet for access to city services, maps and directions.
Tanenbaum shared that L'Oreal and other companies like Intersection took a risk in moving that will likely pay off. He sees Hudson Yards as an area that will achieve economic success quickly, as the thousands of employees in their towers will need amenities to support them. The diverse group of high-profile companies quickly making Hudson Yards their new home are investing in the future of the area.
See and Do
With the announcements of new tenants and exciting additions to Hudson Yards, we've picked out a few of our favorite must-see items.
The Shed— Already known for its expandable exhibition space that can physically change to host a wide variety of performances, and rumors of it serving as a new location for New York Fashion Week, The Shed will open in Spring 2019 after original schedule delays. Adjacent to 15 Hudson Yards and setting at the edge of the Public Square Gardens, The Shed will be a new epicenter for artistic innovation in New York producing and presenting work by artists across all disciplines. The Shed has commissioned Bronx artist, Lawrence Weiner, to create a new piece of conceptual art, which will be unveiled when the building opens.
Neiman Marcus— This luxury brand will open its first-ever NYC store here—a three-level, 250,000-square-foot space opening next year. Taking over the top three floors, the luxury retail giant will anchor the enormous high-end facility at The Shops & Restaurants at Hudson Yards. Neiman Marcus will offer a sophisticated retailing experience with features like "smart dressing rooms" and views of the public square.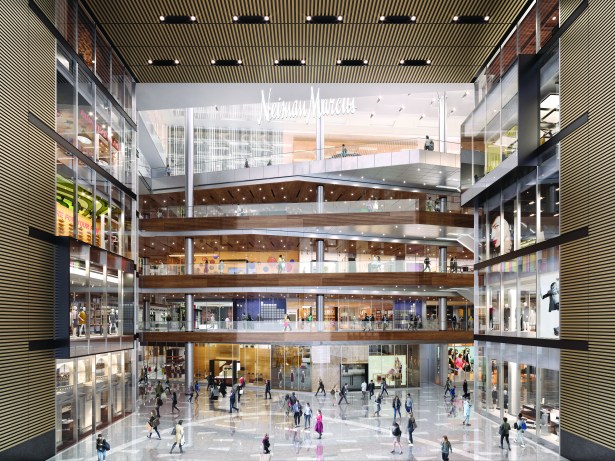 Estiatorio Milos— In Fall 2018 chef Costas Spiliadis will open a new location of his Greek seafood dining experience, Estiatorio Milos, and chef José Andrés will be revealing a Spanish-inspired restaurant. Both chefs are renowned and respected. Originally from Spain, chef Andrés is recognized for tapas, while chef Spiliadis is known for the fresh ingredients in his dishes. A bite from either kitchen is a taste of heaven. Our pallets are salivating just waiting.
Classic American— Another restaurateur who will actually be leading the charge selecting the other restaurants going into the Hudson Yards space in chef Thomas Keller of Per Se and French Laundry, a well-known French restaurant in California. Chef Keller has announced that he'll be opening a "classic American" restaurant but has not provided any details. So, for now, we'll call it Classic American. Add it to your list! We did.
Vessel— Located in the Public Square and Gardens, Vessel is the centerpiece to the neighborhood's more than 5 acres of public space. Vessel is an interactive public landmark comprised of 154 interconnecting flights of stairs spanning a mile's worth, meant to be climbed, touched, hung on and explored. Trust us, go climb! According to Thomas Heatherwick, designer and founder of Heatherwick Studio, which was commissioned for the piece, the inspiration was derived from images of Indian stepwells.
High Line— The new development of the park and public square at Hudson Yards complements the extension of the High Line. The High Line park runs from Gansevoort Street in the Meatpacking District and flow its way through Chelsea. It also wraps around Hudson Yards offer great views of the Hudson River and New Jersey. According to Related, it's received more than $190 million in public and private funding to date and is one of the world's most successful urban revitalization projects. Funding aside, this is a great place to go for a stroll while taking in amazing panoramic views.
Work and Live
Here are the details on the residential and commercial spaces at Hudson Yards:
10 Hudson Yards— This is the first complete tower on site at Hudson Yards. The commercial tower ascends 895 feet contains 1.8 million square feet of commercial space. The 52-story is fully leased. Its occupants include Coach, L'Oreal USA, SAP, Intersection, Sidewalk Labs, VaynerMedia and Boston Consulting Group. Poised to received LEED Platinum certification, the tower at 10 Hudson Yards contains some of the most advanced infrastructure and resources to support energy efficiency. The development also contains column free office space and floor-to-ceiling windows.
15 Hudson Yards— The neighborhood's first residential building, 15 Hudson Yards has been outpacing all other residential new developments with the number of residences sold to date. Imagined by Diller Scofidio + Renfro in collaboration with Rockwell Group, the building features 285 luxury condos, reaching 88 stories and over 900 feet in height. Building amenities include a full floor dedicated to wellness, including a spa, 75-foot-long swimming pool, beauty car and fitness center, a club room, dining suites, business center and more. According to Ryan Schleis, the vice president of research and analytics of The Corcoran Group, "Its sales success is a testament to the deep market for the most exciting properties in New York, such as Hudson Yards' unique combination of integrated lifestyle, superlative amenities, beautiful architecture and interiors. With an average sale price of nearly $5 million, buyers are responding well to all of the property's diverse unit sizes, from one- to four-bedrooms." The tower at 15 Hudson Yards will open in 2018.
30 Hudson Yards— 30 Hudson Yards is scheduled to open in 2019 as home to HBO, CNN, Turner Broadcasting, Time Warner, Inc. KKR & Co. and Wells Fargo Securities. The tower measures 1,296 feet high and contains 2.6 million square feet of useable space. Once completed, 30 Hudson Yards will be the second tallest office building in New York, taller than the Empire State Building and home to the highest observation deck in the New York City. This 90-story building is located on the southwest corner of 33rd Street and 10th Avenue. The tower provides direct access to The Shops & Restaurants at Hudson Yards and connecting to the new No. 7 subway line underground. Both Related Companies and Oxford Properties Group plan to take spaces at 30 Hudson Yards.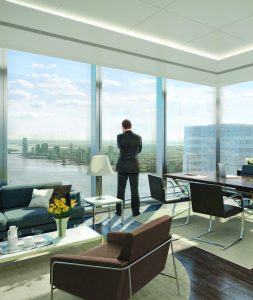 35 Hudson Yards— Measuring approximately 1.1 million square feet, 1,009 feet tall and comprising of 137 private residences, an Equinox luxury hotel, fitness club and spa, office space and ground-floor retail, 35 Hudson Yards will be the tallest residential building in Hudson Yards once completed in 2019. The building is 1.1 million gross square feet.
50 Hudson Yards— Once completed in 2022, this will be New York City's fourth largest commercial office space. Years from opening, but the space has already secured the world's leader in investment management, BlackRock, as a tenant. BlackRock will occupy 850,000 square feet across 15 floors for its new headquarters. Designed by Foster + Partners, with an LEED Gold certification in mind, this tower located at the northwest corner of 33rd Street and 10th Avenue spans a full block.
55 Hudson Yards— 55 Hudson Yards is Related's fourth commercial tower at Hudson Yards and its smallest. This tower stands at 780 feet and contains 1.3 million square feet. Its committed tenants include MarketAxess, Milbank and Boies, Schiller & Flexner, LLP. The lobby highlights Soho-influenced architecture of A. Eugene Kohn for Kohn Pedersen Fox Associates, and the building contains column-free corners and a flat iron curtain wall.