MIPIM '17: Why Does U.S. Have Lackluster Presence?
---
---
The Istanbul and London tents at the annual Marché International des Professionnels d'Immobilier (MIPIM) real estate conference in Cannes were textbook examples of how to sell a city.

Each were massive presentations—so large they were outside of the main venue, called Palais del Festivals, at the event, which pulled in 24,000 people from 90 countries this year—and both featured large panoramas of their respective metropolises and its new developments.
Anyone attending from New York may feel a little underwhelmed when comparing that to the influx of supertall buildings springing up on the tiny island of Manhattan, from the World Trade Center, to the Hudson Yards, and new buildings just south of Central Park.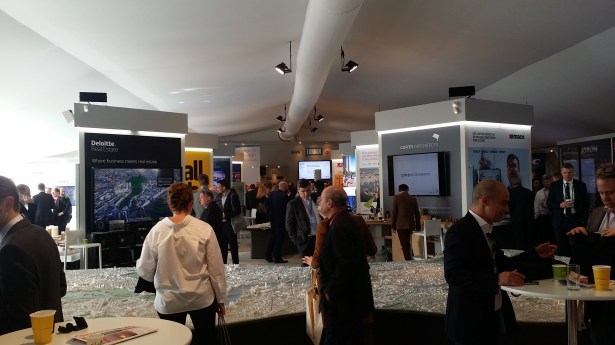 But wait, maybe not, because New York City doesn't even have a booth at the conference. There was no Hudson Yards panorama from Related Companies or a Manhattan West display from Brookfield Property Partners. Silverstein Properties didn't bring a World Trade Center model.
And besides New York City, there wasn't a San Francisco or Chicago or Washington D.C. presentation from developers. In effect the American presence at MIPIM is mum.
"Think about what we are not doing as Americans here," Jay Olshonsky, president of NAI Global, said at the U.S. breakfast at the annual conference. "How many people went to the Istanbul booth, pretty cool huh? How many many went to Dubai or London. Pretty cool. Why don't we have booths like that here? Why aren't we getting the Real Estate Board of New York to come with some great models—I think there are 25 new buildings that are being built in Manhattan that are all basically huge [towers]—and have it displayed like the city of London has. That would be my suggestion to drive more business to the United States."
It seems as if American companies have begun to realize this; in recent years, the US presence at the European conference has begun to grow. Paul Zilk, an Idaho native who is the president and chief executive officer of events company Reed MIDEM, the organizer of the MIPIM, said last year there were 200 American companies at the conference. That number has grown to more than 300 this year (and 350 counting all of North America).
Still, it pales in comparison to other areas, such as the United Kingdom, which has 5,500 professionals at the conference.
"I'm getting older…and before its time for me to [retire and] do gardening let's at least get to 1,000 for America—and a pavilion for my home city of Boise would be nice," Zilk said at the US breakfast.
To be fair, MIPIM hasn't aggressively courted Americans. After nearly three decades, last year MIPIM held its first North American event, which was in Manhattan and focused on property technology. It was a closed door event for 350 people. But this year they are hoping to do its first public event, as Commercial Observer previously reported.
At this year's conference there is an American Pavilion hosted by the National Association of Realtors which spotlights (among others) Los Angeles, Missouri, Arizona and Nevada markets.
Aside from NAR, the state of Florida has its own booth—but it's small and missing displays from flashy developments such as the Soffer and LeFrak families' $4 billion mixed-use SoLē Miami project. And there is a joint booth for San Diego and Tijuana, Mexico. They "build borders and not walls," the brokers manning the booth were quick to exclaim. (And it should be noted that the San Diego/Tijuana booth offered great craft beer.)
Why hasn't MIPIM attracted the crowd that other American real estate conferences lure?
"Because its 6,000 miles away, [and] it's outrageously expensive," Olshonsky told CO after the breakfast. "And in some way Europeans take the approach that [the event] is institutional advertising—its brand awareness."
And American developers might suffer from a reversal of the Old World / New World attitudes.
" 'They come to us, what do we have to go there for?' " Susan Greenfield, a broker with Brown Harris Stevens who is also the president of the U.S. chapter of international real estate organization FIABCI, said mimicking the mindset of American developers. (She noted there were a few exceptions, like Thor Equities.)
"I've seen tremendous opportunity over the years and nobody has taken it," Greenfield said. "You have to think not about the now, you have to think about the future. You have to grow your business."
Still, as the number of American companies coming to Cannes has grown, there is optimism from the organizers that larger developers will see the need to attend in the coming years.
"There has been a lot more interest in the U.S. market," said Arnaud Simeray, director of sales and marketing of North America for Reed MIDEM. "Therefore more Americans have come to MIPIM and understand the need to be here to promote the U.S. in the global space and not stay in the U.S. and wait for something to happen."