Scoop NYC Going Under Due to Lack of Identity: Retail Mavens
---
---
Scoop NYC is packing it in after 20 years of selling its high-end contemporary duds. The trendy clothing boutique will be closing its more than a dozen stores nationwide.
In New York City, the company already closed its flagship in Soho last week and will shutter two stores in the Meatpacking District, both in Thor Equities' 875 Washington Street; one in Brookfield Place and one on the Upper East Side. Sources told Women's Wear Daily, which broke the news, that some stores were too large, they couldn't make returns to cover the high rents at its shops and brands carried by the retailer went out on their own or were sold in larger department stores.
"I think that the brands that they carry, which were boutique brands, have grown to the point where they are now opening their own stores," Andrew Mandell, a managing partner of Ripco Real Estate, told Commercial Observer. "That diluted their customer base a little bit."
While rents in New York City have indeed made some store owners worry, several Big Apple retail veterans said Scoop NYC suffers from an identity crisis because it hasn't been able to differentiate itself.
"They had nice little boutiques spread around, but I don't think that they had much traction in really growing," Patrick Breslin, an executive managing director at Colliers International, said via email. "It is very hard to grow a business without a brand. Since they sold goods from many different vendors, identity became the problem."
John Brod, a partner of ABS Partners Real Estate, agreed that it didn't necessarily stand out from similar types of retailers including James Perse or Theory.
"It's all the same stuff," he said. "Maybe every once in a while it was different color."
Mr. Brod, whose former firm PBS Real Estate arranged deals on behalf of Scoop NYC, added that rent was not a factor when it came to New York City. Scoop NYC took its three of its four existing locations in Gotham at lower price points in the market with asking rents of $200 or lower per square foot—roughly a half to a third of what it might be today.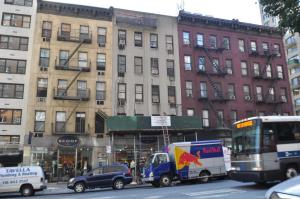 Most recently, Scoop NYC, which was founded in 1996, opened a 2,000-square-foot, ground-floor shop in the Financial District at Brookfield Property Partners' Brookfield Place last June. Asking rents at the shopping complex at the end of last year were in the ballpark of $400 per square foot, as CO previously reported.
Michael Goldban, the senior vice president of retail leasing for the landlord, said that Scoop NYC's issues were global. Scoop NYC has not indicated when it will close its store at Brookfield Place, Mr. Goldban said, and Racked NY indicated that no store closing dates have been established.
"We don't now what they're doing," Mr. Goldban said. "I will say since the news broke, our phones have been off the hook from retailers looking to backfill."
On the Upper East Side, there is a Scoop at 1275-1277 Third Avenue between East 73rd and East 74th Streets, at the base of a residential building owned by Peter Franco, according to CoStar Group. The average asking rent just south of the store on Third Avenue jumped 26 percent to $335 per square foot in fall 2015 from $266 per square foot year-over-year, according to a Real Estate Board of New York Manhattan retail report from the end of last year.
Scoop NYC's Meatpacking District men's store, which uses an address of 873 Washington Street, is about 2,200 square feet, according to a source with knowledge of the space. Two doors down is a Scoop women's store, using an address of 861 Washington Street. That space is 3,300 square feet. Last August, when Thor signed a 4,850-square-foot lease with Lumas on the ground floor and basement level of the building, the asking rent was about $600 per square foot. A spokesman for Thor declined to comment.
Meanwhile, the landlords with the Scoop NYC spaces are now facing vacancies. And even if the spaces are appealing, filling them up at this point will still be an uphill battle as rents have been peaking, CO reported at the end of last year.
"Right now, retail is challenged," Mr. Brod said, adding of the two Meatpacking spots: "They're great locations, [but] I don't think anything is leasing quickly in Meatpacking. I don't care where it is."
Barbara Putnam, vice president of creative services at Scoop NYC, didn't immediately respond to a request for comment. A manager at the Brookfield Place store would not comment and was unable to properly direct a reporter seeking comment, and same for a salesperson at the Upper East Side location, who added: "All we know is we're going out of business in a month. When everything's gone, we're gone."
1275-1277 Third Avenue
,
861 Washington Street
,
873 Washington Street
,
875 Washington Street
,
Barbara Putnam
,
Brookfield Place
,
Brookfield Property Partners
,
Colliers International
,
CoStar Group
,
Lumas
,
Patrick Breslin
,
Peter Franco
,
Scoop NYC