TF Cornerstone Is Latest Developer to Set Its Sights on DoBro
---
---
Before the New York City Department of City Planning rezoned Downtown Brooklyn in 2004, the neighborhood was one in which the sidewalks were rolled up after 6 p.m. The area only had one major hub: the MetroTech Center, which was developed in the 1980s.
But in the last decade, the business district between Brooklyn Heights, Boerum Hill and Fort Greene has become one of the hottest places to develop residential buildings in the borough, even if that wasn't the intent of the 12-year-old zoning policy enacted in 2004.
TF Cornerstone is joining a range of other big developers in Downtown Brooklyn, from Douglas Steiner to John Catsimatidis, (and not to mention a few marquee project names such as the Ace Hotel, which is going to be opening on the corner of Bond and Schermerhorn Streets) as it prepares for the launch of its first multifamily project in the borough. The development at 300 Livingston Street, which is slated to come online by mid-2017, will stand at 25 stories and contain 714 units, 20 percent of which will be affordable, along with two floors of retail. That 55,000-square-foot retail component is key to what TFC is trying to do for the neighborhood, executives at the firm told Commercial Observer.
"[What] was very interesting here, which we don't typically have the opportunity to do when we go into emerging markets, is being able to create a very attractive retail component," said Jeremy Shell, the head of finance and acquisitions at TFC. "Usually you're creating amenity retail, and you're losing money on the retail to create the neighborhood. And here, because of what Downtown Brooklyn has become and is going to become, we think we're going to do something really special."
The company purchased the 49,942-square-foot site, which has frontage on Schermerhorn and Livingston Streets, for $70 million in April 2013 from Thor Equities. In December 2014, the company landed a $250 million mortgage from M&T Bank and Bank of New York Mellon to fund construction. 
"There are definitely other sites in Downtown Brooklyn that are going to have more height and views and things like that," said Jake Elghanayan, a senior vice president at TFC. "I think the really special thing about this site was the location at the crossroads of Downtown Brooklyn and Boerum Hill. I think we want the building in a lot of ways to reflect the Boerum Hill side of residential living with slightly more [amenities]."
As part of the leasing strategy, the developer would like to bring in some Brooklyn-based retailers that have "proven their business model a little bit and now want to open their second location in a higher foot traffic area," Mr. Elghanayan said. The company is also trying to focus on what the neighborhood traditionally was and would like to bring in "some of the maker-economy," as a means of reflecting the furniture and antique shops just south in Boerum Hill.
The property will contain roughly 30,000 square feet of retail space on the ground floor, which will have asking rents of $125 per square foot, and 25,0000 square feet on the lower level with asking rents of $50 per square foot. The footprint of 300 Livingston would allow for a range of smaller and larger-scale tenants, as well as space for storage.
TFC is already in early talks with some potential large-scale tenants, including grocers and gyms. A grocery store tenant would likely occupy between 25,000 and 30,000 square feet. As for the gym, Mr. Elghanayan said that instead of TFC having its own facility for tenants, the firm is considering partnering with a third-party gym. He noted that consumers tend to be more interested in more specialized, higher-end gyms and for tenants who would be subsidized.
"What we're really good at is creating a neighborhood," Mr. Shell said. "[Downtown Brooklyn] existed, but it didn't have that residential component, and retail plays right into that. It's not only putting up an apartment building, but retail is a big part of what helps us foster a neighborhood."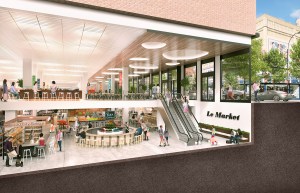 Renderings of the bottom floors of the property show an urban market, "which would be pretty exciting for the neighborhood because there is something like 30,000 units being built in Downtown Brooklyn right now," Mr. Elghanayan noted. Just down the street, the neighborhood has Brooklyn Fare, a higher-end grocer (which includes a three-Michelin-starred restaurant), and a few blocks farther is Trader Joe's.
As for TFC, the firm "is keen on growing its Brooklyn portfolio," as well as continuing to do more in Manhattan and Queens.
"With the uncertainty of 421a, we are looking at non-New York City rental housing in a very preliminary way," Mr. Elghanayan said. (Read more about how New York developers are coping with the end of the 421a tax abatement on page 44.)
Although TFC has made its bones in New York City by pioneering into neighborhoods like Long Island City, Queens and the Meatpacking District, it's a little late to the party when it comes to Brooklyn. The borough has seen tremendous development in the last decade, from Forest City Ratner Companies' Barclays Center and Pacific Park to Savanna and Hornig Capital Partners' industrial-to-office conversion 95 Evergreen in Bushwick. In Downtown Brooklyn alone, Acadia Realty Trust and Washington Square Partners are developing 1.8 million square feet of residential and retail at City Point and JDS Development Group and the Chetrit Group are putting up a 1,000-foot tall residential tower at 9 DeKalb Avenue.
And while these developments, along with TFC's 300 Livingston, come at a time when housing is a dire need, that's not necessarily what some industry experts feel is lacking in Downtown Brooklyn.
"My general position is that the buildings look great—it's good to have so many new residents downtown. But the zoning was meant to spur commercial development, and it did not," said Carlos Scissura, the president of the Brooklyn Chamber of Commerce. "I think all of us need to go back to the drawing board and make sure that the next plot of buildings really start focusing on commercial and office development."
And because the neighborhood has historically served office users, bringing in new residents lends itself to some other issues: a need for more seats in schools.
"That has been a major issue for downtown," Mr. Scissura said. "Thousands and thousands of new people moving in. The kids don't have schools. It's been a blessing to have so much new economic activity and construction, etc., but then it comes to the issue of we lost much needed office and commercial [space] and we didn't build any new schools."
That being said, Downtown Brooklyn's spurt in multifamily could very much be a step in the direction of a "live, work and play" neighborhood, and some might see bringing in residents as a part of filling the gap.
"At least here you have an opportunity to develop commercial and residential and create a full neighborhood," said Tal Bar-Or, a senior managing director at Meridian Capital Group. "It's different from Williamsburg and Dumbo just because it's a much, much more commercial and busy area."
And while Mr. Bar-Or thinks Downtown Brooklyn still has some ways to go until it becomes its own standalone neighborhood, he thinks that TFC's project is a definite stepping stone.
"They're taking a massive site and they're going to redevelop it into a Class A building," he said. "That alone will have an immediate effect on not just that block but the surrounding blocks and will make people [more] comfortable developing around the area."
300 Livingston
,
300 Livingston Street
,
9 DeKalb Avenue
,
95 Evergreen Avenue
,
Acadia Realty Trust
,
ACE HOTEL
,
Bank of New York Mellon
,
Barclays Center
,
Brooklyn Chamber of Commerce
,
Carlos Scissura
,
City Point
,
Douglas Steiner
,
Forest City Ratner Companies
,
Hornig Capital Partners
,
Jake Elghanayan
,
JDS Development Group
,
Jeremy Shell
,
John Catsimatidis
,
MetroTech Center
,
Pacific Park
,
Tal Bar-Or
,
Washington Square Partners
,
M&T Bank
,
Meridian Capital Group
,
Savanna
,
TF Cornerstone
,
Thor Equities