Shake Shack Inks Deal for Penn Station Digs
---
---
Shake Shack has cooked up a lease for 2,489 square feet in the revamped retail portion of Pennsylvania Station, The New York Post reported.
The public company signed a 10-year lease in the underground concourse currently being renovated by landlord Vornado Realty Trust (VNO), the Post reported. Asking rent in the deal was $500 per square foot.
This means Shake Shack is now in Manhattan's two major rail hubs. The eatery has a station in Grand Central Terminal's food hall on the lower level.
Ed Hogan of Vornado Realty Trust represented the landlord in-house for the Penn Station deal, while Andrew Goldberg, Matt Chmielecki and Preston Cannon of CBRE (CBRE) represented the burger joint.
A CBRE spokeswoman referred inquiries to Shake Shack. A spokesman for the eatery confirmed to Commercial Observer it would open in Penn Station in 2017, but declined to comment further.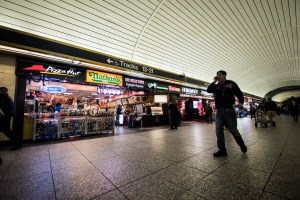 Vornado has been revamping parts of the underground concourse, as well as the retail at street level, the Post noted. On the Long Island Railroad level that includes removing the T.G.I. Friday's and other retailers and already replaced them with a new Duane Reade. The Post also noted that Magnolia Bakery and Pret A Manger have been signed for the underground area.
This is also the second Shake Shack to go into the Penn Plaza area, adding an extra option for those looking for a Double SmokeShack and cheese fries. In September 2014, the global burger chain announced it had signed a 3,265-square-foot lease at Empire State Realty Trust's 1333 Broadway between West 35th and West 36th Streets. Aside from those two spots, Shake Shack has 13 locations within the five boroughs that include outposts at JFK International Airport and Citi Field.