Dumbo Has Led the Way in Brooklyn's Rebirth—Now It's About to Enter Its Next Iteration
---
---
During one of his famous observational rants about New York City in 2001, comedian Jerry Seinfeld opined on a patch of Brooklyn known as Dumbo. He explained that it stood for Down Under the Manhattan Bridge "and they put the 'O' on the end because they didn't want to live in Dumb."
But in 2016, the neighborhood called Down Under the Manhattan Bridge Overpass is no laughing matter. In fact, the waterfront enclave sandwiched between Vinegar Hill and Brooklyn Heights commands some of the borough's highest commercial asking rents and sales prices. It draws in not just tourists visiting Brooklyn Bridge Park but also companies looking to work there and residents looking to live there.
Developers have been venturing to the other side of the Brooklyn and Manhattan Bridges since the Koch administration when then-Manhattan-based Two Trees Management Company's David Walentas bought a slew of old, depleted warehouses in Dumbo. But lately, landlords, such as RFR Realty and Midtown Equities, are coming in droves and planting flags on whatever space is left in the neighborhood. That is expected to only continue as the likes of Tishman Speyer, L&L Holding Company and Vornado Realty Trust are rumored to be vying for a piece of the action. 
Dumbo stands out because the century-old waterfront warehouses have been converted into loft offices that tenants working in the creative world have gravitated toward. Yes, this is becoming the story of all neighborhoods in Brooklyn. But stakeholders note that the Dumbo conversion has set a precedent for the boom in Sunset Park to the south and Bushwick to the east. These once single-use buildings, many owned and preserved by the Jehovah's Witnesses, have been divided to become the homes of tech and media giants, such as WeWork, Etsy and West Elm.
"Dumbo is sort of the Gold Coast," said Christopher Havens of Citi Habitats Brooklyn and the former director of commercial leasing for now-Dumbo-based Two Trees. "It got the ball rolling on loft offices, which are such an important part of the borough. It started off the office market in Brooklyn and made it a huge success."
Between the tech campus called Dumbo Heights, the new Empire Stores and 10 Jay Street, there are almost 2 million square feet of commercial property being redeveloped in the waterfront enclave. Both Dumbo Heights and Empire Stores are set to open this year and will feature a mix of office and retail. In October, 2015, developer Glacier Global Partners decided not to convert 10 Jay Street to residential, opting instead to create 200,000 square feet of office and retail space.
Most of the preliminary construction for Dumbo Heights—comprised of 175 Pearl Street, 81 Prospect Street, 55 Prospect Street 77 Sands Street and 117 Adams Street—is finishing up, according to Asher Abehsera, the co-founder of LIVWRK. His company bought the properties (along with a sixth unrelated building), with Kushner Companies and RFR Realty in 2013 for $375 million. (Kushner Companies Chief Executive Officer Jared Kushner owns Observer Media, which publishes Commercial Observer.)
The landlords have since rehabilitated the buildings, ranging from 50 to 100 years old, and have leased the majority of the 1.2-million-square-foot complex. Last month, the landlords tapped a CBRE team to market the remaining availability, which includes 275,000 square feet at 175 Pearl Street between High and Sands Streets.
"Dumbo had really good culture and really good accessibility," said Mr. Abehsera, who worked at Two Trees before starting his own firm in April 2013. "If the buildings had the right infrastructure, it would be a place where people could plant a flag and want to grow into. We saw this opportunity to marry infrastructure with culture."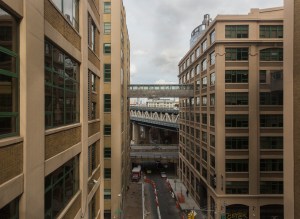 Jewelry designer Alexis Bittar has already moved into its space, while the likes of e-commerce giant Etsy, co-working behemoth WeWork and design firm Frog are already doing their build outs at the campus. When operations for all these companies are up and running, Dumbo Heights will be the connection between its neighborhood and the tech companies of nearby Downtown Brooklyn, said Tucker Reed, the president of the nonprofit Downtown Brooklyn Partnership.
Traditionally, companies had moved back and forth between the two neighborhoods, he added. With Dumbo Heights and its tenants setting up shop, he said, it created a steady link between the two areas.
"That was a critical component to enter the Tech Triangle," Mr. Reed said, referring to Dumbo, Downtown Brooklyn and the Brooklyn Navy Yard. "It makes the connection between Dumbo and Downtown Brooklyn more fluid."
The story of Dumbo Heights includes the influence of the Watch Tower Tract Society of Pennsylvania, the governing arm of the Jehovah's Witnesses, which has been meticulously selling off its Brooklyn empire for the last decade. Dumbo Heights' buildings, which are connected by sky bridges, were formerly used as a printing facility for the Witnesses' pamphlets and other literature. When the new buyers walked into the properties after buying them, Mr. Abehsera said they were "immaculate." Those heavily used buildings today play a similar role but to different industries.
"They were densely populated with people working in a very collaborative environment," Mr. Abehsera said of the buildings that make up Dumbo Heights. "They worked there, they ate there and they put in a lot of hours. Really the bones in the building were built originally for a highly, densely populated community space. Now, in a new age, we are reimagining that experience."
Another buyer might soon find himself in a similar situation nearby on the border of Dumbo and Brooklyn Heights, where the Watch Tower Society is selling 17-29 Columbia Heights and 18-36 Columbia Heights, both between Vine and Doughty Streets. News reports have surfaced that interested bidders include Vornado, L&L and Tishman Speyer. While the sales price might be down as the market softens, the potential buyer will pay north of $220 million, according to The New York Post, which noted that it would be less than the $300 million they could have sold for last year.
Dumbo is at an advantage over other areas of Brooklyn where new commercial space requires ground-up development, such as at the Brooklyn Navy Yard, said Michael Weiser, the president of brokerage GFI Realty Services. Because the Watch Tower Society kept its buildings in good condition, repurposing them has been easier and landlords can provide new offices sooner than in other neighborhoods.
"Let's think about the Navy Yard. Let's think about Red Hook," Mr. Weiser said. "They've got to build [new commercial space from the] ground up. It's going to take a while."
Converting these buildings into offices isn't strictly of a higher calling, however. Empire Stores, a former coffee warehouse built between the 1870s and 1880s, sits along the Brooklyn waterfront between Main and Old Dock Streets. Across from it is 60 Water Street, the new residential rental building developed by Two Trees.
"[Empire Stores] was one of a few hundred buildings on the waterfront," said David Beare, the director of leasing for Midtown Equities, which is redeveloping the structure. "And it's one of two or three that are left [standing]."
Midtown Equities expects work on Empire Stores to finish between the spring and summer, Mr. Beare said. Its anchor tenant and a native to Dumbo, West Elm, should finish the build-out of its 150,000 square feet of the 400,000-square-foot complex about the same time. The high-end furniture-maker signed on as a tenant while Midtown Equities was still in the bidding process to redevelop the old factory in 2013, Mr. Beare added. West Elm is consolidating its headquarters from three locations in Dumbo. 
"[West Elm] came in really early, and for them it was really important to be a part of this building," he said. "They got to customize what they want in terms of their size, where they were." 
That's been followed by Los Angeles-based advertising firm 72andSunny, which will move its offices from Midtown South across the East River to 50,000 square feet at Empire Stores where it will have its own wrap-around terrace. Retailers include restaurants Soho House and Vinegar Hill House along with luxury goods-maker Shinola.
Stakeholders in Dumbo and outsiders looking in noted that creative tenants have been drawn to the industrial grit of the area's old buildings with their mix of a 21st century feel. Indeed, the structural bones, such as the concrete floors and high ceilings, of Dumbo Heights have been preserved with new amenities, such as retail, new elevators and rooftop terraces.
A hefty amount of Empire Store's original brick has been preserved and sits juxtaposed to black metal beams and new windows. A schist wall made from bedrock pulled from the foundation of the Brooklyn Bridge still remains at the property, as do many original wooden beams and ceilings. Because one half of the building is five floors and the other only four floors, Midtown Equities raised the entire building up to six levels, with the new floors filled with floor-to-ceiling glass.
"It's not glass-and-steel skyscrapers," said Howard Hersch, a managing director at JLL charged with marketing Empire Stores. "It doesn't feel like a canyon. You look down Main Street, and there's grass and trees."
Brooklyn Bridge Park has also been an integral part of Dumbo's emergence, according to brokers and landlords working in the neighborhood. Many of the people CO spoke to for this story said it was one of the single best amenities to drawing the workforce to open offices near the waterfront park with its views of Manhattan from City Hall to the Battery.
But making Dumbo one of the hottest places in Brooklyn wasn't an overnight process, even if its location features some of the iconic views of Lower Manhattan (Empire Stores is practically under the Brooklyn Bridge; Dumbo Heights sits along the Manhattan Bridge).
Messrs. Abehsera and Havens both noted that their former employer, Two Trees, and its founder, David Walentas, were the pioneers in making Dumbo a neighborhood first for commercial and then residential tenants. The company founder started buying properties in the neighborhood more than 35 years ago and has redeveloped them with his son, Jed Walentas, also a principal of Two Trees. Today, the landlord has 1.4 million square feet of commercial space in three buildings.
"The single most important historic feature of Dumbo today is not the architecture or the cobblestones, but the fact that commercial activity has returned to the waterfront and is now thriving here," Jed Walentas said in an email via a spokeswoman. "By maintaining office space in the neighborhood, and not going completely residential, we were able to shape that experience, and it's something we are seeking to recreate at Domino [Sugar Factory] in Williamsburg."
Mr. Havens, who worked at Two Trees from 2002 to 2007, said bringing tenants to Dumbo required an aggressive public relations campaign, as well as bringing amenities to the area where nothing really had been before. The company brought in new systems to all of the buildings, white-boxed what had been raw loft space and brought in services like retailers and restaurants to accommodate the daytime crowds. 
"We catered to the tenants' needs and welcomed the creative tenants," Mr. Havens said. "You wouldn't worry if the business had assets. You wouldn't bust people's balls like in Manhattan on credit. Tenants were taking a chance and you were taking a chance."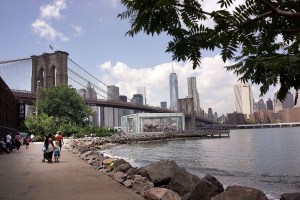 And those tenants seem willing to pay now. Dumbo currently has almost 4 million square feet of commercial office inventory, according to a CBRE spokeswoman. The average asking rent for office space in the neighborhood is $65.68 per square foot, according to a fourth-quarter 2015 market report by the brokerage.
The Dumbo example of converting these buildings, pandering to the creative and tech worlds and essentially creating a community out of an old industrial pocket is something that will be exported in the years to come, several industry veterans said.
"From Sunset Park up to Greenpoint and beyond, we're seeing a ton of activity, and in a lot of these communities, the Dumbo model is being adopted," Jed Walentas said. "Access to the waterfront is expanding, older, underutilized buildings are being transformed into destinations for local, growing companies and maker spaces, along with new residential developments coming online." 
As for Dumbo itself, Mr. Abehsera said the mix between the old culture of Dumbo, the design scene and the tech world would continue to meld together.
"Everyone will be able to enjoy the fruits of a lot of people's labor," he said. "[It is] a destination that will be a case study in urban development, urban lifestyle forever." 
10 Jay Street
,
117 Adams Street
,
175 Pearl Street
,
55 Prospect Street
,
77 Sands Street
,
81 Prospect Street
,
Alexis Bittar
,
Asher Abehsera
,
Brooklyn Navy Yard
,
christopher havens
,
Citi Habitats
,
David Beare
,
David Walentas
,
Downtown Brooklyn Partnership
,
Empire Stores
,
etsy
,
GFI Realty Services
,
Glacier Global Partners
,
Howard Hersch
,
Jed Walentas
,
JLL
,
Kushner Companies
,
LIVWRK
,
Michael Weiser
,
Midtown Equities
,
RFR Realty
,
Tucker Reed
,
Two Trees Management Company
,
Watch Tower Tract Society of Pennsylvania
,
WeWork
,
CBRE