WeWork's Longest Lease Negotiation: An East Midtown Post Office [Updated]
---
---
WeWork rarely takes more than eight weeks to finalize a lease. In the case of an East Midtown post office, the deal took over two years.
That is the "longest deal I've ever been involved with," Mark Lapidus, WeWork's head of global real estate, told Commercial Observer.
The global shared office provider has leased 60,000 square feet on the entire fourth floor at the six-story post office at 450 Lexington Avenue between East 44th and East 45th Streets through 2043, Mr. Lapidus said.
"They're used to doing 1,000- [or] 2,000-square-foot tiny little deals all over the place, so their first lease to us was 15 pages," Mr. Lapidus said. "We ended up at almost a hundred. Between the two, it just took years to get there."
According to Mr. Lapidus, the United States Postal Service wants WeWork to lease in its building because "they don't want to put capital in. They have space sitting vacant that they're not marketing. It's just sitting. We need space. They're willing to do cheaper-than-market deals for someone to come in and take it off their hands."
How cheap?
Mr. Lapidus said there wasn't an official asking rent and the post office just asked what WeWork wanted to pay. He said the deal was done in the $20-somethings per square foot.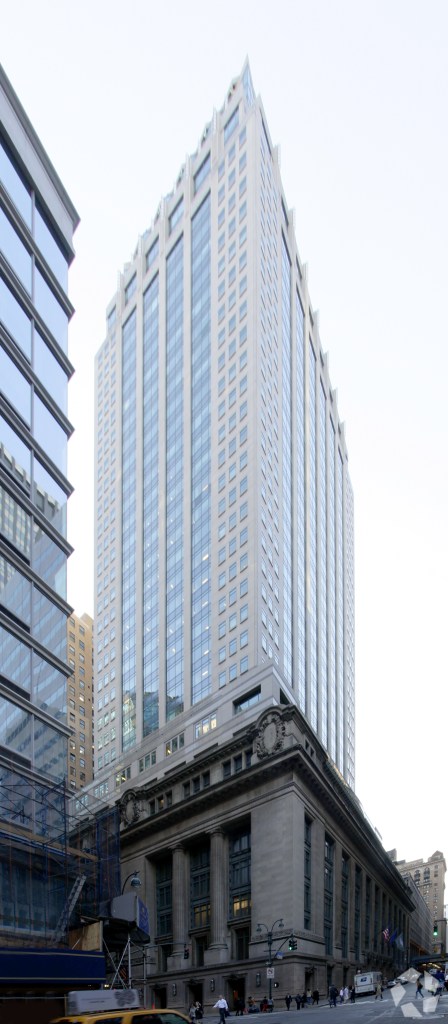 But that includes WeWork building a new infrastructure and replacing windows. Rather than spending the typical $200 to $250 per square foot on building out a space, WeWork will invest $350 a foot at the Midtown East post office location.
"It's almost the equivalent of building ground up in New York today," Mr. Lapidus said.
WeWork, whose valuation has risen to $15 billion as a result of a markup by Fidelity Investments last week, will share the building with the post office. WeWork will have its own entrance and elevator bank on the side street with signage.
RXR Realty owns the 32-story office tower on top of the post office, which it has owned and occupied since 1933, through a $720 million ground lease which closed in September 2012, property records indicate.
To commence work at the site, WeWork requires permissions from the New York's State Historic Preservation Office as well as New York City's Landmarks Preservation Commission. The company is "going through that process now," Mr. Lapidus said.
Regarding the actual construction, Mr. Lapidus said: "The exterior of the building is beautiful and we intend to ensure it stays that way. Most of our work is internal to the building, which will not require approvals."
The new location should open at the end of this year.
Despite the complexity of the deal, Mr. Lapidus said it was worth it as the post office is a big landlord and the location is "irreplaceable."
"The post office [deal was] very complicated, obviously, but strategically, as a partner for us, they're amazing, and I think they have millions and millions and millions of square feet of office space around the country that's sitting vacant," he said.
CBRE's John Maher represented the post office in the deal. Mr. Maher declined to comment.
As for the post office, a spokeswoman characterized the deal as in "active negotiation."
She further noted, via email: "While we cannot speak directly to any negotiations while still active, let me stress that it's vital that the postal service manage and adapt our building portfolio to align with customer and organizational needs at a sustainable cost. That means we can, and do, look for opportunities to create new revenue streams using our facilities when possible. And revenues collected in this way do mitigate the need for cuts in other areas as we continue to balance our overall resources."
Mr. Lapidus responded that he didn't know why the post office was saying that when WeWork is "currently in the permit and construction process."
Update: This story was edited to include more details from the spokeswoman for the post office and a response from WeWork.