Mighty Quinn's BBQ Isn't Forgetting About SI With Empire Outlets Outpost
---
---
Fast casual chain Mighty Quinn's Barbecue will be opening its first Staten Island eatery at Empire Outlets, putting the long-dubbed "Forgotten Borough" on the map for bbq lovers.
The award-winning bbq joint will establish a 2,575-square-foot restaurant on the second floor at the North Shore waterfront project, Commercial Observer has learned.
"Mighty Quinn's will have its own outdoor seating area with views of the New York City skyline," said Joseph Ferrara, a principal at BFC Partners, the developer of the retail outlet complex. Mighty Quinn's signed a 15-year lease at north of $100 per square foot, Mr. Ferrara noted.
Micha Magid, a co-founder of Mighty Quinn's, said in prepared remarks: "We look forward to becoming a part of this unique project and bringing our style of BBQ to Empire Outlets."
The restaurant will be on the 40,000-square-foot second floor, which has been designated for food and beverage, and has been dubbed "Feast." Starbucks Coffee is in the process of signing a lease for 2,000 square feet there. Of the 40,000 square feet, 15,000 square feet (3,000 of that outdoors) will house the island's first artisanal food hall with 25 stations, called the Marketplace at Empire Outlets, or MRKTPL, which The New York Post reported.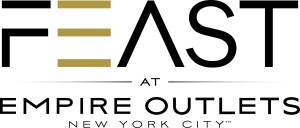 There will be 40 or 50 dining options at the 340,000-square-foot St. George retail outlet complex located directly adjacent to the St. George Ferry Terminal, where there will be 100 retailers including including Nordstrom Rack, H&M, Gap Outlet, Banana Republic Factory Store and diamond and jewelry exchange Jewelers on Fifth, which CO previously reported.
Mighty Quinn's has four locations in Manhattan, two in Brooklyn and one in New Jersey, according to its website.
Douglas Elliman's Michael Brais and Louis Puopolo brokered the deal for BFC. Mighty Quinn's didn't have a broker in the deal, Mr. Ferrara said.
BFC Partners
,
Douglas Elliman Commercial
,
Empire Outlets
,
Food & Drink
,
Jewelers on Fifth
,
Joseph Ferrara
,
Louis Puopolo
,
Micha Magid
,
Michael Brais
,
Mighty Quinn's Barbecue
,
St. George Ferry Terminal
,
Starbucks Coffee