Jewelry Exchange Opening at Staten Island's Empire Outlets
---
---
Diamond and jewelry exchange Jewelers on Fifth, which has an outlet at a New Jersey mall, will be opening a new store at the under-construction Empire Outlets in Staten Island, Commercial Observer has learned.
Joseph Girgis, an owner and partner at Jewelers on Fifth, told CO that he and his partner were interested in establishing a Staten Island presence after realizing that 60 percent of their clients at the Mills at Jersey Gardens mall in Elizabeth, N.J. were from Richmond County.
"I noticed that we have a lot of clients coming from Staten Island," Mr. Girgis said. "There's no one in Staten Island to serve the island there."
Jewelers on Fifth signed a 10-year lease (with an option to extend for 10 years) at north of $100 per square foot for 3,817 square feet on the second floor of the 340,000-square-foot St. George retail outlet complex, said Joseph Ferrara, a principal at BFC Partners, the project's developer. The jewelry exchange will be one of 100 retailers on site at the North Shore waterfront project. About 50 percent of the tenants have signed deals, Mr. Ferrara said.
Jewelers on Fifth will have 20 independent jewelers and two repair shops. The retailers will buy and sell fine jewelry and high-end watches, with retail prices starting at $500 per piece, Mr. Girgis said. He expects to open his new shop in November 2017, when the complex debuts.
James Prendamano, managing director for Casandra Properties, the leasing agent for Empire Outlets, noted that Staten Island has the highest median family income in the city, and the borough generates $1.2 billion annually in unmet retail demand.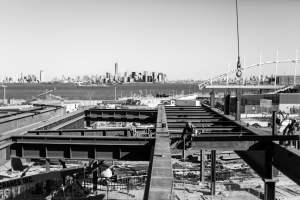 "As a borough we spend $61 million annually on jewelry and watch purchases," Mr. Prendamano said in prepared remarks. "International visitor spending on jewelry increased by 8 percent in 2014 over the year before. Clearly there is a healthy market for jewelry amongst residents and visitors. Jewelers on Fifth will satisfy that demand by bringing a quality diamond and watch exchange to New York City's first outlet center right here on Staten Island."
The tenant didn't have a broker in the deal, Mr. Ferrara said.
Meanwhile, Michael Brais of Douglas Elliman Commercial, a division of Douglas Elliman, has been tapped to market the 50,000-square-foot food and beverage component at Empire Outlets, Douglas Elliman announced. "Bringing Gansevoort Market to Staten Island is a game-changer for the borough," Mr. Brais said in a press release.
Downtown Brooklyn-based BFC acquired the site from the New York City Economic Development through a 99-year lease in October 2014 at a price of around $2 million a year, Mr. Ferrara previously told CO. Plans at the SHoP Architects-designed 1-million-square-foot site include a 190-room hotel and an 1,250-space structured parking garage below the retail and hotel for commuters and tourists.