The Great Debate Between Designing Your Own Space, and Letting the Landlord Worry About It
---
---
Gone are the days of boring cookie-cutter offices with their dropped ceilings, coveted private offices and geriatric design.
An upgraded, luxury sensibility has overtaken the world of pre-built design.
Indeed, today's plug-and-play offices (which a landlord builds and pays for before a tenant has been lined up) are looking more and more like built-to-suit spaces (where the landlord pays a tenant's architectural costs).
They are also resembling the lavish custom-designed offices, which typically require an open layout with few walls, more collaborative spaces, exposed loft ceilings and polished concrete floors, like the space Montroy Andersen DeMarco designed for online cloud printing provider MIMEO at 3 Park Avenue.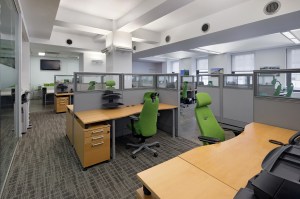 "Lately, there's been a convergence where tenants and landlords are building the same thing and want the same thing," said architect Daniel Montroy, a principal at Montroy Andersen DeMarco.
The pre-built office aesthetic has transformed in the last 18 months primarily due to the continued technology, advertising, media and information, or TAMI, leasing boom. Other types of tenants are adopting the TAMI tenants' workplace layout and design standards.
"The TAMI tenants started the trend and everybody else jumped on board because they thought it made sense," said Paul Amrich, a vice chairman in the New York City brokerage services group at CBRE.
The physical similarities between the pre-built and the built-to-suit spaces like AmidaCare's new 60,000-square-foot digs at 14 Penn Plaza are evident—and the costs on a per-square-foot basis for pre-builts are inching up to the prices for built-to-suit and even custom offices, as landlords spend more on pantries, acoustics, lighting and glass, across the board.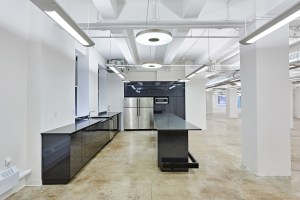 "The cost of constructing high-quality pre-built offices in New York City is currently comparable to the cost of building custom offices," Mr. Montroy said. "Landlords in Manhattan typically tie the construction cost to the value of the expected lease. The cost of pre-builts is in the $65- to $90-plus-per-square-foot range, with higher-quality tech lofts at the higher end, while custom, tenant-built offices usually cost $90 to $100 and higher per square foot to build, depending on finishes."
The costs of today's pre-builts are driven in large part by a desire for an open ceiling, which, architect Scott Spector of Spector Group said, costs 10 to 20 percent more than an enclosed one. While the overall prices have been climbing for pre-builts, they still cost about 40 to 45 percent less than the built-to-suit offices, based on the quality of certain specialty finishes, whether the space has an open or closed ceiling and if a shower/gym space is added, said Mr. Spector, who is a columnist for Commercial Observer. In some cases, landlords are installing furniture in pre-builts.
The TAMI tenants started the [pre-built] trend and everybody else jumped on board.
"They're not spending like the tenant is there yet," said Mr. Spector, who has seen about a 10 to 20 percent spike in the number of pre-built spaces being commissioned in the last 18 months. "They can't."
At 1290 Avenue of the Americas, Mr. Spector is designing a pre-built office for landlord Vornado Realty Trust. The office, he said, will have multi-purpose offices and touchdown spaces, fully glazed glass walls and wide corridors. In addition, the acoustics will be better than in most pre-builts, he noted.
"They're really thinking about acoustics and the type of glass going into the space," Mr. Spector said.
Durst Organization has had success with its traditional pre-built program for office spaces at 1 World Trade Center. Tenants are in spaces ranging from 2,191 square feet to 12,000 square feet, as CO previously reported. In 2013 Durst had 60,000 square feet of pre-builts across the firm's entire portfolio, and today the developer has 162,000 square feet of them, a company spokesman said.
After building eight traditional pre-builts, the 100-year-old firm is venturing into the world of the open loft-style pre-built aesthetic at 1 WTC. It is constructing a 12,600-square-foot open-floor pre-built unit on the 45th floor in the Financial District building.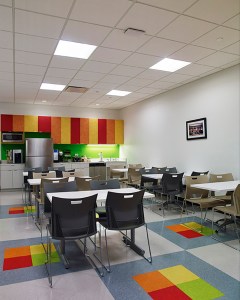 The firm decided to create this new space as its "first test case," said Karen Kuznick, the assistant leasing manager for 1 WTC. "This is our first smaller suite."
The rent would be comparable to a Durst built-to-suit space.
Durst is asking $78 to $80 per square foot for mid-level floors, and for the 45th-floor space, Durst would likely "want high $70s or $80 for it," Ms. Kuznick said.
Whether it's a pre-built or a built-to-suit, "We have the ability to build these units pretty efficiently at great economics of scale," added Rocco Romeo, a vice president of leasing at Durst.
CBRE's Mr. Amrich said the open floor plan is a trend with legs.
"I think this is all here to stay," he said, adding that it's "not a fad" as employees are looking to collaborate more. "Landlords realize if they don't up their game they'll be left behind," Mr. Amrich said.
Not all landlords are crazy about pre-builts, however.
Jeremy Moss, a senior vice president and director of leasing for Silverstein Properties, said Silverstein has been more focused on built-to-suit offices than pre-builts.
Silverstein is building space to suit a tenant, so it's "perfectly tailored to their needs," Mr. Moss said, "as opposed to trying to shoehorn them into something that was the landlord's best guess."
Built-to-suit is "an approach we like to take," Mr. Moss said. "It gives us such a huge advantage. It delivers a much happier customer at the end of the day."
Landlords realize if they don't up their game they'll be left behind.
But not all tenants have the luxury or desire to wait for construction to be completed.
That construction process can take five to seven months after lease signing, said Gerard Nocera, a partner at Herald Square Properties.
"Tenants tend not to want to get involved in the build-out process," he said, adding, "the fastest way to lease and occupancy is to pre-build."
Herald Square Properties is a big proponent of pre-built space, and has integrated such units at 292 Madison Avenue, the Lipstick Building at 885 Third Avenue, 142 West 36th Street and 234 West 39th Street. (Herald Square Properties and the Davis Companies sold the latter two buildings this year.)
While pre-builts have often been done for smaller office spaces ranging from 2,500 square feet to 5,000 square feet, Herald Square Properties is proactively incorporating pre-builts for offices of 12,000 or even 15,000 square feet.
Herald Square Properties, Mr. Nocera said, outlays the same costs for pre-builts and built-to-suit offices. But often with built-to-suit space, he noted, there is a part that is over-budget that the tenant pays.
While pre-builts are quick and easy for tenants, Mr. Nocera acknowledged that it would be more ideal for a tenant to lease a built-to-suit office.
"As a landlord, ultimately we would prefer to give cash and a certain amount of time for the tenant to build but we're not in that kind of market right now," Mr. Nocera said.