Foot Locker Division and Jordan Brand Coming to East 14th Street
---
---
Two athletic footwear brands Footaction and Jordan Brand Flight 23 will be opening up side-by-side stores, with an access point between them, in an 8,000-square-foot space on East 14th Street between University Place and Fifth Avenue.
Footaction parent company Foot Locker alone signed a lease for the space formerly occupied by a Duane Reade on the ground floor at 22 East 14th Street, Jason Pruger of Newmark Grubb Knight Frank told Commercial Observer. The space, which is part of a retail condominium unit owned by Sutton Garrett Realty Associates, will be split between Foot Locker's athletic footwear and apparel retailer Footaction and Nike's Jordan 23 sneaker brand. Nike is a behind-the-scenes partner with Foot Locker.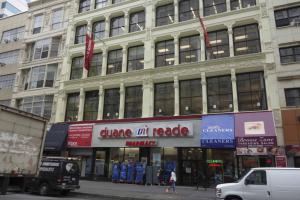 The lease is for 15 years, Mr. Pruger said, and the taking rent was over $200 per square foot (the asking rent was $350 per foot). Mr. Pruger and NGKF's Aaron Cukier and Harrison Abramowitz represented the landlord in the deal. Mark Finkelstein with Retail Strategies represented Foot Locker. Mr. Finkelstein declined to comment.
Foot Locker was a good choice for Sutton Garret because the tenant has a "proven track record," and "good credit," Mr. Pruger said, noting that sneaker stores perform well on main cross streets.
Foot Locker and Jordan 23 will be on the East 14th Street side of the building, next to Planet Fitness. And Utrecht Art Supplies is on the East 13th Street side of the retail condo, with an address of 21 East 13th Street. The two-store concept will open in March or April 2016.
Foot Locker has a traditional store at 58 West 14th Street, which it will keep, a source said.
22 East 14th Street
,
Aaron Cukier
,
Flight 23
,
Foot Locker
,
Footaction
,
Harrison Abramowitz
,
Jason Pruger
,
Jordan Brand
,
Mark Finkelstein
,
Retail Strategies
,
Sutton Garrett Realty Associates
,
Newmark