Brooklyn Creative League Expands Gowanus Coworking Space
---
---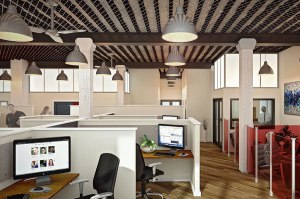 Brooklyn Creative League has enlarged its 15,000-square-foot Gowanus shared working space by 5,000 square feet, according to information provided by Neil Carlson, who co-founded BCL with his wife and business partner, Erin Carney.
The 200-member coworking company, which caters to independent professionals, small businesses and nonprofits, has had 11,000 square feet on the third floor and 4,000 square feet on the first floor of PDS Carroll Street LLC's 540 President Street. The additional space in the converted industrial loft that once housed a sweater factory and a bakery is on the first floor.
"Since opening its doors in 2009 at the old converted industrial loft space at 540 President Street, the shared workspace has attracted more than a thousand professionals whose careers and businesses have flourished during their membership," according to a press release the company issued today. "This high demand has caused BCL's owners to turn away or wait-list dozens of interested members. This new expansion will help abate that trend."
The new space will open on June 15. And BCL is opening a second location in Bedford-Stuyvesant in the fourth quarter of the year.
The asking rent was $25 per square foot and the lease was signed for five years with a five-year option to extend. There were no brokers involved in the deal, Mr. Carlson said.
BCL's new amenities will include "soundproof meeting rooms with studio-quality A/V recording and teleconference equipment; standing desks; desk clusters for teams and small companies; and 'quiet zones' for focused work and study," the press release indicates. "The expanded work space will be equipped with the same lightning-fast fiber Internet and bright, airy and sustainable build-out as the existing space."