Furniture-Maker Inks Four-Floor Deal at 251 PAS
---
---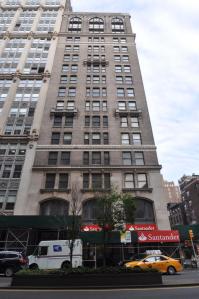 Herman Miller has signed a 15-year deal with the Feil Organization for four floors of 251 Park Avenue South, the landlords announced.
The West Michigan-based furniture-maker will relocate to about 27,000 square feet between the ground and fourth floor of the 106-year-old building between East 20th and East 21st Streets, according to the Feil Organization. Maharam Fabric Corporation, a subsidiary of Herman Miller, already leases 23,000 square feet on the top three floors of the 16-story building—giving the company a roughly 51,000-square-foot footprint in the building.
Herman Miller currently has a showroom on the 17th floor of 1177 Avenue of the Americas between West 46th and West 47th Streets, according to the company's website.
The Feil Organization did not release asking rents for the floors. Brian Feil, the vice president of leasing for Feil, represented the landlord in-house. Feil bought the building in January 2014 for $151 million, according to property records. Michael R Laginestra of CBRE and Justin Royce of Cushman & Wakefield represented Herman Miller.
Santander Bank currently takes up the ground floor of the Flatiron District building. The bank will move out this summer to a smaller space—2,300 square feet—at another Feil building, 841 Broadway between East 13th and East 14th Streets, according to the landlord. Mr. Feil represented the landord, while Steven Sjuset and David Lapierre of CBRE represented the bank.
"When we informed Santander that Herman Miller was going to take their current location, the bank wanted to remain in place for as long as possible—and to downsize somewhat in a new location," Mr. Feil said in prepared remarks. "Because we have built a portfolio of properties in the same general area, we were able to accommodate them in another historic, but newly renovated building. The tenants, the buildings and the neighborhood all benefit."
The landlord is currently overhauling parts of 251 Park Avenue South, including the elevators and windows, including a new MdeAS Architects-designed a new lobby, according to Feil.
Update: This story was edited to correct the amount Feil paid for the building in 2014 ($151 million).