Fora Financial Expands Presence in Midtown with 16,000-SF Lease
---
---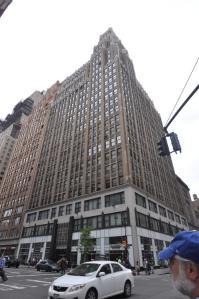 Fora Financial, which provides working capital solutions to small businesses and entrepreneurs across the country, has signed a seven-year lease for 16,000 square feet at the Kaufman Organization's 519 Eighth Avenue.
Commercial Observer has learned that Fora Financial will occupy the 11th floor at the property, which sits between West 35th and West 36th Streets. This brings Fora Financial's total square footage in Midtown to 27,000 square feet (it also occupies space at 242 West 36th Street).
While specific terms of the lease were not disclosed, asking rents were in the $40s per square foot, according to a press release issued by Kaufman.
"The space at 519 Eighth Avenue provides Fora Financial the platform to continue growing into one of the premier financial services firms dedicated to assisting small businesses," said Steven Kaufman, the president of Kaufman, in prepared remarks.
Mr. Kaufman and Barbara Raskob, the director of leasing at Kaufman, represented the landlord in-house. Cushman & Wakefield's Gregory Skaler represented Fora Financial. The deal closed at the end of March. Mr. Skaler declined to comment.
Founded in 2008 by college roommates Jared Feldman and Dan Smith, Fora Financial has funded over 11,000 individual transactions to almost 7,000 unique customers and has provided $305 million in working capital to small businesses, according to its website.