The Plan: Urban Justice Center at 40 Rector Street
---
---
The Urban Justice Center knows how to trade up, real estate-wise.
In 1984, a few years after his graduation from law school, Doug Lasdon received a $25,000 grant from the New York Community Trust to create the Urban Justice Center, a legal services organization for some of New York City's poorest residents. He set up his new multi-service not-for-profit in a burned-out building in East Harlem. By 1997, Mr. Lasdon's organization was operating out of a 7,700-square-foot floor at 666 Broadway that he had bought for $600,000. Ten years later, he sold the property for a handsome profit of $5.7 million.
Using the proceeds from the sale of 666 Broadway and a $5 million capital grant from the city, Mr. Lasdon brought the Urban Justice Center to its latest and greatest incarnation: the ninth floor of 40 Rector Street, which he bought in April 2012. (If you doubt Mr. Lasdon's shrewd eye for a deal, the Urban Justice Center paid $234 a foot in 2012 at 40 Rector. The most recent sale, on the floor above, was for $550 a foot.)
But before the organization moved into the property last fall, the space underwent renovations to ensure that the Urban Justice Center's space aligned with its ethos. How does a social justice ethos translate in architecture and design? For one thing, unlike in many law firms where partners would likely get the coveted window views, the outer-perimeter is shared by all. This allows for sunlight to penetrate the space, making it open and airy. (There are a few private offices—just not along the windows.) Architecture and design firm A+I was behind the vision for the open floor plan and the aesthetics.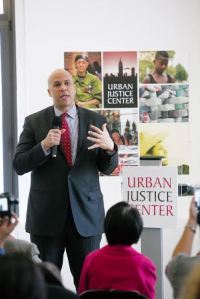 "When I was trying to get Dag [Folger of A+I] to do [our design], he said, 'I'll do this if you're open to being creative, always in the service of your needs.' And I said, 'No problem, that's who we are,'" said Mr. Lasdon.
Mr. Folger was excited to work with Mr. Lasdon on the project, primarily because of his belief in the Urban Justice Center's mission.
"It's amazing to find a group of attorneys that are doing good for the world, and I just think the world is probably a better place and a fairer place because of them," said Mr. Folger. "It's not bullshit."
Mr. Folger said that he wanted to eschew the widely-held notion that non-profits don't occupy desirable spaces. "For a lot of legal advocacy not-for-profits, crappy spaces are kind of badges of honor that they wear," he said. "Just as [Urban Justice Center] advocates for social justice, we advocate for space justice."
It was especially important to Mr. Folger for the space to feel secure. "These [clients] are people who are in some type of crisis," said Mr. Folger. "Going into a space that looks like the Board of Ed is not a great place to start the conversation. We were really advocating for the environment and trying to make this a strong place."
And they succeeded. The 32,000-square-foot property has sweeping views of the Hudson River, and is able to accommodate over 100 of Urban Justice Center's staff members, primarily attorneys and social workers, and 47 interns. It allows for the organization to fulfill its important mission (some of the work undertaken by the Center includes helping victims of domestic violence, assisting refugees from the Middle East and North Africa and ensuring sex workers are safe and have legal counsel).
The open floor plan needed to do several things at once, and the versatile layout allows the space to accommodate for overlapping functions. Dark colors were eschewed for a neutral palette.
"It's not about bright color. It's very understated," said Mr. Folger. "It feels like a modern, forward-thinking environment. It's not like a typical law firm where you have dark mahogany walls."
Mr. Lasdon and his team are thrilled with the results.
"While I'm most excited about saving over $800,000 a year, the office is open, bright, airy and spacious. It allows us to be efficient, effective and comfortable," he said. "The space is also designed to encourage staff to congregate for both work and social reasons."
"We've come a long way," Mr. Lasdon concluded.