Four Leases are Inked at 370 Lex
---
---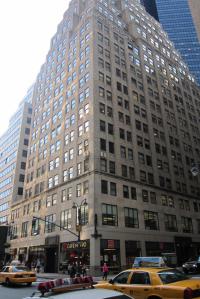 A new tenant, an expansion, and two renewals started the new year at 370 Lexington Avenue, a Sherwood Equities building.
The four leasing transactions account for 7,300 square feet within the 310,000-square-foot property, mostly filling a hole on the sixth floor left by Infographics, a design firm that held 5,800 square feet since 1992, and closed shop in December 2014.
Following Infographics' notice to vacate, Sherwood listed the complete space, asking mid $50's. Current tenants occupy between 500 and 10,000 square feet. Five-percent of the building is vacant.  The opportunity to offer this amount of space, said Senior Leasing Agent Adam Weissleder, was exciting. Especially since they were able to bring it to market rent quickly.
Access Communications, a firm that handles communications for pharmaceutical, biotechnology, and medical device companies under the Berkeley Heights, NJ-based The Access Group umbrella, approached Sherwood seeking 2,800 square feet. A five year lease was signed in January. Paul Formichelli, senior vice president of JLL, represented Access Communications. He declined to comment on the deal. Senior leasing agents Adam Weissleder and Jill Burrowes represented the landlord.
The balance –3,000 square feet– went to Old City Investment Partners, an investment advisor already occupying half that -1,500 square feet- through a sublet agreement with Infographics. Old City became a direct tenant of Sherwood Equities in December 2014 with a three-year lease. They expanded their space with a new lease in February. There was no outside broker on the deal.
"Our track record of accommodating expansions in the building has been fantastic, illustrated by the completion of seven expansions over the past twelve months" said Weissleder.
The gutted and reconfigured former Infographics area is being built out now. Access and Old City are expected to move in at the end of March.
Elsewhere in the 27-story building, the Indonesian Investment Promotion Center (IICP), a tenant since 2011, renewed their lease for 1,900 square feet on the nineteenth floor for five years. IICP works with the Indonesia Investment Coordinating Board to encourage foreign direct investment in Indonesia. The asking rent was mid-50's. There was no outside broker on the deal.
And down on the fourth floor Title Insurance Rate Service Association Inc. (TIRSA) renewed its lease for 1,087 square feet for five years. The asking rent was high-50's. TIRSA is a rating service licensed by the Superintendent of Insurance of the State of New York to develop, propose, and maintain rates and rating rules, forms and endorsements on behalf of member title insurance companies. They have been 370 Lexington tenants since 2005, moving to their current space five years ago. Josh Larris (who was then of Vicus Partners) represented them in this transaction.