Charles Schwab Moving to 1133 Avenue of the Americas
---
---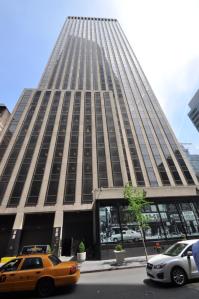 Charles Schwab & Co. will move to the 22,915 square foot 37th floor of 1133 Avenue of the Americas, following a build-out expected to be complete by the third quarter of 2015, as was first reported by NYREJ.com.
The financial services company, who has been subletting at another Durst Organization property—114 West 47th Street—signed an 11-year lease in January. The asking rent was in the mid-$80s per square foot.
"They wanted to stay in Class A office space and in a Durst building in the neighborhood so 1133 was ideal," said Durst senior leasing manager Rocco Romeo. He represented and director of leasing Tom Bow represented the landlord in the deal.
Charles Schwab was represented by executive vice president David Hollander and first vice president Chris M. Corrinet of CBRE, who could not be reached for comment.
"We are thrilled to welcome Charles Schwab to 1133, where we completed a lobby, elevator and mechanical systems upgrade in 2013," said President Jonathan (Jody) Durst in a statement.
The $10 million upgrade of the 1970 building included an extensive lobby renovation and elevator enhancements. "1133 retains its beautiful mid-century modern design while providing state of the art mechanical and building systems," added Mr. Durst.