Has New York Multifamily Lost Its Sheen?
---
---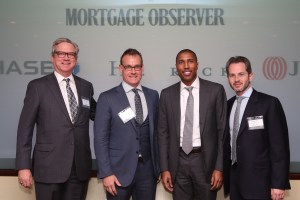 It almost starts off like a joke. Two lenders, a developer and a broker walk into a panel hosted by a lawyer. What can they all agree on? That rising land and construction costs could imperil New York development and multifamily deals.
That was the prevailing sentiment among four panelists at a Mortgage Observer breakfast event today at Herrick, Feinstein's Park Avenue office.
"Right now, I don't think you can buy land in many parts of Manhattan and Brooklyn at levels that would make economic sense for housing," said Jeremy Shell, TF Cornerstone's head of finance and acquisitions. "We don't find deals easily when it comes to the kind of large-scale developments that we do, so we have to figure out where we can buy at reasonable prices."
He added that New York is in for a "decent period of high construction costs."
Matthew Galligan, president of CIT Real Estate Finance, said that with New York's multifamily market becoming increasingly competitive for borrowers and lenders, his team is looking at more opportunities outside the five boroughs.
"The cost of land in some parts of Manhattan has gone up from $400 a foot to $800 a foot," he said. "We find that uncomfortable." As a result, CIT is putting a greater focus on industrial properties in non-urban markets surrounding the city. Those markets include parts of Pennsylvania with major routes leading "East, West, North and South," Mr. Galligan said.
The other panelists spoke more optimistically about the city's multifamily market, suggesting developers, lenders and brokers retool their approach.
"We're seeing more and more conversion plays," said Peter Nicoletti, executive managing director of the capital markets group at JLL (JLL). "Brooklyn is baked. There is a lot of interest in Queens."
Chad Tredway, East head at Chase Commercial Term Lending, said that his team continues to finance multifamily deals in Manhattan and the outer boroughs in the $1 million to $25 million range. With Brooklyn hitting a new high, Mr. Tredway said he sees the most activity in Manhattan and Queens.
"It still shocks me when I hear people say, 'I moved from Brooklyn to the Upper East Side for lower rents,'" he said.
Yet, even with less available land in the prime areas of Brooklyn, Manhattan and Queens, Mr. Tredway and Mr. Shell said Staten Island is not on their radars, while Mr. Galligan and Mr. Nicoletti were mum when the borough was mentioned.
As the discussion turned to the Department of Housing Preservation and Development's 421-a tax incentive program and Mayor Bill de Blasio's 200,000-unit affordable housing plan, the tone was measured.
"The jury is still out," Mr. Tredway said. "It's all the more difficult with land prices."
Mr. Galligan and Mr. Nicoletti both said affordable housing development and preservation need subsidies as fuel, noting that even as rents grow, current market prices make it challenging to build affordable housing in New York City.
"Affordable housing will always be about the subsidy," Mr. Nicoletti said. "The carrot has to lead the stick. We haven't seen any signs of that yet," from the de Blasio administration, he said.
Mr. Shell, son-in-law of TF Cornerstone Chairman K. Thomas Elghanayan, offered a different view. "Market-rate housing has to subsidize affordable housing," he said.
Mr. Shell, who closed two large agency loans on TF Cornerstone multifamily properties in Manhattan and Long Island City last month, said the firm's goals for 2015 will be "disciplined."
"We're taking a pass on the high-end condo market right now," he said. "Some of these super-luxury, over-financed condo projects are the poster child for a boom and bust."