Chelsea Piers 'wichcraft Closed Due to Health Violations [Updated]
---
---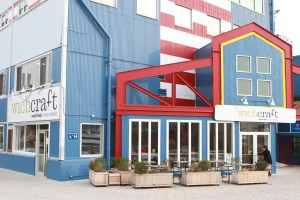 The city's Department of Health and Mental Hygiene shut down sandwich chain 'wichcraft at Chelsea Piers yesterday, Commercial Observer has learned. [The eatery passed its reinspected on Nov. 10 and reopened, said Jeffrey Zurofsky, one of the partners of 'wichcraft.]
'wichcraft, located on the West Side Highway at Pier 62 and 12th Avenue, was hit with 46 violation points, 41 of which were deemed critical, during a routine annual health inspection.
"'wichcraft at Chelsea Piers was closed yesterday due to a public health hazard that could not be corrected at the time of the inspection," the Health Department said in an emailed statement. "In this case, they had a severe infestation of both mice and flies. They were also cited for operating with an expired permit and mildew in an ice machine. Once these violations have been corrected, they can request a reopening inspection."
Violations included 164 fresh mice excreta and 93 live fruit flies.
A hearing has been scheduled for Nov. 21 before the city's Health Tribunal.
The city subscribes to a restaurant rating system. A "C" is the grade awarded for 28 to 49 violation points out of 1,000, as Commercial Observer previously reported. A "B" is for 14 to 27 points and a "A" is for 1 to 13 points. Restaurants are closed when there's a public health hazard at the time of inspection, according to a Health Department spokesman.
'wichcraft, which serves breakfast items, sandwiches, soups, salads and pastries, has 14 other locations in Manhattan and one in San Francisco.
The Chelsea Piers location received an "A" rating on Nov. 11, 2013, according to DOH's website. This is the first time the Health Department has closed the eatery.
"We regret that we made an administrative error [with the permit] and we anticipate a reinspection on Monday and we will likely be open on Monday upon reinspection," Mr. Zurofskysaid.
Update: This story was edited to include a comment from one of the founders of 'wichcraft as well as the reopening date.