SEC Filing: Bloomberg Renews in Midtown East
---
---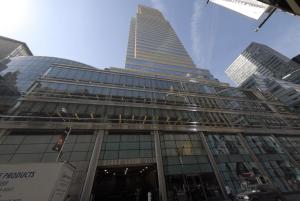 Financial information and media giant Bloomberg L.P. renewed the massive lease at 731 Lexington Avenue that accounts for 45 percent of the revenues of its landlord, Vornado Realty Trust partner Alexander's, Inc., the company announced in a third-quarter U.S. Securities and Exchange Commission filing this week.
Bloomberg officials signed a five-year renewal covering 188,608 square feet of office space in October to extend agreements previously slated to expire in 2015, the document notes. Commercial real estate blog "Jay Rickey" first reported the renewal.
The tenant's payments to Alexander's accounted for about $67.5 million in revenues in the first three quarters of 2014 and $65.9 million in the first nine months of 2013, according to the filing. Vornado owns 32.4 percent of the landlord's stock and Alexander's officials keep close tabs on its highest revenue-producing tenant, the document says.
"If we were to lose Bloomberg as a tenant, or if Bloomberg were to be unable to fulfill its obligations under its lease, it would adversely affect our results of operations and financial condition," the filing notes. "In order to assist us in our continuing assessments of Bloomberg's creditworthiness, we receive and evaluate certain confidential financial information and metrics provided by Bloomberg on a semi-annual basis. In addition, we access and evaluate financial information regarding Bloomberg from private sources, as well as publicly available data."
Officials with Alexander's referred Commercial Observer to Vornado, where officials declined to comment. Officials at Bloomberg also declined to comment.