Puppy Perks: Inside TAMI Office Culture
---
---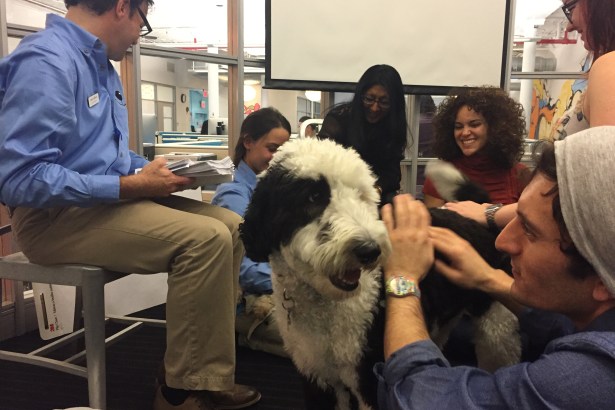 It's doggone nice to work for tech companies these days. Employees at online content discovery platform Outbrain welcomed four canines from a doggie daycare and boarding business next door to the firm's office near Union Square on a recent afternoon.
The 120 New York City employees of the company, which posts recommended links on the websites of media outlets like CNN and ESPN, enjoy office perks like the food and ping-pong that are becoming the norm in the highly-sought class of tenants in the TAMI–technology, advertising, media and information–sectors. But the company also distributes unconventional goodies such as daily personal allotments of $10 worth of the company's digital ad space and the hour-long visit to Outbrain's Kramer conference room last week by dogs from Biscuits & Bath Dog Retreat. (This will be a regular perk going forward.)
The firms that have flocked to TAMI-rich Midtown South and booked large-scale leases at the World Trade Center offer employee benefits that can make work seem like anything but another day at the office.
"You have to have a lot of trust in your employees and your colleagues to know they're going to get their work done," said Brandon Carter, a marketing manager at Outbrain. "It's less important to show up at nine and leave at five. That's very much the culture here."
Mr. Carter and Catie Maillard, Outbrain's human resources business partner, invited Commercial Observer for a tour of the company's one-floor, 25,000-square-foot office by Thomas Juncher Jensen from JIDK Designs the same week Facebook opened its new space by Frank Gehry elsewhere in Midtown South at 770 Broadway. Downtown, video game developer High 5 Games announced a deal for a two-floor, 87,663-square-foot space at 1 World Trade Center a few weeks after Condé Nast starting moving into the company's 1.1-million-square-foot plot onsite. The TAMI companies taking sizeable blocks of space these days are rewarding their often-youthful employees with creature comforts like Facebook's world-class company eatery or LinkedIn's recent "Bring In Your Parents Day" at the Empire State Building.
Outbrain employees get free lunch on Wednesdays and snacks like fruit and cereal every day in a common area where employees hold meetings and events. The staff members do work in assigned cubicles, but the company boasts several conference rooms named for "Seinfeld" characters and a game room for ping pong and video game duels. Most of the physical features of the office, including the fully-transparent glass room where dozens of employees wandered through to meet the dogs, marked the high-ceilinged third-floor office when Outbrain moved in two years ago.
Yet the employees played with a parti poodle named Patsy, a mini poodle named Snowball, a basset hound named Bosely and a long-haired chihuahua named Steve McQueen in the dog daycare and grooming provider's first visit to the space. Outbrain employees came up with the idea of the office visits after previously walking next door to Biscuits & Bath to greet the dogs during breaks, and the petting session should help the employees during a busy time, said David Maher, the dog daycare's client happiness manager.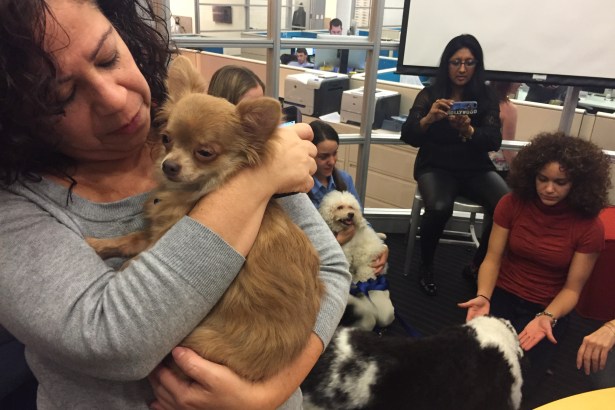 "The close of the year, the fourth quarter, can be a stressful time of year in business," he said. "So what better way to relax than connecting with the dogs?"
In addition to the puppy perk, the employees also enjoy free gym memberships at the New York Sports Club around the block and gratis athletic league participation. But they were most abuzz over their ability to post their own chosen content on the company's highly-trafficked partner sites through a program the company calls "staff picks." Account strategist Adam Flomenbaum has been posting links to his father's blog through the benefit, which translates to $300 per month and $3,600 per year for each staff member.
"It's definitely a good way to use it," said Mr. Flomenbaum, 26. "One of the hardest things we have to do is explain what we do to our parents."
Content strategist Meghan Nesmith has organized a group of employees who use their picks to give free airplay to student posts from Girls Write Now, a nonprofit that pairs girls from disadvantaged backgrounds who want to pursue writing with mentors who are established female authors. The last month of the freebies generated 1,500 clicks for works by the nonprofit's participants from visitors who otherwise would have needed to search for the nonprofit by name to see them, Ms. Nesmith, 30, said after checking figures on the laptop she carries around the office with her.
"We have this incredible real estate and it's a great gift to be able to do that," she said. "I got about 10 others in the office to use the platform to promote that content."
Employees like Ms. Nesmith and Mr. Flomenbaum also receive merchandise like t-shirts and coffee mugs emblazoned with Amelia, the company's name for the bespectacled face in its orange logo. For new and thriving companies like Outbrain, even the color of the logo represents a way to boost employee satisfaction.
"It's a very vibrant orange, very lively," Mr. Carter says. "It's a very quirky color. As you know, in the professional world, the colors can be very subdued."