Fulton Center by the Numbers
---
---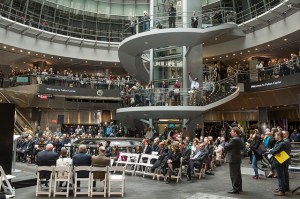 After 12 years of planning and much fanfare, the long-awaited Fulton Center at 200 Broadway opened before the sun rose over Lower Manhattan yesterday morning. Straphangers will no longer be forced to navigate through a disjointed underground labyrinth to change trains; instead, they will zip through the 180,000-square-foot space that connects nine subway lines and links to the PATH.
Most public works project can boast some impressive figures, but the Fulton Center, on the corner of Broadway and Fulton Street, is no ordinary public works project. Proposed following the terrorist attacks of Sept. 11, 2001, the transit hub is designed to be the nexus of downtown connectivity, serving as a Penn Station of sorts below 14th Street. Arup, the firm behind the Sydney Opera House, was the prime design consultant for the project. It led a 25-member sub-consultant team including Grimshaw Architects, Page Ayers Cowley Architects and HDR|Daniel Frankfurt. The station is operated by the state's Metropolitan Transportation Authority.
Below are some of the Fulton Center's important facts and figures:
Time the Fulton Center opened to the public: 5:00 a.m. on Monday, Nov. 10, 2014
Number of politicians at the opening: Four: Senator Charles Schumer, Rep. Jerrold Nadler, Manhattan Borough President Gale Brewer and New York Assembly Speaker Sheldon Silver.
Number of subway lines passing through the Fulton Center: Nine
Size of the Fulton Center: 180,000 square feet
Number of square feet of retail and commercial space: Over 65,000
Original year set to open: 2007
Years of planning: 12
Number of years to complete construction: 10
Original Cost: $750 million
Actual cost: $1.4 billion
Number of entrances for commuters: 27
Number of commuters expected to pass through daily: Up to 300,000
Percentage of all Downtown Manhattan trips made by mass transit: 85 percent
Length of the underground walkway connecting the Fulton Center to the Santiago Calatrava-designed PATH station: 350 feet
Number of fire alarms in the building: 1,950
Number of security cameras in the complex: 350
Number of on-the-go kiosks, digital touchscreens that provide service information, for commuters: 16
Percentage of construction materials sourced locally: 20 percent