Italian Restaurants Renew in Little Italy
---
---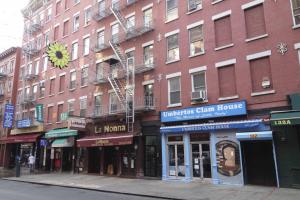 Four Italian eateries will remain in their Little Italy spaces along the neighborhood's famed Mulberry Street through five-year lease renewals in EVO Real Estate Group's retail condominium on the ground floor of the commercial building at 132 Mulberry Street, EVO announced this morning.
The new deals will keep Paesano, La Nonna, Pellegrino's and Umberto's Clam House in their current spaces along a stretch of the corridor that hosts the annual Feast of San Gennaro. Together they comprise nearly 10,000 total square feet. The asking rents started at $150 per square foot, EVO officials said.
"It was important to both the landlord and tenants to preserve the 'Little Italy' nature of the block," said Robert Frischman, EVO's vice president of retail, in a prepared statement. "Throughout the negotiations, we kept this shared goal in mind."
Mr. Frischman and his EVO colleague Brett Weiss represented the landlord in-house in the transactions, while the tenants didn't utilize any brokers.
Paesano will keep the largest 3,000-square-foot space, while La Nonna and Pellegrino's are holding on to roughly 2,500 square feet each and Umberto's will remain in its 1,500-square-foot digs.
The four principals of EVO purchased the retail condo earlier this year for $17.5 million amid concerns that the bordering neighborhoods of Soho to the north and Chinatown to the south are absorbing the Italian-American cultural hub that now centers on just three blocks of Mulberry Street between Canal and Broome Streets.