Financial Firm Expands in Midtown Move
---
---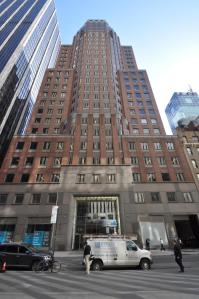 Global fund manager IFM Investors will expand its footprint by moving to the Durst Organization's 114 West 47th Street through a 16-year, 18,260-square-foot lease, the Durst Organization announced last week.
The financial firm that now operates from an 8,000-square-foot office at 99 Park Avenue will move to the top floor of the 26-story Durst building with asking rents of $75 per square foot, company officials said.
"We are pleased to welcome IFM Investors to 114 West 47th Street, where a $7 million renovation program was completed last year," said Jonathan "Jody" Durst, president of the Durst Organization, in a prepared statement.
Senior leasing manager Rocco Romeo and assistant leasing manager Karen Kuznick represented Durst in-house in the deal while Savills Studley assistant director Christopher Foerch and senior managing director Jeffrey Peck negotiated on behalf of IFM Investors.
"The building's enhancements, along with its unique structural features, made 114 West 47th Street a perfect fit for IFM Investors," Mr. Peck said in a prepared statement. "As IFM is based in Australia, the necessity of affordable 24 hour cooling was imperative.  My team at Savills Studley worked closely with Durst's leasing team and engineers to develop an ideal solution for all parties."
The building on 47th Street between Avenue of the Americas and Seventh Avenue marked "the last building constructed by brothers Seymour, Roy and David Durst, and the first major collaboration of cousins Douglas and Jody Durst" when the company finished it in 1989, according to its website. The New York Post first reported the new lease.