Extell Plans Rentals, Dorm for West Midtown
---
---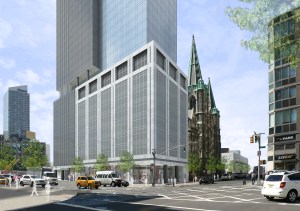 Gary Barnett's Extell Development has nearly completed the foundation at 555 10th Avenue and for the first time in the company's history, has plans that include a dormitory, Commercial Observer has learned.
The 52-story, 710,907-square-foot building, which is close to 41st Street, will have 600 rental units, 120 of which will be affordable. In addition, there will be more than 300 dorm beds on floors two through seven. Mr. Barnett said he is in talks with different universities, but declined to elaborate.
The residents will enter the glass building on 10th Avenue and the students will have an entrance on 41st Street.
Mr. Barnett said he is venturing into the college sector because the building requires a community facility, "and that qualifies."
Designed by SLCE Architects, the $500 million project will have a bowling alley, gaming lounge, children's lounge and dog washing station in the basement. On the ninth floor, there will be an indoor lap pool, gym, pilates/yoga facility, outdoor workout space, landscaped outdoor lounging space and a dog run. On the roof there will be a sunbathing area, birch grove, club room, dining area, an indoor/outdoor fireplace, cabanas and another pool. None of those amenities will be available to the dorm residents.
The foundation was poured in March 2013, The New York Times previously reported. The project will be completed within 18 to 24 months, Mr. Barnett said.