Moinian Hit with Partial Stop Work Order on West 42nd Street
---
---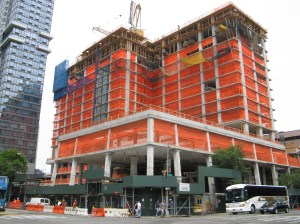 The Moinian Group's under-construction 60-story rental tower at 605 West 42nd Street has been hit with a partial stop work order, according to Department of Buildings records.
The development company, led by CEO Joseph Moinian, was cited for "six randomly visible broken wires" on the crane at the 11th Avenue construction site. DOB issued the partial stop work order—which stops a certain type of work or work on a particular section of the construction site or building—last Friday and it won't be cleared until the company resolves it and contacts DOB for clearance, a DOB spokesman explained.
In addition to the partial stop work order, the site has three open DOB violations. One of the violations, for improperly marked hoisting equipment, is associated with a $1,600 fine, which The Moinian Group paid.
Commercial Observer's sister publication Mortgage Observer reported last month that the Bank of China is close to finalizing a deal that will provide $550 million in HFA credit enhancement bonds to fund the construction of the 80/20 residential development. The 1.16-million-square-foot building will have 1,174 rental units and 50,000 square feet of retail space plus 500 parking spaces, MO reported. Construction is slated for completion in late 2015.
The project has been under construction for a long time. DOB issued the site its first permit for construction of a new building on June 30, 2008.
The Moinian Group wasn't available for comment through a spokesman by publication time.