Leases Signed at 110 East 42nd for Full Occupancy
---
---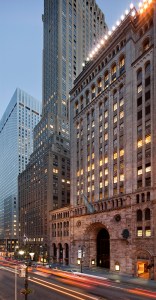 Four leases totaling 48,482 square feet have been signed at 110 East 42nd Street between Park and Lexington Avenues, according to a release issued by the building's landlord, SL Green Realty Corp. The building is now 100 percent occupied.
Asking rent for the spaces was $55 per square foot, according to Gary Rosen, senior managing director at SL Green, who represented building ownership in the transactions along with Howard Tenenbaum.
SLR Acquisition Corp., specializing in environmental consulting, signed a five-year lease amendment to expand by 11,305 square feet to 17,901 square feet. The UK-based company will occupy part of the eighth floor.
TPR Education, known as The Princeton Review, signed a new 10-year lease for the entire, 20,966-square-foot, seventh floor, according to the release.
The test prep company signed its lease in June, and plans to move into its new space in November when a build-out has been completed, according to Peter Trivelas, senior vice president at DTZ, who represented Princeton Review in the lease. The Princeton Review is relocating from 317 Madison Avenue "with some expansion," Mr. Trivelas said.
SLR and Metro North signed their leases in late June, and Morgan Lewis & Brockius signed its lease in late March, according to Mr. Rosen. Metro-North is expected to take possession of the space in September.
Metro North Commuter Railroad Company signed a new seven-year lease for 1,840 square feet in the building, the release further stated, and law firm Morgan Lewis & Brockius renewed its lease of 14,371 square feet on the ninth floor for five years.
The building's corridors, bathrooms and windows have recently been upgraded, according to Steven Durels, SL Green's executive vice president and director of leasing and real property, via a prepared statement. "110 East 42nd Street provides a unique combination of 'jewel box' architecture and convenience with direct access into Grand Central Terminal," he said.
Josh Kuriloff and Jodi Roberts of Cushman & Wakefield represented Metro-North, while Barbara Winter and Lisa Kiell of JLL represented Morgan Lewis & Brockius.
Brokers representing Metro North and Morgan Lewis did not immediately respond to a request for comment. A spokeswoman for SLR Acquisition wasn't immediately available for comment.