Gene Kaufman's Soho Project Finally to Get Off the Ground
---
---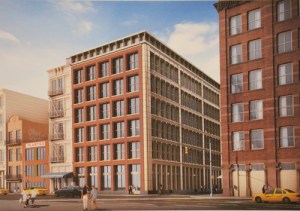 More than 13 years after drawing up the first plans for a building at 11 Greene Street, architect Gene Kaufman of Gene Kaufman Architects is hoping the project will finally start getting built this fall. The delays, he said, have been due to "ownership and economic cycles."
Mr. Kaufman has worked on the project off and on since January 2001. "The problem is we had two preceding clients that ended up in bankruptcy," he noted.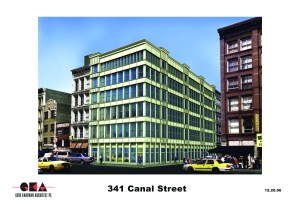 Most recently, the son of Thor Equities CEO Joe Sitt, Jack Joseph Sitt and Ruby Ventures partnered to buy a commercial ground lease at the site, at the corner of Canal and Greene Streets, from the bankrupt Judo Associates for $13.5 million, as The Real Deal reported in May. Donald Fishoff was the president of Judo Associates and Mr. Kaufman said Mr. Fishoff was involved in the company that went bankrupt at the site prior. The property, occupied by a parking lot and having an alternate address of 335 Canal Street, is owned by Sol Goldman Investments.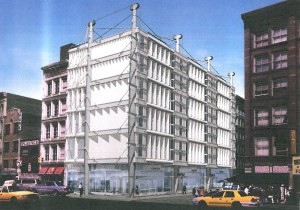 Since the lease assignment to Mr. Sitt, New York City's Landmarks Preservation Commission approved a new exterior for what will be a 65,000-square-foot rental project, Mr. Kaufman said. He is awaiting a renewal of a City Planning Commission permit and then an approval from the Department of Buildings. He hopes the approvals will be in place in September with construction starting shortly thereafter.
"It's a metal building but it's a modern-day interpretation," the architect noted.
The building will be six stories tall with a partial seventh floor on the northwest corner, to house one apartment. There will be 31 apartments and 10,000 square feet of retail on the ground floor and basement. At the top of the building there will be a series of duplexes. All of the units will have a loft feel with "high ceilings, huge windows and nice open spaces," Mr. Kaufman said.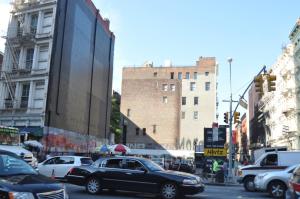 The initial design called for a "one-story taxpayer," he said. "It evolved from that. It's been a six-story building for a while."
Mr. Kaufman said the current incarnation is the best.