Furman Center: Resilience Requirements Ensnare Multifamily Owners
---
---
Building requirements for better flood protections have presented owners and managers of more than 1,500 buildings with 90,000 units of public, subsidized or rent-stabilized housing with a dilemma: either pay high insurance premiums or pay high costs to lower them, according to a report called "The Price of Resilience: Can Multifamily Afford to Adapt?" released Wednesday by the NYU Furman Center.
The real estate and planning policy research organization collaborated with industry leaders, nonprofit organizations and government officials to explore the complex obligations that can leave many owners with no way to pay the bills besides switching to market-rate as they grapple with requirements crafted for single-family homes.
"Buildings with regulated rents will have a particularly hard time implementing resilience measures to protect themselves from future storms," said Jessica Yager, Furman's policy director and one of the report's co-authors, in a prepared statement. "But if they do not take protective measures, they may face dramatically rising insurance premiums and potentially unsafe conditions, situations that could lead to unsustainable operating costs or, in some cases, pressure to convert to market-rate."
The think tank gathered architects, engineers, building managers and government officials to a January workshop where teams analyzed individual East Village, Gowanus and Coney Island properties to figure out the costs for upgrades moving the buildings' mechanical equipment out of the basement and providing better flood protection.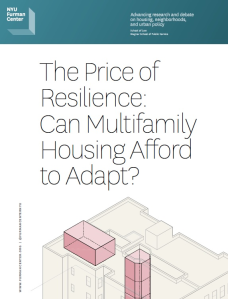 But few easy solutions emerged, the report says. Potential upgrades ranged from $435,000 in a 5-unit building to $2.5 million in a 197-unit structure, sums that would pose challenges to any owners but especially those who own affordable housing. Such owners find themselves in a "catch-22," the report says.
"If they do nothing, their flood insurance premiums will rise to unaffordable rates," the report notes. "But to lower their rates, they would need to undertake expensive retrofits they may not be able to afford while charging affordable rents."
After a Post-Superstorm Sandy law changed flood insurance rates to reflect full risk assessments for properties within the 100-year flood plain, a later law signed by President Barack Obama earlier this year limited potential tenfold rate increases to no more than 18 percent per year.
But the report calls on the Federal Emergency Management Agency to credit more insurance rate relief for properties that have only made partial resilience improvements and on the city to allow commercial development that would turn the multifamily buildings into differently-classified mixed-use dwellings, among other recommendations.
The ideas from the influential think tank out of NYU's law and public policy schools should carry significant weight, especially since representatives from 9 different city and state agencies provided expertise and feedback on the report and officials from FEMA participated in the workshop.