Financial Services Company Relocating to 555 Fifth Avenue
---
---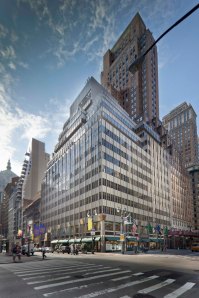 Merchant banking firm The Chart Group has signed a seven-year lease for a 6,973-square-foot space at 555 Fifth Avenue at the corner of 46th Street, Commercial Observer has learned.
The Chart Group, founded in 1994 to sponsor alternative investments and provide advice and capital access to corporate clients, will be relocating from 75 Rockefeller Plaza later this month, ATCO Properties & Management, the owner of 555 Fifth Avenue, indicated in a release to CO.
The new space comprises a portion of the 19th floor and the entire 20th floor in the 20-story LEED-Silver boutique office property.
According to Kate Goodman, co-president at ATCO, the Chart Group needed to find efficient, cost-effective office space within a short time frame.
"With its existing offices currently undergoing a major repositioning, the company wanted to maintain its central Midtown location and close proximity to transportation, shopping and dining," she said in a prepared statement, adding that 555 Fifth's move-in ready space met all of their needs and geographic requirements.
Jerry Suchman of ATCO Brokerage Services represented the landlord in-house, while David Glassman of Colliers International represented the tenant. Mr. Glassman didn't immediately respond to a request for comment.
Nicoletti Gonson Spinner, Warshaw Burnstein, CW Financial Services, Valley National Bank, Global Excess Partners, Floyd Advisory, JB Star, Barnes & Noble and Wichcraft are tenants in the building.
The entire 225,000-square-foot property, completed in 1955, is leased, but for 14,201 square feet.