Crumbs Bake Shop Closing All Stores
---
---
New York City-based Crumbs has announced the closure of all stores, following the company's delisting from the Nasdaq last week, the AP reported. The cupcake bakery operates 65 locations in 12 states and Washington, D.C.
All Crumbs employees, including 165 full-time and 655 part-time have been notified of the store closings, according to the AP. The company will also file for Chapter 7 bankruptcy.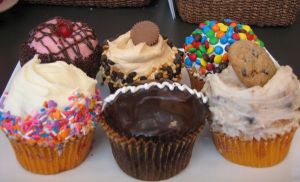 "Regrettably Crumbs has been forced to cease operations and is immediately attending to the dislocation of its employees while it evaluates its limited remaining options," the company said in a statement emailed to the AP.
Crumbs was founded in 2003 and went public in 2011. Declining sales have been cause for recent concern, however, according to the AP.
"We have a history of incurring losses and negative cash flows from operations, have an accumulated deficit as of Dec. 31, 2013, and will require additional financing to fund future operations," the company stated in its 2013 annual report.
Crumbs had previously noted the possibility of an operations shutdown in a SEC filing in May, according to the AP, and had reported a loss of $3.8 million for the quarter ended March 31 of this year.