Moinian, Thor Launch Pre-Built Program at a Flatiron Building
---
---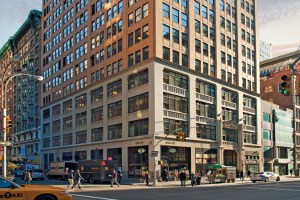 At a Flatiron District building they own, The Moinian Group and Thor Equities are launching a full-floor pre-built program targeting the tech, advertising, media and information, or TAMI, fields, Commercial Observer has learned.
In addition to the pre-builts, the owners are committing millions of dollars to the renovation of the lobby and elevator cabs at the building, at 245 Fifth Avenue at 28th Street. Construction will commence once the final plans are approved.
Moinian and Thor are rolling out pre-builts on four floors at the building, encompassing nearly 55,000 square feet, starting first with the 13,627-square-foot 17th floor. It will be ready for occupancy in September. They will be high-density floors in a loft setting with state-of-the-art amenities and light and views on three sides.
It'll be "an environment where no one has bad space," said Christel Engel of Colliers International. She and colleagues Whitney Anderson and Michael Baraldi are leading the building's leasing efforts.
There is a need for the pre-builts, Ms. Engel said, because tenants want spaces they can grow into. They also don't have the time to wait after signing a lease for construction to be done before they move in.
The asking rent for the four pre-built floors in the 26-story building is $68 per square foot, Ms. Engel said.
Existing tenants in the building include Elite model management and Rock Paper Scissors, a production editing company.